It was just two years ago when Baddie, born Helen Von Winkle in 1928, posted her first Instagram photo. Since then, the sassy 87-year-old great-grandmother from Tennessee has drawn more than 1.8 million followers with her extremely youthful style. Only last week, she was named "Instagrammer of the Year" at the Eighth Annual Shorty Awards.
We caught up with Baddie today as she helped kick off the new Smirnoff campaign -- a campaign she wanted to be a part of because the message is to get moving, no matter what your age. A true spokeswoman, Baddie also noted that Smirnoff's new beverage option (which comes in Electric Berry and Mandarin flavors) is non-carbonated and packaged in a re-sealable plastic bottle.
"I just really like this product," she said.
Emphasizing that age is just a number, we asked Baddie to share her tips for staying youthful -- no matter how many birthdays are behind you.
1. Obviously, get moving.
"People get to a certain age and they just start sitting more. Don't do that. Don't start slowing down. Walk if you can do nothing else. Walking is the best exercise there is. Water aerobics is also a great exercise. And dancing. Dancing is so good for you. Of course there are certain things I can no longer do -- like climb a ladder. I wouldn't dare do that anymore. But when it comes to most things, I'd try just about anything."
2. Find something that makes you happy -- and do it.
"Even when I was 75 I never dreamed I'd be doing what I'm doing at 87. But I am doing what makes me happy. I have discovered social media and I love it. I love Instagram so much more than things like Twitter. I just find you can do more on Instagram. I love showing off my style. If you want to wear funky clothes, do it. I like to wear tie-dyed shirts and cut-off shorts in the summer and tie-dyed shirts and jeans in the winter. I wear colorful clothes. It makes me happy. Everyone needs to find what makes them happy."
3. Eat and drink in moderation.
"I drink wine. I drink in moderation though. I don't eat a lot but I've never eaten a lot. I will eat any kind of food I want to -- but in moderation. Oh, and I also try to get enough sleep. I know you are supposed to get eight hours. And I try to get pretty close to that."
4. Maintain friendships and be social.
"I hang out with people of all ages -- from 35 to my age. We play a lot of cards at night. Like Rook. It's a barrel of fun. We also like to go to bars where there's live music. I like all kinds of music but usually we listen to country. It's important to be with people and to have fun with people."
5. Always have something to look forward to.
"I've been to some beautiful places. I've been to all parts of the Caribbean. I've been to Mexico. I've been to Hawaii and Canada. And all these places are lovely. But I still have something on my bucket list. I want to see Ireland. I've never been there. I've heard it's so beautiful and fabulous. This is what I want to do someday. You need to have things on your list that you still want to do. This will help keep you excited about life."
Wonderful, Baddie. We're sure you're going to get there.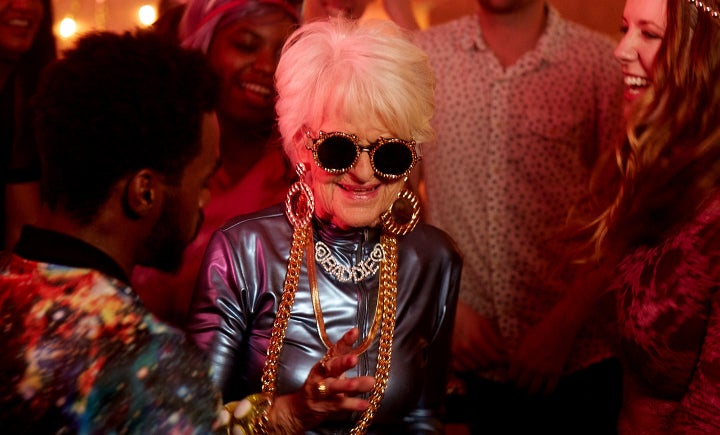 Calling all HuffPost superfans!
Sign up for membership to become a founding member and help shape HuffPost's next chapter
BEFORE YOU GO
PHOTO GALLERY
The World's Most Glamorous Grandmothers