Behind every selfie of quality, there's a camera roll containing at least 43 not-so-hot versions of the same photo.
Or as supermodel/selfie extraordinaire Chrissy Teigen has put it, there's "the one you post":
...And the utter fail/s you don't:
Heck, sometimes you don't even get one good picture out of your selfie photo shoot: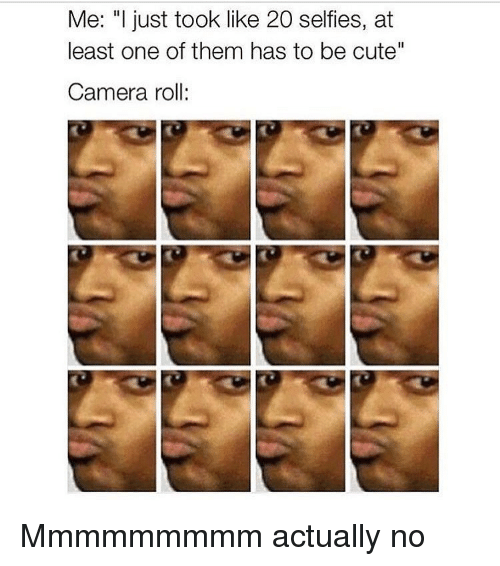 The selfie struggle is real. But the truth is, no one can be cute 24/7. Accepting that and embracing all sides of ourselves, even the awkward, unfiltered sides, can feel incredibly liberating.
"Here I was going on Facebook encouraging people to radically love themselves and at the same time, I was also untagging tons of photos because I didn't like the way I looked," the 40-year-old told HuffPost.
"I realized I was being a hypocrite; I was still treating myself like I had to be perfect," she explained. "That wasn't the radical self-love I was espousing every day so I set out to challenge myself to love an imperfect Sonya."
Seriously, nothing bad about that.
The great thing about the self-love-centric hashtag? There's pretty much no limit to what you can post, as long as you consider it "bad" in some way.
And here's Instagrammer @florafabulous beautifully demonstrating the face you might make when your boss asks you to stay late on a Friday:
There are even some "cute couple photo" outtakes that people have submitted:
In her interview with HuffPost, Taylor said she hopes the hashtag campaign helps people feel less self-conscious about their social media image.
"I think sharing imperfect images does three things: One, it helps us love ourselves in our imperfection," she said. "Two, it reminds us that when folks capture us in photos we are generally in moments of joy ― and joy is always beautiful."
Thirdly, Taylor hopes the tag reminds people that "all bodies deserve to be seen, celebrated and valued."
Hashtag #wecangetbehindthat.