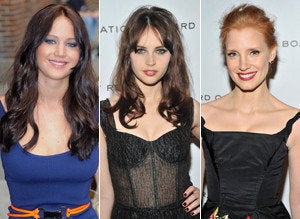 This past year wasn't a very good one for Hollywood by box office standards, as ticket sales slid to a 16-year low. One bright spot, however, came in the form of a number of terrific young actresses who broke out into the spotlight.
Simon Pegg, who was on the jury that selected the initial candidates, tweeted his distaste for the way the final offering of potential winners looks.
"Sad to see no women on the BAFTA rising star shortlist. The panel that determined the long list had no say in the final five," he wrote on Wednesday. "There were however women in the BSG final five. Two, to be exact but to reveal their identities would be unfair to lucky few who don't know," he continued.
The all-male list includes Chris O'Dowd ("Bridesmaids," the British sitcom "The IT Squad); Chris Hemsworth ("Thor"); Eddie Redmayne ("My Week With Marilyn"); Tom Hiddleston ("Thor," "War Horse"); and Adam Deacon (British show "Adulthood").
For comparison's sake, let's look at the ladies who were snubbed.
Chastain starred in a long slew of films this year, earning a Golden Globe nomination for her work in "The Help" and taking home a number of critics awards for her turn in "The Tree of Life." She also featured in "The Debt," "Texas Killing Fields," "Take Shelter," "Wild Salome" and "Coriolanus." Next year, she'll star in "Wettest County" with Tom Hardy and Shia LaBeouf, "Tar" with James Franco and Mila Kunis, and "Mama" with Nikolaj Coster-Waldau and Megan Charpentier.
Jones was the star of the semi-improvised romance "Like Crazy," for which she won the Special Jury Award at Sundance; she also featured in "Hysteria" with Maggie Gyllenhaal.
As for Lawrence, she also featured in "Like Crazy," and earned an Oscar nod last year for her turn in "Winter's Bone." She'll become an international sensation this March when she stars in "The Hunger Games."
Calling all HuffPost superfans!
Sign up for membership to become a founding member and help shape HuffPost's next chapter