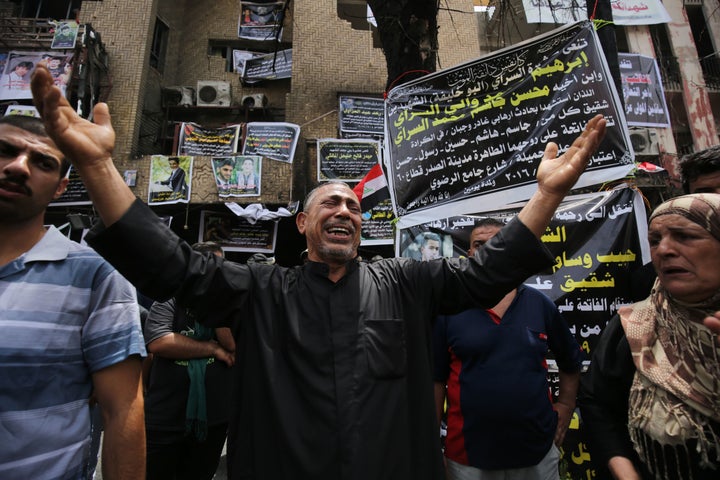 The enormous toll of Saturday's bombing in Baghdad has stunned even the war-weary residents of the Iraqi capital.
At the end of a bloody week of attacks in Lebanon, Turkey and Bangladesh, a car bomb ripped through a crowded shopping center in Baghdad, igniting an inferno that raged all weekend.
After days of sifting through the ashes, Iraq's health ministry announced Tuesday that 250 people were confirmed killed. It was the deadliest car bomb attack since the U.S. invasion of Iraq in 2003.
At first, Sajad Jiyad, an Iraqi analyst living in Baghdad, felt numb after the attack and had "an intense feeling of déjà vu," he wrote in a blog post on Tuesday. "Relatives, friends or someone I know have been killed or injured in every year since 2003," Jiyad says.
On Sunday, Jiyad learned that his friend, Ahmed Dia, was among the burned bodies pulled out of the mall, and his grief over the attack became searingly personal. "He was going to achieve so much, he should not be dead," Jiyad writes.
Some Iraqi activists have expressed an intense frustration and dismay that the names and stories of victims like Dia are little known outside of Iraq.
While banners emblazoned with the names of the dead are draped on the ruins of the Karrada shopping mall, very few stories about the victims have appeared in international media reports.
Mustafa al-Najaifi, an Iraqi film producer living in London, on Monday started posting names and photos of the victims ― gleaned from personal contacts and Iraqi media ― on social media with the hashtag #NotJustANumber.
"The victims on Saturday were all beautiful people," Najaifi told The WorldPost. "I don't want them just to be remembered as a number."
The Islamic State militant group claimed responsibility for the attacks in Baghdad, Dhaka and another set of bombings in Saudi Arabia on Monday. Officials also blamed the group for the carnage in Istanbul, while the attackers in the Lebanese town of Al-Qaa are as yet unknown.
Here are a just a few stories of those who died in Baghdad:
Adil Faraj
Faraj, a 23-year-old dancer and rapper known by the stage name Adel Euro, was killed while shopping for clothes in Karrada.
His career was just beginning to take off. Faraj, inspired by Michael Jackson, taught himself to dance, practising in parks at night to avoid harassment in Iraq's conservative society. He posted videos of his moves, which caught the attention of the Manhattan-based Battery Dance Company, and its director Jonathan Hollander started giving Faraj dance lessons via Skype.
Faraj gave his first public performance in Amman last year. He recently got engaged and had dreamed of moving to the U.S. to pursue a dancing career.
"Adil just wanted to fly, to experience life to the most," the Amman dance festival director Rania Kamhawi told The Associated Press.
Zulfikar Oraibi
Orabi, the son of a former Iraqi football star, was also killed in the attack, Iraq's ambassador to Belarus wrote on Twitter. His father Ghanim Oraibi played for Iraq's national team in the 1986 World Cup.
Farid Bahnam
Banham, who volunteered with humanitarian groups helping Iraqis displaced by the conflict, also died in the attack, according to social media users and Iraqi activist Steven Nabil, who communicated with Banham's family.
Ahmed Dia
Dia, a 33-year-old engineer at Iraq's Agriculture Commission, was shopping for Eid gifts with his two brothers-in-law at the time of the bombing, according to his friend Sajad Jiyad.
A father of two, Dia dreamed that his country would one day become an exporter of agricultural products through the use of technology and private sector investment.
"Ahmad was one of a new generation of well-educated Iraqis who hoped to turn the country around," Jiyad wrote on Tuesday. He "was an optimist who had an infectious energy, totally convinced that our country's future would be better than its past," according to Jiyad.
Mohammed Badri
Badri, a dentist in his early 30s, was killed in the bombing along with his two brothers-in-law.
The father of a five-year-old girl, he dedicated his spare time to charitable work and helping orphans, according to Mustafa Najafi, whose cousin was a close friend of Badri's.
On Monday, the day Badri was buried, his wife gave birth to their son, Najafi said.
Children And Families
Several reports have emerged of families who suffered the loss of several relatives, including young children, in the blast.
One condolence banner lists seven members of the same family killed in the attack.
Another family lost four members ― Ruqqaya, 4, Hadi, 15, Zaid, 17, and their father Hassan, relatives told the Daily Mail.
Ali Ahmed, who owns a shop near the site of the bombing, told The New York Times that the shopping mall was packed with families and children celebrating the end of the school year, but firefighters arrived too late to save them.
Willa Frej contributed reporting.
Do you know someone who was killed in Saturday's bombing in Baghdad? Please contact the reporter charlotte.alfred@huffingtonpost.com
Related
Before You Go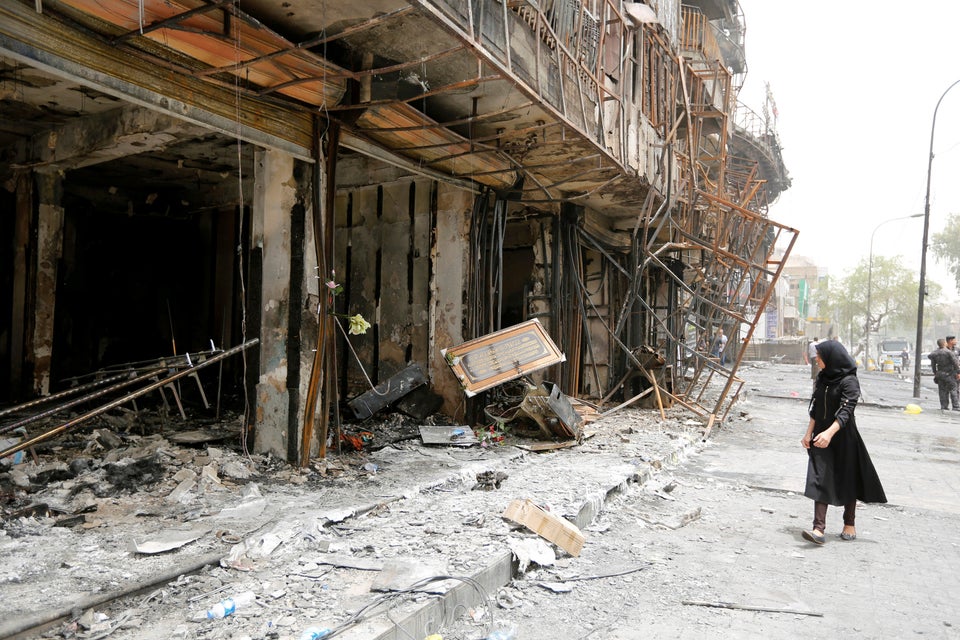 Damage From Baghdad Blast
Popular in the Community