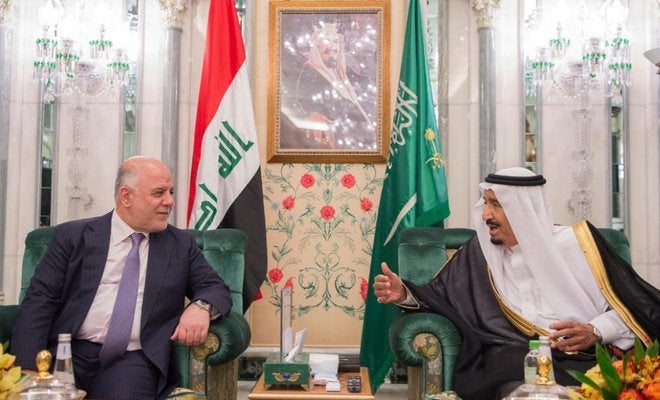 Baghdad-Riyadh "Special Relationship"
It's often the case in the Middle East that headlines mask a reality that may not be apparent for some time. In the West, we often take politics at face value: when Chancellor Merkel and President Trump trade insults, we can be assured U.S. - German relations are under strain, not catastrophic strain, but in difficulty. But a similar development in the Middle East would be far harder to read and can mean anything from impending war to electioneering.
This is exactly how we should view Iraqi Prime Minister Haidar al-Abadi's recent visit to Saudi Arabia, which has fuelled much speculation, being described by some as heralding "a quantum leap" in Baghdad-Riyadh relations.
The reality is that many in Iraq will see the visit as untimely, while others are observing with guarded optimism. Some Iraqis will wait for any palpable outcome to see if the Saudis are genuinely willing to reciprocate the PM's positive overtures.
Fundamentally, after years of diplomatic boycotts, Iraqis would like to see if the Saudis are willing to contribute to the massive reconstruction needs of devastated cities post ISIS. In fact, the issue goes deeper than ISIS, whom many Iraqis perceive to be connected to Wahhabi ideology, or at worst state funding. The issue is also a historical one, and goes back to Saudi support for Saddam Hussein.
Therefore, "quantum leap" in bilateral relations between Iraq and the KSA could only really happen when a Saudi King visits Iraq and acknowledges regret over this legacy, which involved supporting a man whose reckless wars and casual use of chemicals weapons brought misery on all of Iraq's communities. Of course, this also did incalculable damage to Iran and Kuwait, but most of all it damaged Iraq itself.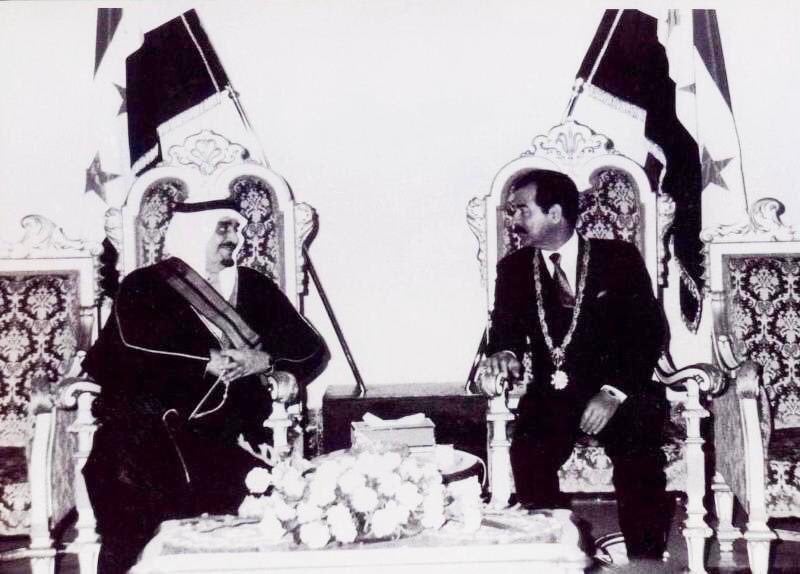 King Fahd bin Abdulaziz Al Saud was the last Saudi monarch to visit Iraq in 1989, one year after the dictator dropped nerve gas on 5,000 civilians at Halabja. He and Saddam exchanged the highest awards for fighting Iran, and Saddam thanked Fahd for financing the war. This kind of support emboldened Saddam for his next deranged ventures in Kuwait, and his genocide against the southern Iraqi Shias following the 1991 uprising. Many other Iraqi communities, having also seen the crushing force of Saddam's oppression, will also be suspicious of Riyadh.
Incredibly, the KSA spent tens of billions supporting the 8 year war on Iran, yet the Saudis failed to invest in rebuilding the old or the new Iraq post 2003, despite the visits of several Iraq Presidents and PMs after regime change. During this period, radical Saudi clerics were tolerated online, in some cases with millions of twitter followers, spewing venomous hatred towards Shias, Christians and Jews.
For many, it is an unfortunate fact that the most notable Saudi influence in Iraq comes through foreign patronage of Iraqi politicians and the massive role of foreign fighters, mostly Saudi nationals, among the ranks of Al-Qaeda and ISIS.
Regarding the recent visit by Saudi officials to Iraq, it is notable that the Minister of Foreign Affairs Adel al-Jubeir is not a Royal and went to Baghdad to pave the ground for Abadi's visit to Riyadh, to reset the provocative Ambassadorship made by Thamer al-Sabhan, and to distance the KSA from U.S. accusations regarding terror financing. Notably, some "rebel groups" in Syria funded by the Saudis may not be "al-Qaeda" but have been found to have very similar beliefs, groups such as Jaish al-Islam. As for Energy Minister Khalid al-Falih's visit, there is strategic imperative for Iraq to cut oil production to temporarily uphold prices for the benefit of Aramco at the time of the IPO, scheduled for next year. This aim also upholds the meaning of the Saudi's presidency of the OPEC conference, while strengthening the KSA's position with Russia, a major non-OPEC producer. Saudi realpolitik may be more important than rapprochement with Baghdad.
Fast forward to today, things are also changing in Riyadh, but not necessarily for the better. The recent appointment of a new Crown Prince, Mohammed Bin Salman, will pose a further threat to Iran after his statement a few weeks ago on taking the battle to Iran. He has ruled out dialogue with Iran based on its Shia beliefs and accusations that it wants to control the Islamic world. Needless to say, Iraq does not want to become collateral damage in a KSA-Iran war in return for making Riyadh just "happy" about Baghdad. After decades of wars and sanctions, Iraq's ultimate desire is to maintain a balanced relationship with all its six neighbours and not to compromise one for another.
Regionally therefore, the situation is becoming even more complex after the recent State Department statement on Saudi Arabia regarding the GCC Crisis, which showed that Washington is perplexed by developments. Iraq has to be careful, because the big regional players are economies several times its size with substantial airpower and a track record of using proxies. As ever, Iraq is in the middle. The Qatar-Saudi dispute is a problematic one for everyone in the region, but especially for Iraq, recovering from several major conflicts.
In the wider picture, Baghdad will eventually need Doha's convenient allies, Ankara and Tehran, to keep the aspirations of the Kurdish Democratic Party (KDP) in check. Notably, the aspirations of the Kurdish people and the KDP are not quite the same. Problematically for Iraqi Arabs and minorities, the KDP are claiming disputed territories within Iraq as part of their independence bid, and have courted Saudi Arabia to maintain regional stability and to develop commercial ties. And yet, the KDP have been accused by a number of analysts of autocratic rule and economic incompetence, so independence under their leadership will effectively trap countless Iraqi Kurds under a quasi-dictatorship.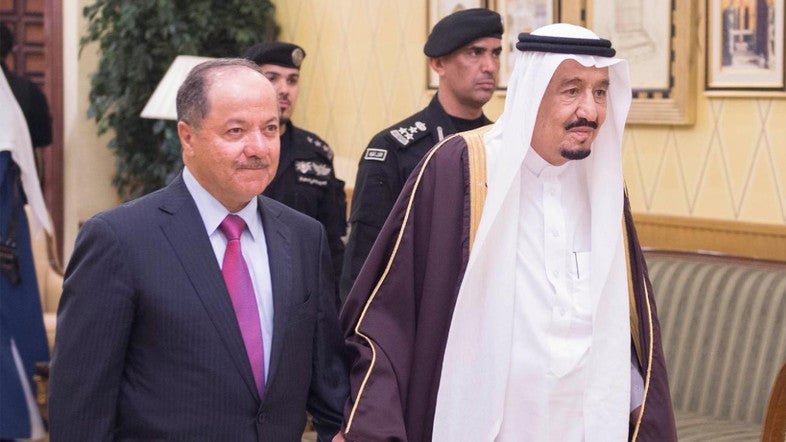 In this volatile environment, we must wait for solid evidence of the "quantum leap" in Iraq- KSA relations. Until then, the Saudis will not be counting on a special relationship with PM Abadi because a new general election next April could produce another compromise premier. This has happened in the past. Likewise, until Iraq can produce a balanced relationship with Iran, there is no guarantee the Saudis will be willing to turn words into concrete support.
Behind these photo opportunities, there are hard realities. It is Iraq that has taken the brunt of the 2014 ISIS offensive, stopping the terrorist army at Abu Ghraib on the outskirts of Baghdad and fighting bloody battles all the way up the Tigris and into Mosul. Iraq paid the price, and turned back the tide, because if ISIS had grown stronger, the Saudis would also have been under threat.
But Iraq is tired, even in victory. If they are sincere, the Saudis may have the opportunity to re-set relations and take a serious leadership role in stabilizing and rebuilding an Iraq that is more united than ever. Although devastated economically, Iraq is far from being the weakest link politically and socially in the region.
In fact, Iraq is one of the few states with a functioning democracy, a highly representative government with proportionately represented communities and now the most experienced armed forces in the region. The Iraqi army is now combat-tested with proven victories against fanatical terrorists.
Riyadh will have to see past the clichés about Iraq before deciding the next move. If they can do so, and if Iraqis can be prepared to trust them after so many struggles, then that really would be a quantum leap. Until then, we'll just have to wait.
Calling all HuffPost superfans!
Sign up for membership to become a founding member and help shape HuffPost's next chapter
This post was published on the now-closed HuffPost Contributor platform. Contributors control their own work and posted freely to our site. If you need to flag this entry as abusive,
send us an email
.