My love affair with lamb started when I was in college at the American University in Paris when we took a cultural weekend trip to the Mont St. Michel. I was of course fascinated by the story of this unique cultural and historical structure with a village and monastery built upon a mountain surrounded by seawater. The location is famous for its quickly changing tides, which were well described by the French writer Victor Hugo who said they came in "as swiftly as a galloping horse." The tides can vary greatly, up to 46 feet between high and low tides and were ideal for protecting the ancient monastery and villagers from its many perilous invasions since the 5th century. One minute you can be walking around on solid ground and then suddenly the tide comes in and the mountain is suddenly surrounded by deep salty waters.
The best part of the trip for me of course was the food. In fact I loved it so much the first year that I went the three following years as well, mostly for the lamb. This lamb is called le Pré-Salé (salt meadow lamb) a local specialty served in the restaurants there. This lamb is unique to this region where sheep graze upon salty grass fields that surround the mountain. The flavor of the meat is salty and also sweet and once tasted, never forgotten. It's worth visiting this beautiful part of the world, just for the lamb (and their butter cookies and famous omelets too).
I have always been a fan of lamb. Many people are wary of it. I in fact have converted several of my friends into lamb lovers with many of my own preparations. In Egypt we make a wonderful lamb and okra stew with sweet tomatoes, onions and garlic allowing the lamb to simmer until it falls off the bone. This is served with rice fresh lemon and never fails to get oohs and aahs. I also love to prepare lamb shank with cannellini beans, read wine and orange zest. Another marvelous recipe I usually save for special holidays, especially Easter, is a Leg of Lamb Etoufée (or smothered leg of lamb). This is also an Egyptian recipe and a uniquely flavorful dish. I turned two of my dear friends, Deana and Melania into lamb lovers with this recipe in fact. The leg is seasoned and marinated with garlic, extra virgin olive oil and rosemary and roasted until medium rare. Then the magic happens. Remove it from the oven and place it in two large sheets of heavy-duty aluminum foil. Pour red wine vinegar over the lamb and quickly wrap it up tightly in the foil and return to the oven and let it cook for another three hours. The end result is caramelized lamb that literally falls of the bone with a rich exotic flavor that is irresistible.
I recently visited Washington DC and attended a private reception at the White House where my family and I were fortunate enough to meet President Obama, in celebration of Greek Independence -- truly an inspirational experience. While in DC, I also had an inspirational dinner the night before at Jose Andres' beautiful and very popular restaurant Zaytinya where I feasted on a superb spit roasted lamb shoulder with our friends Chef Fabio and Maria Trabocchi who just recently opened their restaurant Fiola. The lamb came after a plethora of irresistible Mediterranean Mezzes, which filled us up, but when we saw the caramelized glistening lamb being carved tableside by the handsome executive chef Michael Costa, we were hungry all over again. The meat which is dressed and marinated in lemon, dill and honey and then spit fire roasted for 10 hours simply melted in our mouths. The crusty exterior was wonderfully chewy while the interior was tender and juicy like perfectly cooked ribs. The entire table was moaning with delight and we all wished we were hungrier so we could eat more. We were so focused on the lamb that no one noticed the Ottoman Pilaf that had been placed in the center of the table. Not one to let anything go un-tasted I scooped a bit up and put it in my mouth. I gasped with delight and encouraged everyone to have some immediately. What is this? I asked chef Michael. There are dates and pistachios and saffron, oh my! I could eat this for breakfast lunch and dinner!
I highly recommend visiting Zaytinya if you are in DC this Easter holiday or any time for that matter. As I am spending Easter in Southampton this year with friends and family and I already ordered a shoulder of lamb, which I will cook in our pizza oven. It may not be as good as Chef Costa's spit but I will do my best and I am definitely making that Ottoman Pilaf.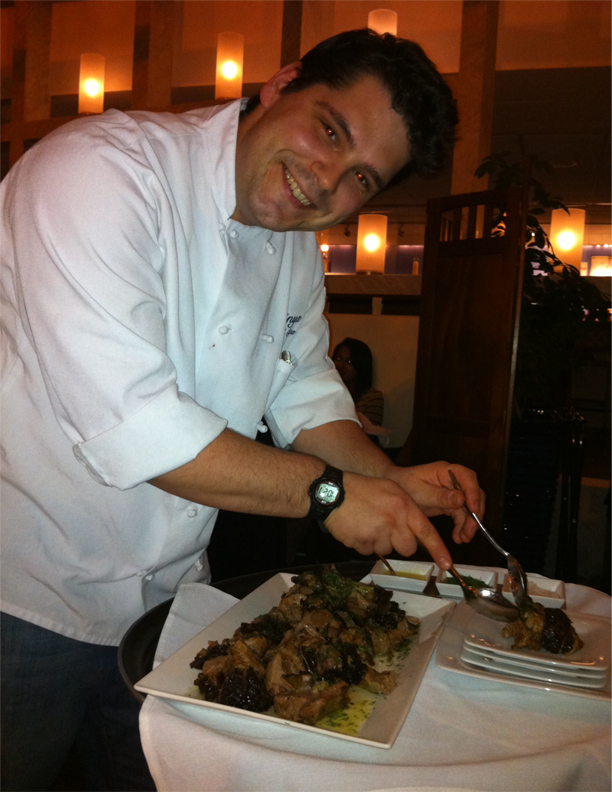 REAL LIFE. REAL NEWS. REAL VOICES.
Help us tell more of the stories that matter from voices that too often remain unheard.