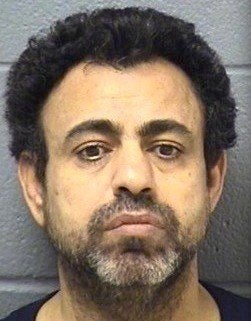 Police say a four-year-old boy witnessed his mother's horrific beating death at the hands of his father near the Chicago suburb of Tinley Park Wednesday.
Will County prosecutors are charging Sam with first-degree murder.
Sam reportedly told police he and his 38-year-old wife were arguing over his unemployment and he chased after her with the bar after she tried to leave the house, according to Patch. The Will County Coroner's Office stated she was hit more than 10 times. Nermeen Sam was dead by the time police arrived.
Multiple reports say the couple's blood-spattered young son was the first person police encountered on the scene and reportedly told police "Daddy killed my mommy." Sam reportedly asked if his wife was dead and if they were taking her to the hospital.
The Tribune says a protective order was entered on behalf of his wife and children earlier in June.
Neighbor Sue McGuire told the Sun-Times she considered Nermeen "a good friend" and said her children "were her life. And now they don't have their mom."
McGuire told the Tribune Nermeen was a devout Christian and active in her church, and cited her friend's faith as the reason she would not divorce her violent husband.
Father Samuel Azmy of St. George Coptic Orthodox Church in Monee told te Sun-Times, "She was a wonderful lady, a great servant of the church who will be missed a lot. We pray for God to give comfort to the family."
Sam, meanwhile is being held on $5 million bail and must surrender his American and Egyptian passports should he post the $500,000 bond. He is due in court next on Jan. 11.
Judge Roger Rickmon said in Patch, "If he walks out those jail doors, I want those passports."
BEFORE YOU GO