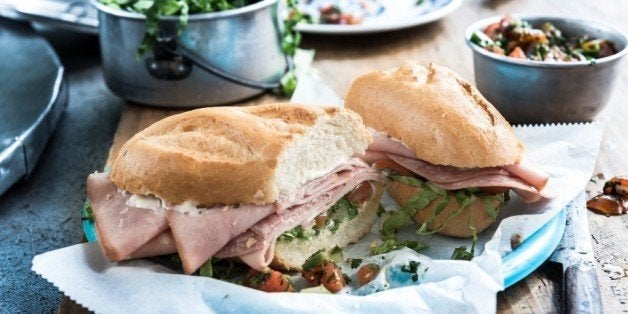 Yum! Brands is hoping bánh mì sandwiches can be the next burrito.
On Friday in Texas, the fast food behemoth behind Taco Bell, KFC and Pizza Hut launched its first Banh Shop, focusing on Vietnamese-style sandwiches made of meat or tofu with spices, vegetables and herbs on baguettes.
Yum! has its eyes on upstart rival Chipotle, which is known for its fresh ingredients and customizable burritos. After five years of skyrocketing growth, Chipotle's stock price is just below $665.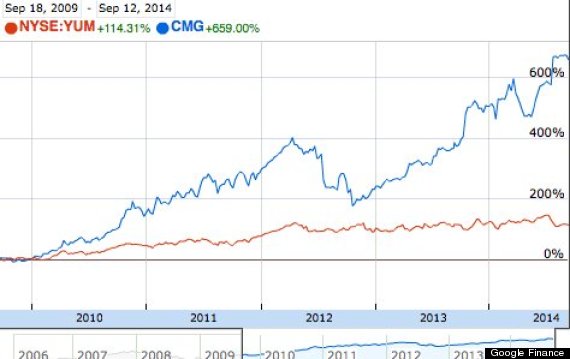 Yum!'s stock (red) has risen modestly in the last five years compared to Chipotle's (blue).
Last month, Yum! opened U.S. Taco Co., an upscale taqueria in Huntington Beach, California, to test Americans' appetites for higher-quality food -- and their willingness to pay a little more for it. A lobster-and-flatbread taco, cheekily dubbed "The 1%er," sells for $9.99 at the eatery, which sports a sort of trendy hipster decor.
Banh Shop has a similar aesthetic and price range.
"While these sandwiches, usually found in bakeries and delis in Vietnamese neighborhoods, are endlessly customizable, they should always be inexpensive," argued a New York Times Magazine article on bánh mì more generally in February 2011. "Beware the bánh mì over $6."
Like U.S. Taco Co., Banh Shop thinks its customers will pay a little more. The menu at the Dallas location offers sandwiches at about $7 each. Soups go for about $8. A stir-fried wok bowl costs just shy of $9.
Yum! is set to open a second Banh Shop location later this month at Dallas/Fort Worth International Airport.
"When a company like them that is so mainstream starts looking at the potential to sell something like this, that's huge," Andrea Nguyen, who wrote The Bánh Mì Handbook, told The Huffington Post on Saturday. "If you look at the age of Vietnamese food in America, it's relatively short compared to, say, Chinese food or Japanese food -- but it's very trendy right now."
A Google Trends chart shows how online queries for "bánh mì" have increased in recent years:

Nguyen said bánh mì fulfills two key desires of consumers looking for quick meals: It can be adapted to individual tastes and it's filled with vegetables, giving it at least the appearance of healthfulness.
An employee who answered the phone at Banh Shop on Saturday afternoon, but declined to give her name, said the restaurant had been busy so far. Yum! Brands did not immediately respond to a request for comment.
But judging by the new name, Yum! may be hoping Banh Shop could someday reach the success of its 52-year-old Mexican food chain.
"They're taking a relatively new word in the English language and putting it next to an English word," Nguyen said. "It's like putting the word 'taco' next to the word 'bell.'"
Support HuffPost
The Stakes Have Never Been Higher
Related
Popular in the Community