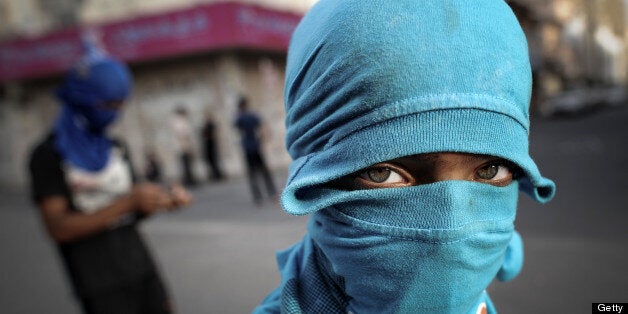 MANAMA, April 20 (Reuters) - Young men hurl rocks and petrol bombs at police. Police fire tear gas and stun grenades. Thousands gather to demand an end to a Formula One car race they see as a public relations stunt to gloss over chronic human rights abuses.
But except for the odd plume of black smoke, hardly any sign of Bahrain's two-year-old political crisis reaches the Grand Prix race site at the Sakhir circuit in the desert about 30 km (19 miles) southwest of the capital Manama.
"When they talk about human rights, I don't know what the human rights are or what it's all about," Formula One's commercial supremo Bernie Ecclestone told Reuters when asked about the political situation in Bahrain.
Hosting Formula One is a point of pride for Bahrain's rulers, who pay an estimated $40 million a year for the privilege. An image of the circuit is on the country's half-dinar note.
Speaking a day ahead of the race, Bahrain's Crown Prince Salman al-Khalifa - seen as one of the country's more reform-minded officials - said it was a chance to bring the country together.
"There are families out there - fathers, mothers, children - having the best times of their lives without regard to either ethnicity, sect or social income. So, I'm happy. And I go out there and I walk among the people and I'm comfortable," he said.

SHARP CONTRASTS IN TINY COUNTRY
Along the palm-lined streets of the Formula One paddock, foreign women wear mini-skirts and sleeveless shirts - a blunt contrast to the full black dresses and veils favoured in nearby villages.
Moving just a few hundred meters can make for a dizzying transition in the country, only a quarter the size of Luxembourg. In downtown Manama and the main roads, nothing appears amiss.
But tucked just behind bland suburban strip malls, entire neighbourhoods are coated in graffiti, some decrying the race as "Formula Blood" - others calling for the downfall of Bahrain's King Hamad bin Issa al-Khalifa. Bricks, broken wood, and burn marks are evidence of protests.
Many in these mostly Shi'ite villages see the race as a ploy to deceive the world into thinking there is nothing wrong in a country they say needs urgent democratic reform. Others frame it as part of the corruption they say is widespread.
"In Bahrain, Formula One brings benefits only to the individuals behind it. The people of Bahrain don't get any benefit from the race," said Mohamed al-Sughayer, a 61-year-old financial consultant, at a recent protest.
"Go around in any village, and would you believe this country has had oil for 80 years?"
Almost nightly clashes between protesters and police - as well as regular peaceful rallies - have hit the Gulf Arab island kingdom since pro-democracy demonstrations started in February 2011 at the height of the Arab Spring.
The Formula One race was cancelled that year during an uprising in which a government-commissioned report said 35 people died - a figure the mostly Shi'ite Muslim opposition says is too low. (Reporting by Alexander Dziadosz; Editing by Stephen Powell)

Before You Go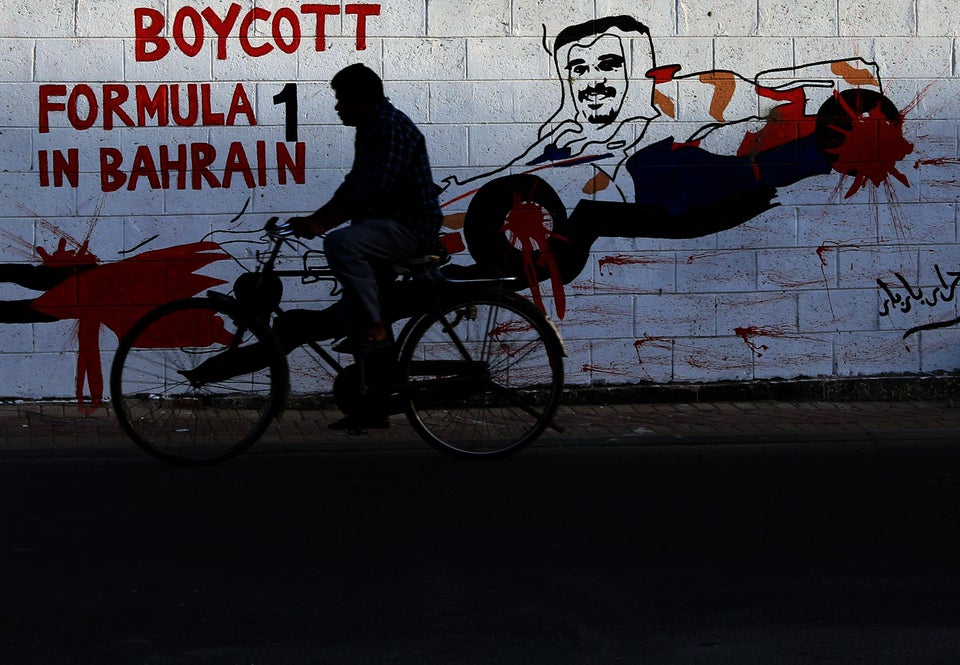 Bahrain Anti-Government Protests Continue
Popular in the Community