According to a recent report released by Arbor Networks, Bahrain's traffic has fallen 10 to 20 percent below expected levels in the wake of protests this week.
The New York Times spoke with Jose Nazario, Arbor Networks's senior manager of security research, and reported the following:
A fluctuation of that size is generally caused only by natural calamities or major global sporting events, Mr. Nazario said, leading the company to conclude that the most likely explanation is that Bahrain is blocking many sites on the Internet. [...] He said that the company could not absolutely rule out technical problems with Internet carriers inside the country as a cause.
The Times also notes that certain websites, such as YouTube and Bambuser, have been blocked in Bahrain, according to reports.
Arbor's findings come less than a month after the Egyptian government ordered an unprecedented Internet blackout to combat the growing unrest that eventually led to the ouster of President Hosni Mubarak. Following Egypt's lead, thousands of protesters across several Arab nations, including Bahrain, have taken part in uprisings calling for government reform. (For more on these protests, visit our live blog.)
The graph below visualizes Arbor's report on Bahrain's Internet slowdown.
LOOK: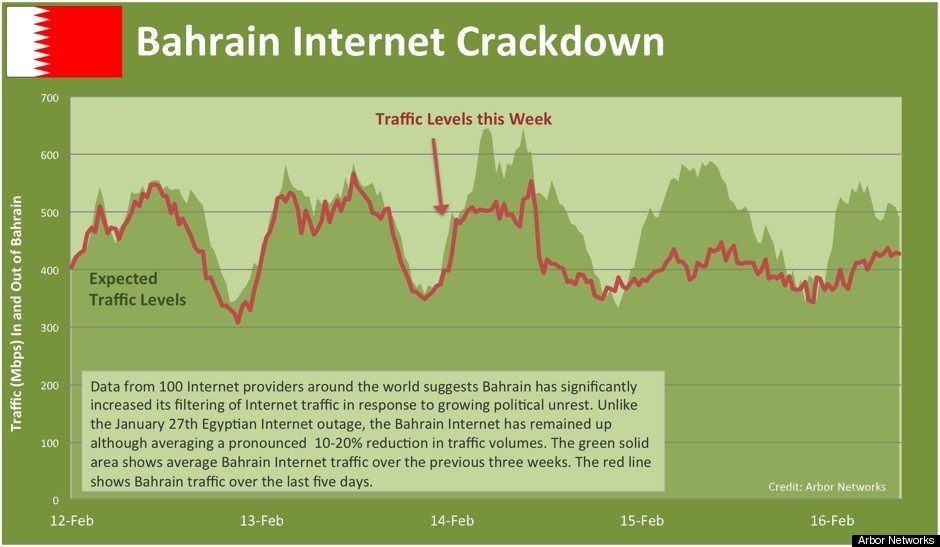 Related
Popular in the Community