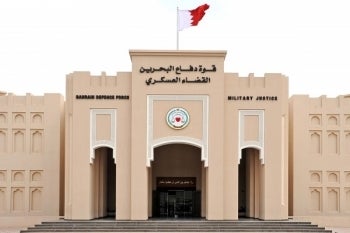 A military court in Bahrain today sentenced six men to death. The six, Mubarak Adel, Sayed Fadhel, Sayed Alawi, Mohammed AlMutaghawi, Murtadha Alsindi and Habib AlJamri were given the verdicts after a mass unfair trial, the last two tried in absentia.
They were convicted of various terrorist offenses and of planning to assassinate ruling family member and head of Bahrain's military Field Marshal Sheikh Khalifa bin Ahmed Al-Khalifa.
Eighteen men were defendants in the trial. Five were acquitted and seven others sentenced to seven years in jail and, like those sentenced to death, also stripped of their citizenship. Bahrain's authorities said one of the men was a serving soldier.
"It's also no coincidence at all that this sentencing happened this morning, on Christmas day, to delay any pending international reactions," said prominent human rights defenders Maryam Al Khawaja.
Prominent interfaith Bahraini cleric Sheikh Maytham Al Salman told me he has grave concerns about today's convictions and that he believes the charges are fabricated and based on forced confession extracted under torture. "These sentences are a terrible mistake, morally and politically," he said.
One of those convicted, telecom engineer Sayed Alawi, had been forcibly disappeared from his office at state telecommunications company Batelco in October 2016 and held incommunicado for five weeks without access to a lawyer or his family.
Majidah Al Moosawi, Sayed Alawi's wife, said "My husband is innocent. He does not believe in violence and constantly criticizes those who resort who violence.I believe my husband is being punished for supporting democratic reforms in Bahrain. The world should not stay silent on my husband being unlawfully executed."
Torture is routine is such cases in Bahrain as the kingdom's human rights record slides further into crisis. 2017 has been a disastrous year for Bahrain rights, with the political opposition shut down, the country's only independent newspaper forced to close, and regular reports of torture and sexual abuse in custody.
In April this year Bahrain's king approved a constitutional amendment to allow the trial of civilians in military courts. A few months earlier, executions had resumed in Bahrain for the first time in seven years when three men were killed by firing squad.
In response to those executions, United Nations Special Rapporteur on Extra Judicial Executions, Agnes Callamard, said the three had been convicted after torture an on flimsy evidence, and that the killings amounted to extra-judicial executions.
Less than four weeks ago Bahrain's crown prince met with president Donald Trump at the White House and promoted $9 billion in deals with U.S. companies, including the kingdom buying F-16 fighter planes and the extension of a defense cooperation agreement between the countries for another 15 years. Trump said that Bahrain is "doing a lot of business" with the U.S. and "buying a lot of things." With such a relationship and thousands of U.S. military personnel and their families based in Bahrain, Washington should be doing all it can to make the tiny kingdom a secure and stable place.
More executions are likely to result in more unrest, exacerbating the country's volatility.
REAL LIFE. REAL NEWS. REAL VOICES.
Help us tell more of the stories that matter from voices that too often remain unheard.
This post was published on the now-closed HuffPost Contributor platform. Contributors control their own work and posted freely to our site. If you need to flag this entry as abusive,
send us an email
.