This is the final installment in a four-part serious. Read part three here.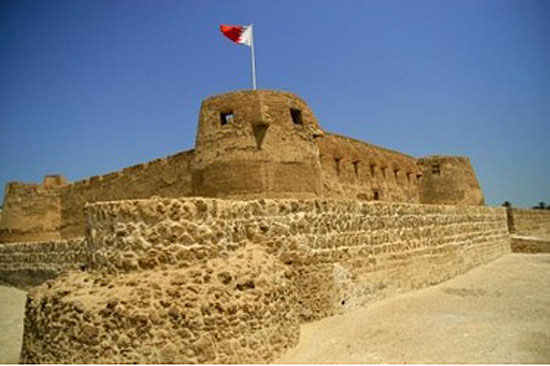 Once back at the Hilton, Sheikh Rashid calls to say a car will be by in 30 minutes to take me camping. I ask if I should pack my sleeping bag, my Thermarest, my Sierra Club cup, my flashlight. He laughs and says no. Not to worry. Everything has been arranged.
Not completely convinced, I pinch a blanket and sheet from the Hilton, and walk out front. There I meet Sheikh Khalifa Abdulla Mohd Al-Khalifa, superintendent for Tourism Relations, and another nephew to Sheikh Isa Bin Sulman Al-Khalifa, the tenth emir of the Al-Khalifa family. The latest sheikh has a pleasant hint of the Tigris and Euphrates in the bones of his face, and smiles broadly as he stuffs my kit into the trunk of his Mercedes 500 SEL. Soon we are gliding through a thick fog towards a favorite camping site.
About 45 minutes later we pull off the highway onto a dirt road, and then off the dirt road over the broken, monochromatic desert towards a small hotel...but no, as we drive closer I see it is not a small hotel, but rather a large tent. A colossal Bedouin tent. Workers are putting the finishing touches as we park, and I wander inside to a sight. The entire interior of the tent is lined with inch-thick Persian rugs, padded with gold-embroidered cushions, and perfumed by incense. A partition creates a separate section where I find my bed, a comfortable affair replete with fluffy pillow, crisp sheets, and an Arabian horse-hair blanket. Electric lights illume the entire structure. Outside is a separate tent, also well-lit, which is the toilet. While admiring the campsite, a van pulls up, and out pop several workers who extract a table and chairs, and position them in the tent. A cook starts up the stove on the tailgate, while three tuxedoed waiters appear and begin to set the table with bone china and crystal. One serves me Arabian coffee (boiled cardamom with some cloves and a bit of Nescafe) from an elegantly shaped and intricately patterned silver dalla. Thirty minutes later I sit down to an exquisite banquet, featuring hamour (grouper), giant prawns, houmos (garbanzo bean paste), baba ghannouj (smoked eggplant with sesame cream), dolmas (grape leaves stuffed with rice and ground lamb), kibby (cracked wheat with ground lamb and pine nuts), shish tawook (breast of chicken marinated in olive oil), tabouleh salad, cucumber yoghurt, and bowls of dates, pomegranates, and figs. The tuxedoed waiters hover over every course and keep my glass full of Emirates, the favorite bottled spring water. Camping will never be quite the same again.
Just as the baklava smothered with pistachios and honey sauce is being served a call comes in. It is Sheikh Rashid, asking if I would like to join him for a special performance of Phantom of the Opera, being presented at the Arad Fort. I accept with alacrity, and am whisked to his plush couch in the front row, where sweet tea in glass cups is served as Carlotta sings and the Phantom makes his way among the parapets. I am back in the tent by 10:00. Before retiring, I look out to constellations I don't recognize, until I realize they aren't stars at all, but the twinkling lights of an oil refinery.
I awake to the sound of wild saluki dogs barking at the dawn. Outside the air is soft and moist; a glimmering haze hangs over the landscape. I change to shorts for a run. I take off down an old road, and my nostrils fill with the foul stench of natural gas as I run along a series of pipelines and up a small rise.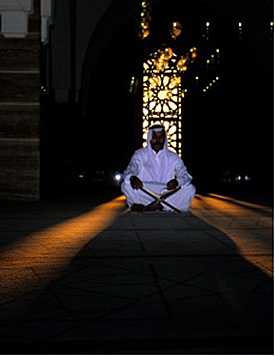 There I come to a ditch surrounded with red and white markers, the national colors of Bahrain. A plaque at its sides proclaims that this site, Jebel Al-Dukhan, is Oil Well No. 1, where the black gold was first discovered in the Middle East on June 1, 1932, flowing from a depth of 2,008 feet. At the time Bahrain had no paved roads, electricity, flush toilets, or radios. Two years later Bahrain became the first Arab country to export oil. The fruit had been bitten, the box unbolted.
I am also, I realize, at the foot of the Great Smokey Mountain, the highest peak in Bahrain, pressing its jagged yellow teeth into the morning sky. Now is my chance to climb the Everest of Bahrain. I begin scrambling up a limestone slope whose sides break off like crumbs of a biscuit. I huff and pant, fall and scrape a knee, and stop to catch my breath several times. At last I crawl to the summit, and in a spanking breeze I stand and raise my arms in an Edmund Hillary salute. Top o' the World, Ma. I am at 451 feet above sea level.
As I stand atop this singular pillar of wisdom, watching the horizon fall away, overlooking a barren but opulent landscape, I admire the wobbly beauty. The wind dies, and it is utterly still, the only movement the lazy turning of my own thoughts. Then an F-16 streaks overhead and breaks the sound barrier. The end of innocence, once again.

Related