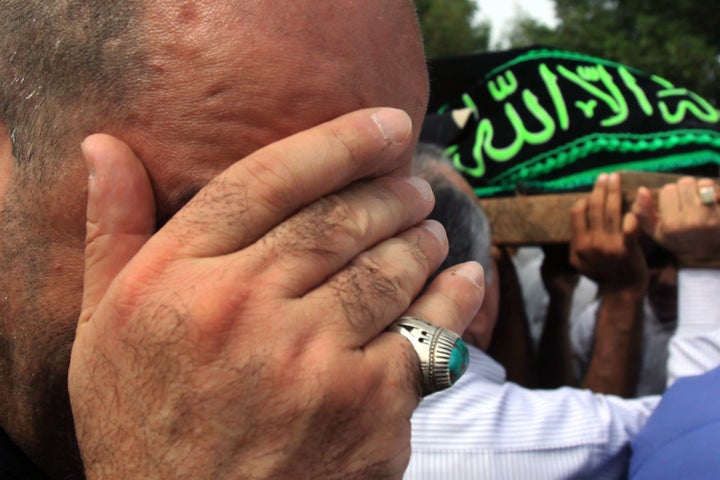 The fate of Bahrain's protest movement is a stark reminder of how Western and regional power politics can trump reformist yearnings, even in an Arab world convulsed by popular uprisings against entrenched autocrats.
Bahrain is not Libya or Syria, but Western tolerance of the Sunni monarchy's crackdown suggests that interests such as the U.S. naval base in Manama, ties to oil giant Saudi Arabia and the need to contain neighboring Iran outweigh any sympathy with pro-democracy demonstrators mostly from the Shi'ite majority.
"The response from the West has been very timid and it shows the double standards in its foreign policy compared to Libya," said Nabeel Rajab of the Bahrain Center for Human Rights.
"Saudi influence is so huge on Bahrain now and the West has not stood up to it, which has disappointed many. They're losing the hearts and minds of the democrats in Bahrain."
Iran has hardly been consistent either, fiercely criticizing Bahrain's treatment of its Shi'ites, and praising Arab revolts elsewhere as "Islamic awakenings" -- except the uprising in its lone Arab ally Syria, which it blames on a U.S.-Israeli plot.
Bahrain's king said on Sunday a state of emergency, imposed in March after Saudi-led troops arrived to help crush protests, would be lifted on June 1, two weeks before it expires.
That would be two days before a deadline set by Formula One organizers for Bahrain to decide whether to reschedule a Grand Prix it was to have hosted on March 13. The motor race was postponed because of the unrest then shaking the Gulf island.
Bahrain is eager to prove that stability has returned after the upheaval in which at least 29 people, all but six of them Shi'ites, have been killed since protests erupted in February.
Apart from verbal slaps on the wrist, the United States and its allies have stood by as Bahrain, egged on by Saudi Arabia, has pursued a punitive campaign that appears to target Shi'ites in general, not just the advocates of more political freedoms, a constitutional monarchy and an end to sectarian discrimination.
Some protesters had gone further, demanding the overthrow of the al-Khalifa family that has ruled Bahrain for 200 years.
Bahrain, which accuses Shi'ite Iran of instigating the unrest, has detained hundreds of protesters and put dozens on trial in special courts. Others have lost their government jobs.
The dragnet has swept up politicians, journalists and even medical staff. Four detainees have died in police custody. The government denies reports by rights groups of torture and abuse.
Last month the main Shi'ite Wefaq opposition party reported the demolition, often by night, of at least 25 Shi'ite mosques -- described by the authorities as illegal structures.
Pro-government media have depicted the protesters as violent traitors, driven by sectarian designs to disenfranchise Sunnis and encouraged by Iran to further its regional influence.
"Bahrain has killed twice as many of its citizens as Syria has if one adjusts for population size. Yet its ambassador was welcome at the Royal Wedding in Britain, and Bahrain was given a pass for repressing its revolution," said Joshua Landis, a Middle East expert at Oklahoma University.
"Either it is because Shi'ites are not considered as highly as Sunnis due to Western enmity with Iran and fear of the 'Shi'ite Crescent', as it is often called, or it is because the U.S. has a strong relationship with Saudi Arabia and needs oil and military bases in the Persian Gulf," Landis said.
Western officials deny that military action against Muammar Gaddafi's Libya versus rebukes for Bahrain reflect hypocrisy.
"There is a complete difference between the two circumstances," British Foreign Office Minister Alistair Burt told Reuters last week, citing Libyan and Arab League calls for Western action to halt Gaddafi's intent to kill his own people.
"We'll continue to make representations to Bahrain, but in Bahrain there was a political process of dialogue between respective factions which we would encourage to be continued."
Saudi intervention, however, stymied any immediate prospects of political dialogue in Bahrain, as hardliners in the ruling al-Khalifa family silenced reformists led by the Crown Prince.
Washington has offered only muted criticism of its Bahraini ally in public, although even some Shi'ite politicians acknowledge it has raised its voice in private.
"There was sustained pressure from Western governments, especially the U.S.. But it was low-profile, given the friendly relationships with Bahrain," said Wefaq's Jasim Husain.
The United States, trying to balance its interests and its ideals as revolts threaten its Arab friends and foes alike, has struck a middle course on Syria, an old antagonist.
It has tightened sanctions to punish President Bashar al-Assad's use of force against demonstrators, but has stopped short of calling for the overthrow of a regime it sees as a vital, if unsavory, component in regional stability.
"Bahrain escaped the kind of criticism Syria got out of deference to Saudi Arabia, which has absolutely no interest in reforms in Bahrain, let alone regime change," Murhaf Jouejati, a Middle East scholar at George Washington University, said.
"Moreover, Bahrain, an ally of both Saudi Arabia and the U.S., is home to the U.S. Fifth fleet, and Washington has every interest in the continued dominance of the pro-American and anti-Iranian Bahraini monarchy."
For now, Bahrain may have jammed the authoritarian lid back on, at a significant cost in national trauma, sectarian rancor and regional tension. It is hard to imagine the story is over.
(Additional reporting by Fredrik Richter in Bahrain and Adrian Croft in London; editing by David Stamp)
Related
Popular in the Community