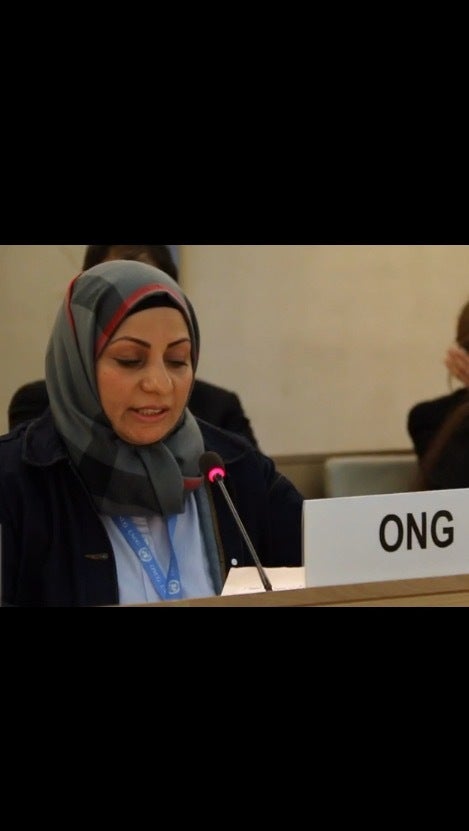 Maybe Washington's allies in the Bahraini regime learned the art of reprisals from their old colonial masters. The British used collective punishment to attack dissidents in Ireland, Kenya and elsewhere. Now family members of those who criticize the Bahrain government are being threatened, targeted, summoned and intimidated.
On Monday, on her return to Bahrain from speaking at the UN Human Rights Council in Geneva, activist Ebtesam al-Saegh told me she was held at Bahrain's airport for seven hours, questioned about her work, and her family threatened. "Most of these questions were about the Geneva conference. One of the security officers threatened to provoke a case against my son," she said.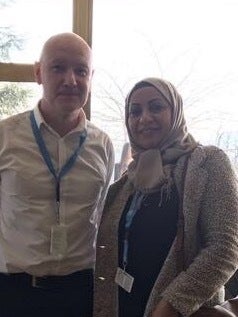 Al-Saegh and I spoke at the Human Rights Council in Geneva last week about exactly this sort of intimidation aimed at families of human rights defenders. The week before her sister Bassima had been called for questioning at Muharaq police station. Bassima was closely questioned about her sister Ebtesam, and what she was up to abroad. Bassima says the police said Ebtesam was "engaging in wrongful activities".
Ebtesam also told me she was sure that her sister had been summoned because of Ebtesam's activism. "They tried to frighten some of us into keeping quiet. When the doesn't work they're going after our families," she said.
Human Rights First knows of family members of other dissidents have been targeted but who are too afraid to come forward publicly. The threats to Al-Saegh's family are not isolated, they are part of an alarming pattern.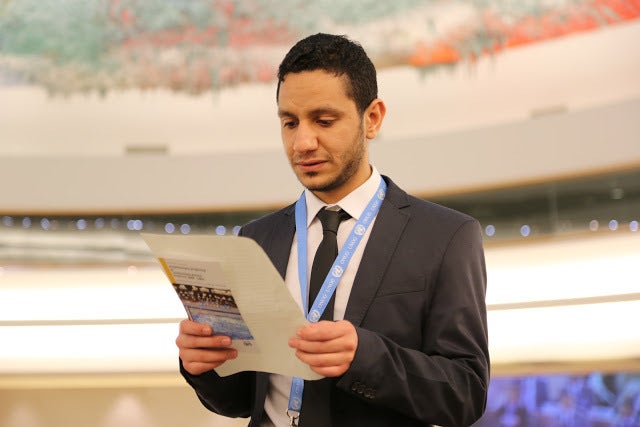 Activist Sayed Ahmed Alwadaei fled Bahrain after being tortured and jailed by the repressive regime there. He's now based in London, the Director of Advocacy at the NGO Bahrain Institute for Rights and Democracy.
A few weeks ago, while he was also attending the UN Human Rights Council in Geneva, raising issues of Bahrain's worsening human rights record, his brother-in-law and mother-in-law were arrested and questioned about his activities, and give credible accounts of having been abused in custody.
Hajar Mansoor Hassan, Alwadaei's mother-in-law, was hospitalized during the questioning at the notorious Criminal Investigations Directorate (CID). She says most of the interrogation was about Sayed Ahmed, and that although she is innocent of any crime she ended up making a confession under coercion and threats. She was remanded in custody for 30 days under coercion.
In October 2016 Alwadaei's wife Duaa was also targeted, detained overnight at Bahrain airport with their infant son. The Bahrain authorities insisted then that "The Kingdom of Bahrain does not condone nor support any acts of reprisals," but tellingly qualified its statement by saying the Duaa's detention "should be taken in context with the criminal history of her husband".
Last April Sayed Ahmed visited Washington to brief the State Department and Members of Congress about the deteriorating human rights situation in Bahrain. He has no doubt at his international advocacy, including his engagement with American policymakers, is the reason for the reprisals against his family. "The regime wants to muzzle us, to prevent activist like me from exposing the truth to officials from the US and other government," he told me.
In 1971 Bahrain signed the 1949 Fourth Geneva Convention, which stipulates under Article 33 that "Collective penalties and likewise all measures of intimidation or of terrorism are prohibited". Like so much of Bahrain's human rights record, it exists on paper only.
The UN Human Rights Council is recognizing the issue as a significant one, and its definition of reprisal includes acts taken agains those who "Seek to cooperate or have cooperated with the United Nations," and those who are "relatives of victims of human rights violations or of those who have provided legal or other assistance to victims".
To support those being targeted, to tell its allies in Bahrain's ruling family that reprisals are unacceptable, and to protect their sources of information, the US government should consider making a similar declaration to that of the UN.
Popular in the Community