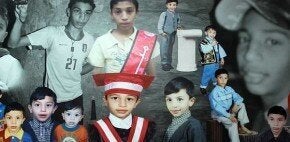 In February 2011, tens of thousands of Bahrainis took to the streets to protest against the tiny country's ruling al-Khalifa family. Protesters camped out on the capital's Pearl Roundabout for a month, until security forces violently put and end to the protests. Demonstrators were arrested, activists persecuted, doctors who helped the wounded terrorized. Belgian journalist Tine Danckaers traveled to the Gulf state in November 2011 . HuffPost World published the testimonies of some of the Bahrainis she interviewed.
On August 31, 2011, 14-year-old Ali Jawad al-Sheikh was killed when a stray piece of a tear gas canister pierced his neck. We visited al-Sheikh's family in the town of Sitra.
The small village is known as one of the poorest and most rebellious in Bahrain and was the scene of weekly, if not daily, clashes between young, unarmed demonstrators and riot police. The town lost more than five of its inhabitants in the uprising, one of them, al-Sheikh. Eyewitnesses to his death say he was fired at by Bahraini riot police. Bahrain's Interior Ministry denies the allegations.
"The day before yesterday a tear gas canister made a hole right here," Ali's father Jawad says while pointing to a damaged air conditioner outside his house. "I don't want to think about what might have happened if the air conditioner would have been active." Jawad says security forces have relentlessly targeted his family since the death of his son -- police seem to target the families of the so-called "martyrs."
The walls of the al-Sheikh family's home are covered in slogans, pamphlets and pictures of Ali, some of them painted over again by police. Ali's family has made every effort to keep the boy's memory alive. Portraits cover the walls -- there's a wall-sized plate with a collage of pictures that covers the boy's short life. Ali as a baby, Ali playing football, Ali finishing his first year of primary school, Ali posing with his beloved photo camera…
"At Eid al-Fitr, we got out of bed at 6 o'clock, took a shower, went to the mosque, had breakfast," Al-Sheikh's father says. "After we visited the cemetery, Ali went to meet friends nearby, in the village of Sehla, to demonstrate and to visit the resting place of a martyr. Back home, we heard gun shots and smelled tear gas.
"It was Ahmed, Ali's younger brother, who first knew something bad had happened. He ran in and shouted that Ali was 'a little bit hurt.' We ran outside to find him and were told that Ali had been brought to the village health center. At the center, first the security forces tried to stop me, then they let me in. There he was, Ali, covered with blood, his tongue bit when he fell. I started hugging him, talked to him, didn't realize he was dead. Until the doctor told me: 'Let go, Jawad. Your son is a hero now.' At that moment, the ground beneath my feet disappeared."
Eyewitnesses claim that Ali and his co-demonstrators were chased by the police. According to their testimonies, the boy fell while running and was hit by a piece of shrapnel, fired from inside a police car at close range.
"People told me that the police didn't even make the effort to stop as he was lying on the ground, bleeding to death. As if my son was no more than an animal. His friends took him and carried him to the health center," Ali's father says.
When the family arrived in the health center right after Ali's death, tensions rose and the police confiscated the boy's body.
His parents were told they could pick up his remains in the central Salmanya Hospital for burial. Yet in order to get the body released, they were ordered to sign a paper that stated he was killed during a fight between demonstrators. "We refused and had to leave Ali in hospital," Jawad says.
Later, Ali's father was summoned for a hearing. "They didn't stop asking whether I knew people who wanted to harm Ali -- it was clear they were searching for a way to clear their own name. I said the only people I knew that were able to kill Ali, were the police. They said I did not have the right to speak like that, that I even hadn't been present at the scene of the crime."
"Then they started to interrogate me about my involvement in the revolution. Whether I intended to overthrow the regime. I was furious; I didn't want to talk about politics, I wanted to know about the death of my son."
"I never expected this to happen, never," says Ali's mother. "It was my dream that Ali would grow up next to me and I would get old next to him. It was meant to be like that, but it turned out so different. I miss him so much, the house is so empty without Ali."
Ali's younger brother and sister are going through a hard time, their parents say. Fatima, 8 years old, gets a stomach ache whenever she hears shooting. And Ahmed, 10, misses his brother. "Ahmed always joined Ali, he followed his older brother everywhere, he adored him. Now he tries to make up for his terrible loss by imitating his big example. He took Ali's camera and takes pictures all the time, the way Ali used to do."
Before we leave his house, Jawad al-Sheikh insists on taking us to the roof terrace. He wants to show us his son's aviary. The emptiness of the cage, after Jawad released the birds that Ali used to care for, says it all.
Related
Popular in the Community