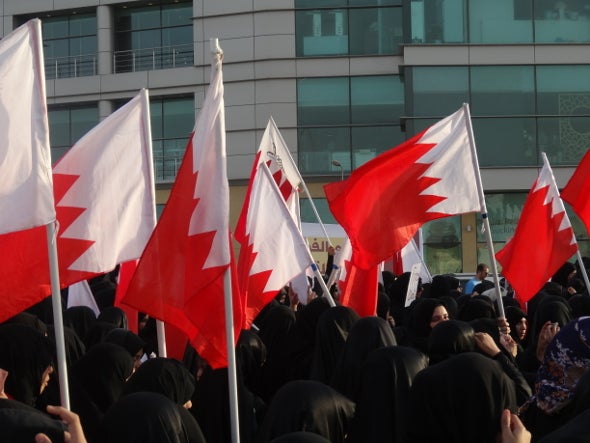 Civilians are being tried by military courts again in Bahrain. With depressing symmetry, Bahrain put four civilians on trial in a military court again this week, almost exactly six years after it stopped the practice as part of a much vaunted "reform" program.
The new trials are just one indicator of how much things have gone backwards in the small Gulf kingdom since October 2011. Bahrain's leading civil society figures from those days - including Zainab al Khawaja, Nabeel Rajab and Naji Fateel - are now either in prison or in exile.
Six years ago the main opposition group, Al Wefaq, could operate, albeit with some restrictions. Now it, and the smaller, secular Wa'ad group, have been banned. Al Wefaq's leader, Sheikh Ali Salman, is in prison. Next year's parliamentary elections look increasingly likely to be a sham process with no real opposition groups allowed to contest them.
Back in October 2011 executions in Bahrain were seen as part of its dark history, unlikely to return. Though hundreds had been tortured and jailed, no-one had been executed for their part in the large-scale pro-democracy protests which shook the kingdom in early 2011. Now executions are back.
The stripping of citizenship from dissidents has become common, and while Bahrain had an independent newspaper, Al Wasat in October 2011, authorities have since forced that to shut down too. Peaceful street protests used to happen regularly six years ago. They're banned now.
In October 2011 international human rights organizations, including Human Rights First, were permitted access to Bahrain to report firsthand on violations and on attempts at reform. I attended the November 2011 release of the report of the Bahrain Independent Commission of Inquiry at a royal palace. It was billed as the start of a serious push for reform. "This day turns a new page in history," huffed the king as we listened to his vacuous promises of change.
Six years on and human rights groups are shut out of the country, and human rights activists are shut in it. Travel bans are routinely slapped on anyone who might be leaving Bahrain to travel to the United Nations or other international fora to give firsthand accounts of how bad things have become.
In October 2017 authorities now target the families of human rights defenders who are beyond their reach. Next week three relatives of UK-based Bahraini Sayed Ahmed Alwadaei are due a trial verdict in a case which is clearly a reprisal against his activism. The three, Sayed Nazar Alwadaei, Hajar Mansoor Hasan and Mahmood Marzooq Mansoor, face long prison sentences if found guilty. The US embassy has previously intervened in attacks against his family, and the State Department ought to publicly tell its military allies in Bahrain that reprisals against human rights activists will have consequences for the Washington-Manama relationship.
The worsening of Bahrain's human rights record isn't all America's fault, but Washington's last 300 weeks of weak, inconsistent and muted pressure on the ruling family has enabled further crackdown. Plying the regime with more weapons won't help. Add the intensifying repression of peaceful dissent to a desperately vulnerable economy (see indicators here, here and here) and you end up with an explosive cocktail.
It's hard to imagine how bad Bahrain will look after another six years of handwringing by its powerful allies, and Washington can't afford to let Bahrain tip itself into further volatility, or wait until 2023 to act. Two months ago Trump administration responded to a deteriorating human rights crisis in Egypt by cutting military aid to Cairo. It should apply the same logic to Bahrain.
Popular in the Community