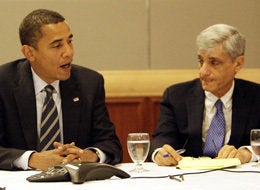 Citibank executives, who are expected to ask for another billion-dollar federal bailout on top of the $45 billion in rescue funds they received in November, are trying to buy the goodwill of Barack Obama -- or they just want to help the president-elect throw the best inauguration party in history.
Of the hundreds of banks and firms which have received bailout money, Citibank
employees have contributed the most to Obama's inauguration fund -- at least $113,000 as of Wednesday.
Among those contributions is $50,000 from Ray McGuire, Citi's co-head of global investment banking, and $50,000 from Louis Susman, the recently-retired vice chairman of Citigroup.
In recent weeks, Obama has vowed changes to the much-criticized $700 billion bailout program, demanding that the second installment should focus on helping families at risk of losing their homes and small businesses, and echoing Democratic criticisms of banks giving lavish bonuses to their senior executives.
Yet, as the New York Times recently reported, many of the banks, including Citigroup, need more bailout money and have been fiercely lobbying behind the scenes for a major piece of the $350 billion second installment.
Citigroup senior counselor and former Treasury Secretary Robert Rubin was close to Obama, serving on his economic advisory team. But he recently resigned from the firm after months of criticism of his performance and his admitted failure to foresee the credit crisis.
In addition, Citigroup employees were Obama's 7th-biggest contributor, giving $586,866 to the candidate during the 2008 election cycle.
Other bailed-out banks, which have contributed to the inauguration fund, include Goldman Sachs ($44,500), JPMorgan Chase ($30,600), and Wells Fargo ($2,450).
Goldman Sachs employees were Obama's second-biggest contributor, giving $884,907 to the candidate. JP Morgan Chase employees were Obama's sixth-biggest contributor ($600,210). Morgan Stanley employees contributed $425,502 to the candidate.
Popular in the Community