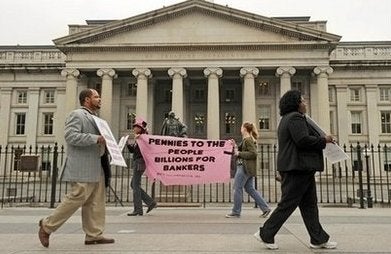 If anyone was concerned that President Bush, Treasury Secretary Paulson and Congress were not up to the task of passing a serious economic recovery bill that could stabilize our nation's failing economy, they need only look at Section 503 of the bailout bill to feel assured that our government is unwavering in its commitment to the economic well being of every American and that Congress is looking out for every major segment of our national economy.
Section 503 deals with the critical challenges facing a key business segment, which will no doubt play a crucial role in the full and immediate recovery of both Wall Street and Main Street: manufacturers of "wooden arrows designed for use by children."
Section 503 addresses the burdensome and undeniably excessive excise tax that has put U.S. manufacturers of "wooden arrows designed for use by children," at a significant competitive disadvantaged with other manufacturers across the globe of "wooden arrows designed for use by children."
Ikey Boykin, President and Founder of the National Association of Manufacturers of Wooden Arrows Designed For Use By Children (NAMWADFBC) stated, "Section 503 of the Senate bailout bill was a victory for all Americans, particularly those of us in the industry, which would be Biff, Pauley, Sonya and her sister's boy Donny Ray Jr."
Mr. Boykin went on to say, "I hear a lot of folks were not in favor of this bill to help bailout Wall Street. Just because those fellas are billionaires and may be responsible for pushing our economy to the point we may have to use small shinny stones for money, it doesn't mean they don't deserve our help. It's just a damn shame Congress did not have time to address some of the other issues that have affected the 27 million other small businesses in America that are not members of NAMWADFBC and are not involved in our growing industry. President Bush and Congress are busy and I guess they have to prioritize the economic challenges facing our country and take them on in that order."
Hopefully once Congress has fully addressed the mounting challenges facing the NAMWRDFBC, they may be able to find time to address other similar challenges facing the 168 million Americans that own and work in small businesses across the country. Problems that may not be as critical as those facing the manufacturers of "wooden arrows designed for use by children," but issues that are important to those Americans that do work in our nation's 27 million small businesses.
Hopefully Congress will find time to address problems such as the virtual closure of the Small Business Administration (SBA), the systematic dismantling by the Bush Administration of every federal program developed to assist small businesses, minority-owned firms, woman-owned firms and veteran-owned firms. And last but not least, the wholesale diversion of over $100 billion a year in U.S. government small business contracts to some of the largest corporations in the world.
Clearly section 503 of the bailout bill is a shining example of the unwavering commitment and determination that our government is capable of in times of national crisis. Section 503 is also a prime example of why no American should worry about the future of our nation's economy, especially those that are members of the NAMWADFBC.

Popular in the Community