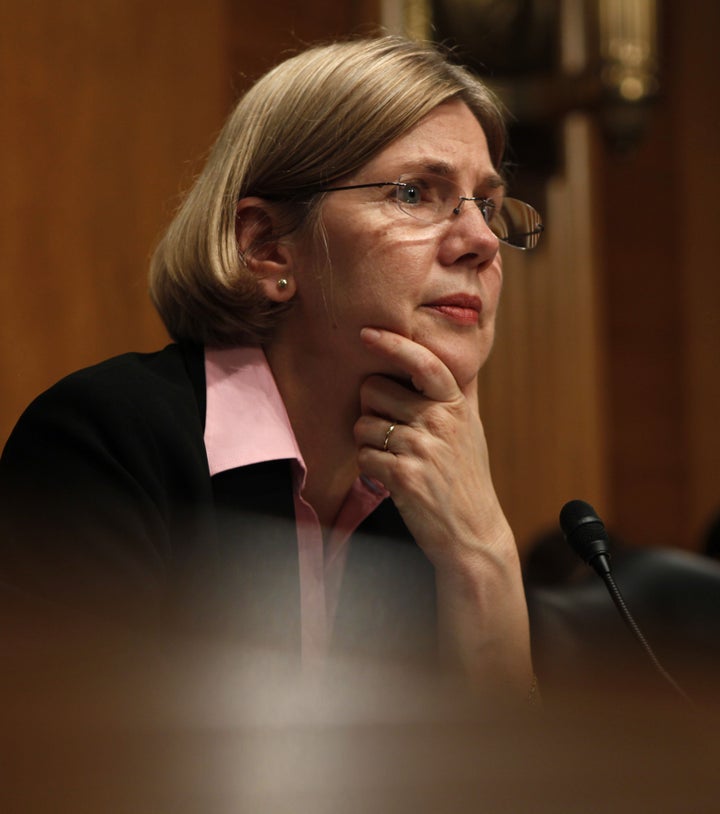 This story has been updated
Add Elizabeth Warren, the Harvard Law professor-turned-crusader for Main Street and the middle class, to the growing list of experts calling for the Obama administration to scrap its failed foreclosure-prevention plan in favor of one that would actually help troubled homeowners keep their homes.
The Congressional Oversight Panel that Warren heads issued a new report Wednesday, concluding that the government's $700 billion bailout program did in fact help stabilize the financial system -- but has largely failed to boost lending or prevent foreclosures.
In a conference call with reporters Tuesday night, Warren spelled out just how dramatically the administration signature foreclosure effort, called the Home Affordable Modification Program, has fallen short:
Nationwide, only 10,187 homeowners have received permanent mortgage modifications. That's only 4.7 percent of those enrolled in three-month trial plans. In October, Herbert M. Allison Jr., the Treasury Department's assistant secretary for financial stability, told the panel that Treasury had internally forecast that "up to 75 percent" of trial modifications would achieve permanent status.
Of the 79 mortgage services enrolled in the program, only 10 have received payment for successfully modifying loans on a permanent basis. They earned $2.3 million for their efforts. By contrast, the administration had set aside $50 billion in bailout money for modifications on mortgages not owned by government-backed mortgage giants Fannie Mae and Freddie Mac.
The data is through the end of October. The administration launched its foreclosure prevention drive in March.
HAMP was supposed to help three to four million homeowners avoid foreclosure by modifying their mortgages, enabling them to make lower monthly payments. But with 10 percent unemployment (a 26-year-high), mounting foreclosures and as many as one third of all homeowners with a mortgage currently owing more on the mortgage than the underlying property is worth, the program simply "isn't working," Warren said.

"The program that Treasury has designed does not have the scope, the scale, or the permanence needed to deal with the foreclosure problem," she said.
It's a stinging indictment of a program launched to great fanfare not even a year ago, as President Obama sought to help aggrieved homeowners on Main Street who had watched for months as massive infusions of taxpayer dollars went to Wall Street instead.
Even though the Treasury Department every month touts the numbers of homeowners signed up for trial plans as a sign of progress, Warren's panel notes in its report that monthly foreclosures still far outpace the number of new trial modifications.
"The Panel emphasizes that it is the number of foreclosures averted, not the number of trial modifications offered or even trial modifications commenced, that is the proper metric for evaluating HAMP," the report reads. "As currently structured, HAMP appears capable of preventing only a fraction of foreclosures."
By contrast to the program's target of three or four million homeowners helped, the report notes: "Projections for foreclosure range from 8.1 million over the next four years to as high as 13 million over the next five-plus years."
So even if Treasury actually hit its target, Warren said, the program would still only be dealing with a third of projected foreclosures. "That's not adequate," she said.
A major source of the panel's frustration is the program's failure to adequately address the problems of unemployed homeowners and those with negative equity.
Those without a job typically don't have enough income to qualify for the program.
And what homeowners who owe more on their houses than they are worth really need is to have their total debt reduced. But HAMP doesn't incent lenders to reduce principal. So "underwater" homeowners might see their interest rates reduced through HAMP, but if their principal remains unchanged, they are at increased risk of defaulting again.

"No one is helped by a program that kicks foreclosures down the line," Warren said. The panel's report suggests that Treasury (like the FDIC is doing) should consider principal reductions.
Treasury released a statement Wednesday morning to HuffPost in response to the panel's report. It reads:
Congress enacted the Emergency Economic Stabilization Act of 2008 (EESA) one year ago in the face of the most severe financial crises in modern history. That decision averted a catastrophic collapse and, by every measure, TARP has succeeded in achieving its primary goal of economic stabilization. Confidence in our financial system has improved, access to credit is increasing, and the economy is growing. Moreover, the government is exiting from its emergency financial policies and taxpayers are being repaid. Indeed, the ultimate cost of those policies is likely to be significantly lower than previously expected. Still, challenges to economic recovery remain. Unemployment and foreclosure rates remain high, while access to credit for small businesses is limited. For this reason, the focus of TARP now is on responsible homeowners and small businesses. Improvement in these areas will take some time and our job is not done. We continue to work collaboratively with all oversight bodies to advance our shared goals of full financial recovery and ultimately a conclusion to TARP.
READ the COP report below:
Popular in the Community