 WASHINGTON -- When Dade Behring started cutting employees under Bain Capital's management in the late '90s, Cindy Hewitt was on the front lines. As a human resources manager for the Dade East plant in Miami, Hewitt had to decide which employees had needed skills and whose jobs were expendable.
News of the latest layoffs trickled down to the Dade company cafeteria. The room could seat more than 1,000, and it had been enough of a draw that it even offered breakfast.
But as the layoffs hit, the mood in the cafeteria could be as somber as a funeral, Hewitt recalled. Multiple members of the same family might be gathered to commiserate over being laid off one by one by one. Some of them had worked for the medical diagnostics company for more than a decade.
Hewitt saw her colleagues crying on a daily basis and loudly celebrating on the rare occasion that someone found a comparable new job. "There was a tremendous sense of loss and this kind of outpouring of grief and mourning as every day they waited for the announcement of who was going next," she said. "People were on pins and needles. Who's going next? They're worried for themselves, worried for their co-workers, worried for their families. They'd talk about how they were going to send their kids to college. It was an incredibly depressing and demoralizing environment."
Since the Republican presidential primary, Dade Behring, which made blood-testing machines and conducted animal tests at its Miami plant, has become something of a focus. Bain Capital, GOP presidential hopeful Mitt Romney's firm, had bought Dade and shuttered its factory in Puerto Rico in 1998. The closings continued under Bain's management.
It's become a familiar tale about Romney and Bain's business dealings. The New York Times reported that Bain pushed the profitable company into bankruptcy. The Miami Herald followed with its own chronicle of the mass layoffs and mass profits for Romney and company. The Tampa Bay Times reported that Dade had received millions in tax breaks to promote job creation in Puerto Rico one year before it closed the factory there.
Bain, of course, walked away with a huge profit. In 1999, the private equity firm grabbed $242 million after it pressured Dade to borrow more millions to buy up Bain's shares in the company.
So many Dade workers lost their jobs -- 1,700 in the United States, 850 in Miami alone -- that the Bain-Dade dealings have become a symbol of corporate bloodletting and a painful memory to those who witnessed the layoffs.
Fred Gregory, an information technology consultant, said he was brought in to assist the plant closing in Miami. The cafeteria scene also stuck with him. At a certain point, he told HuffPost, he stopped eating lunch there. "I didn't want to see the women crying," he explained.
"You could walk in there and hear a pin drop," Gregory said. "You could see the emptiness. It was just huddled-up sheep. It was pathetic. It was heartbreaking, heartwrenching. You just want to hug them."
The layoffs continued for months and months. Gregory saw people fired and workers running out of the Dade offices in tears. "These people were scared to death," he said. "This was their livelihood. Some people couldn't bear it. It was a horrible place to work." Some would get an hour's notice before being shown the door.
The plant added higher fencing and concertina wire, Gregory said. Each day, a pair of security guards would check his back seat and trunk on the way out to make sure he wasn't stealing any office supplies. "It was all so well orchestrated," he said. "And so evil."
The Romney campaign, Bain Capital, and Siemens, which bought Dade Behring's operations in 2007, did not respond to requests for comment.
Michael Rumbin had been a Dade vice president. "No one ever came up to me to ask if we could create more jobs," he told HuffPost. "There was very little in the way of job creation. It was a business undertaking in which the Bain Capital people created a tremendous amount of wealth for themselves and their investors."
Hewitt has an idea of what the corporate bigwigs were doing at the time. One incident still sticks with her.
In the summer of 1998, amid mass layoffs and mandatory overtime at the Dade East plant, she saw workers crowded around a glass executive suite. Some shook their heads and walked away, and others just stood there staring, she recalled. She walked over to check out what was going on and found several department heads putting golf balls in the office.
"Here are these people whose lives are upside down, doing mandatory overtime, and the executives are playing golf where all the employees can see," Hewitt said. "I was so upset that I walked in and picked up a golf ball and said, 'Get out and go to the golf course if you don't have anything to do.' It was the most callous, insensitive thing I had ever witnessed. I was completely dumbfounded."
Hewitt said the golf putting incident was so traumatizing for her that she quit her job the following month and began a career in animal advocacy. She never took another job in human resources again, despite having a master's degree in the field.
"There's a part of me that tries very, very hard to not think about that experience," she said. "I felt I had been a part of treating people very poorly, and I could not in good conscience put myself in that kind of position again."

Support HuffPost
The Stakes Have Never Been Higher
Before You Go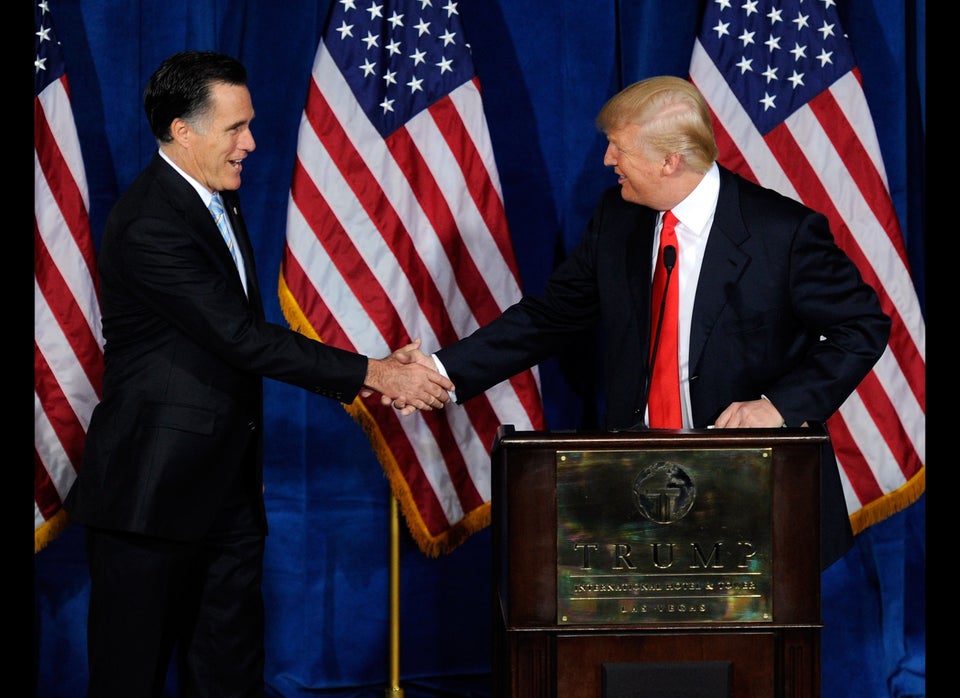 Mitt Romney's Greatest Hits
Popular in the Community