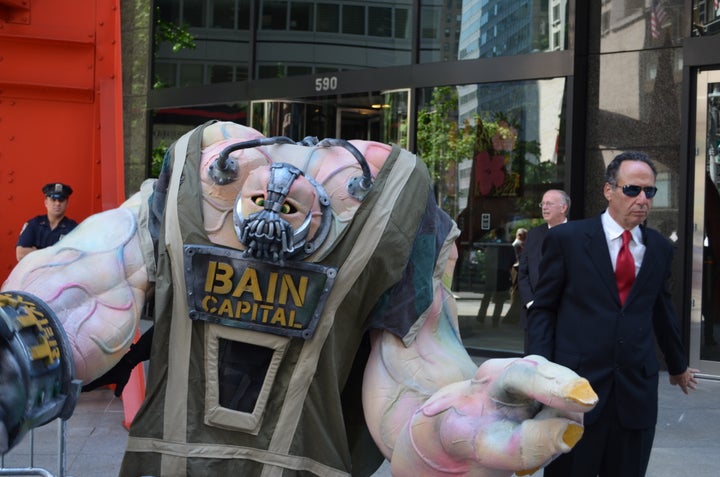 As Mitt Romney prepared to mount the stage in Tampa at the Republican National Convention, his former employer Bain Capital was being personified on Thursday as a 13-foot-tall puppet-villain.
Labor group United New York and the Occupy Wall Street Puppet Guild paraded their "Bain Capital Job Destroyer" opus in front of 590 Madison Avenue in New York City, the skyscraper home to one of Bain Capital's offices. The veined figure, operated by puppeteer Conor Landenberger, had the metal mouthpiece of the Batman villain Bane, as well as a mechanical device attached to his shoulders that "measured" outsourcing.
"People complained the Dark Knight Rises was too long. It's nothing to the dark night you'll be facing after Romney is elected!" shouted Landenberger to a crowd of around 30 protesters bordered by tourists snapping iPhone photos. Landenberger's voice, projected over a portable microphone, was a gravelly recollection of Dark Knight Rises star Tom Hardy's.
"We want to bring these super-villains out of site and into the open," said Gan Galan, one of the Puppet Guild artists behind the polyurethane foam and liquid latex monster, after the event. "The Republicans also sent a giant, bloated puppet to give a speech in Tampa: Chris Christie."
The monster was flanked by two "security guards" whose black suits, sunglasses and wire earpieces recalled the corporate agents in the Matrix. The guards, Elliot Crown and James Rose, who are Occupy Wall Street volunteers, shouted out phrases like "Protect the boss!" and occasionally helped the puppet regain its balance.
The superhero-themed satire did include a few standard protest elements. Employees at companies owned by Bain Capital spoke out against what they called a "Romney economy," saying the candidate's policies would devastate low-wage workers. Shantees Jones, a former employee of Burlington Coat Factory, talked about her struggles trying to raise three children on a salary of $8 an hour.
"I can't make ends meet with that amount of money," Jones said. As the co-founder of Bain Capital, Romney made money through the company's decisions to cut jobs and keep wages low, Jones argued.
Romney, who will accept the Republican nomination for president Thursday evening at the party's national convention, touts his Bain Capital experience as an asset. "[Bain Capital] succeeded by growing and fixing companies," he wrote in an opinion piece in the Wall Street Journal last week. "The lessons I learned over my 15 years at Bain Capital ... would help me as president to fix our economy, create jobs and get things done in Washington."
Forty-two floors up in an enormous glass tower, it was unclear if anyone at Bain Capital even knew they had inspired a spoof. From the swank Dior and Burberry stores across the street, the puppet looked more like a marketing gimmick for a Batman sequel than a piece of activist performance art.

"We've had two of these protests in the past few months," said Claudio Tresova, a security guard for the building who stood by its doors. "It's just another day at work."
Check out more photos of the protest:
Calling all HuffPost superfans!
Sign up for membership to become a founding member and help shape HuffPost's next chapter
BEFORE YOU GO
PHOTO GALLERY
Giant "Bane" Puppet Protests Bain Capital