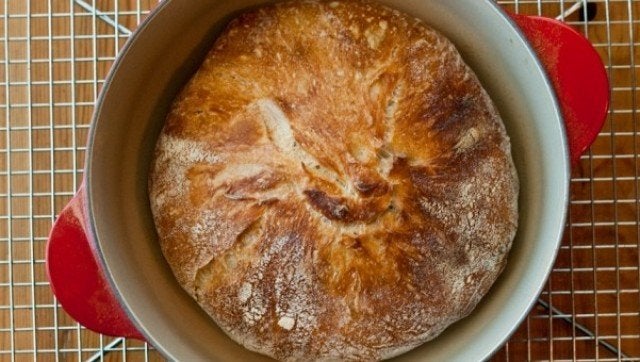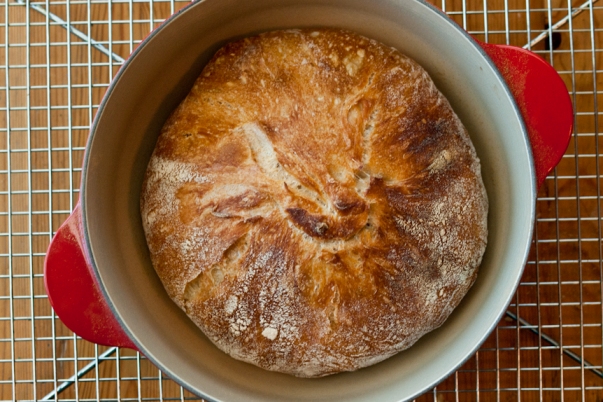 I love chomping into a chunk of crusty, crunchy bread. There is nothing like a freshly baked loaf that is soft and springy in the middle with a crust so hard it cracks when you bite into it. I often think of this kind of bread as San Francisco-style bread because that's where I first ate it, although it can be found across the globe. I even bought a Le Creuset cast-iron pot expressly for the purpose of making it at home.
As much as I love eating this kind of bread, I'd always found an excuse to avoid baking it myself. About the time I decided that this beautiful little pot would never, ever see a loaf of bread baking inside it, I discovered the Los Angeles Bread Bakers and attended a workshop that has radically changed my attitude toward bread baking.
The Los Angeles Bread Bakers is the kind of organization I admire because it is full of community spirit and knowledgeable members, and it doesn't take itself too seriously. The hosts of the workshop were Erik Knutzen and his wife Kelly Coyne.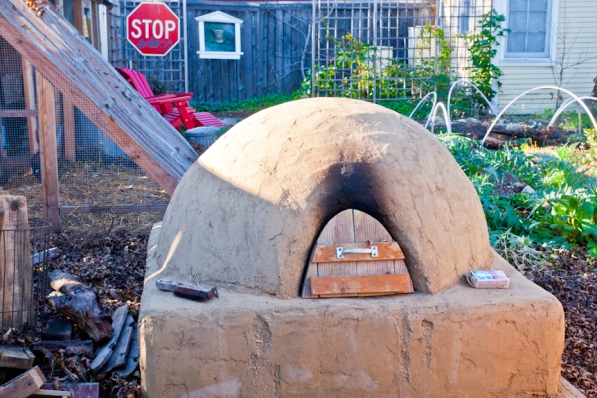 Together they run rootsimple.com and have written a number of great how-to books including "The Urban Homestead: Your Guide to Self-Sufficient Living in the Heart of the City." So I figured why not dedicate an afternoon to hanging out with Knutzen and Coyne and making some bread.
I already knew how to make bread, just not this particular kind of bread. I grew up in the South where bread is wonderful, but something entirely different. Where I come from, bread is soft throughout, slightly sweet, and topped with melted butter. It may be brown or white, but it never has the crunchy, crackly crust that I admired.[imagebrowser id=62]
Many of the workshop participants were also experienced bakers who shared my motivation for attending the workshop. We all wanted to learn how to bake this crusty bread, but perhaps even more important we wanted to hang out with other people who really like to make bread and really like to talk about it.
As it turns out, this is pretty much how The Los Angeles Bread Bakers got started. Knutzen, Mark Stambler and Teresa Sitz founded the group in 2011. I knew of Stambler because of his tireless campaign to persuade state lawmakers to pass the new California Homemade Food Act. Often known as the Cottage Food Law, it will open up a new world for home bakers looking to get into the food business.
When I asked Knutzen about the origins of LABB, he laughed and said, "I knew Teresa because she stalked me. Teresa and I were stalking Mark because we wanted to meet him and see his bread-making operation."
The idea for LABB was born at Mark's kitchen table. Its mission is to bring bread culture to Los Angeles and to introduce Angelenos to the many forms bread can take. To that end, the group has been host to workshops on a wide variety of topics including beginning bread baking, sourdough breads, soba noodles, pie crust and pizza making. They've even had a workshop on how to build your own adobe oven.
Membership in LABB also has privileges beyond learning great bread-making techniques. LABB's almost 600 members are able to participate in bulk orders from high-end mills that grind flours using heritage wheat and other hard-to-find, but amazingly delicious grains.
Our class began with an introduction to this type of bread, which is based on Jim Lahey's now-famous recipe for "No-Knead Bread." I always thought that bread was made or destroyed in the kneading process, but as we started to measure ingredients, Erik told us, "You have one chance to get it right -- when you mix the dough."
Knutzen showed us how to mix the proper proportion of flour to water, known as the hydration ratio. Just at the point when I started to worry (once again) that I'm not meticulous enough to be a great baker, Coyne chimed in and told us a hilarious story about doing everything wrong and still coming out with a good (or at least perfectly edible) loaf of bread.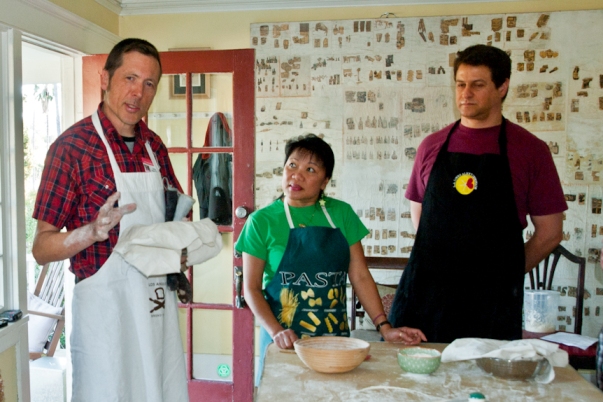 Once mixed, the dough is left to rise for 18 hours, which is much longer than a traditional bread recipe. We all left the workshop with a bowl full of dough ready to rise in our own homes. The next day my family and I enjoyed a loaf of fresh-baked bread. It was not particularly gorgeous, but as crunchy and crackly as any I'd ever tasted in San Francisco.
The LABB is exactly what I'm looking for in a group because it encourages experimentation and breeds enthusiasm. Now LABB is taking its project to the next level. They're growing their own wheat on a few acres in Agoura Hills, Calif. If all goes well, the wheat will be ready in early summer and milled into flour for the use and enjoyment of LABB members. As a new member, I can't wait for the harvest.
Photos, from top:
Bread hot out of the oven in cast iron pot. Credit: Susan Lutz
Adobe oven in the backyard of Erik Knutzen and Kelly Coyne. Credit: Susan Lutz
Erik Knutzen discusses bread baking with LABB members Flora Agpalo and Jonathan Ausubel. Credit: Susan Lutz

Zester Daily contributor Susan Lutz is a photographer, artist and television producer. A native of Virginia's Shenandoah Valley, she currently lives in Los Angeles, where she is writing a book about heirloom foods and the American tradition of Sunday dinner. She also blogs about the subject at Eat Sunday Dinner.