An innocent gender parity-themed bake sale has turned into a global reminder that masculinity is, in fact, so fragile -- so fragile that differently priced cupcakes are enough to inspire threats of physical and sexual violence. 
During Feminist Week at the University of Queensland in Brisbane, Australia, the campus women's collective announced that it would hold a "Gender Pay Gap Bake Sale" on Tuesday. The week's events were announced at the end of March, with the bake sale taking place in between various panels and discussions about feminism and gender equality. 

Vice president of the collective Madeline Price said in an op-ed for The Guardian that the bake sale was "an afterthought, a supplementary event to the panel discussions, workshops and stalls to be held throughout feminist week on the University of Queensland campus."
But the seemingly innocuous event became the focal point, and the opportunity to discuss the gender pay gap and other instances of gender inequality quickly turned into a situation that women are all too familiar with: anonymous online trolls threatening violence and rape -- only this time, it was over $1 baked goods. 
For the last few weeks leading up to the sale, sexist trolls -- most of whom were not UQ students -- congregated on public Facebook pages like UQ StalkerSpace (a public page used as a forum for members of the UQ community) and the UQ Feminist Week event page to share disapproval and mansplain the apparently nonexistent gender gap, on top of resorting to physical and sexual threats. 
The overall idea behind the backlash is that somehow, the women who had organized the bake sale -- which was simply meant to start an important conversation in a playful and approachable way over sugary treats -- were discriminating against men by charging them more.
Price wrote that some comments and private messages ranged from the ridiculous -- "I'm so glad I know this event is on, now I won't have to sort through all the ugly chicks when I'm out clubbing cos they'll all be at feminist week instead" -- to the terrifying: "I want to rape these feminist c**** with their fucking baked goods." In one screenshot, obtained by The Guardian, a user wrote "f*** feminists" on the discussion page, while another posted a triggering meme, in which a man's balled-up fist hovers over a distressed woman, with the words "WOMEN DESERVE EQUAL RIGHTS...AND LEFTS" written across.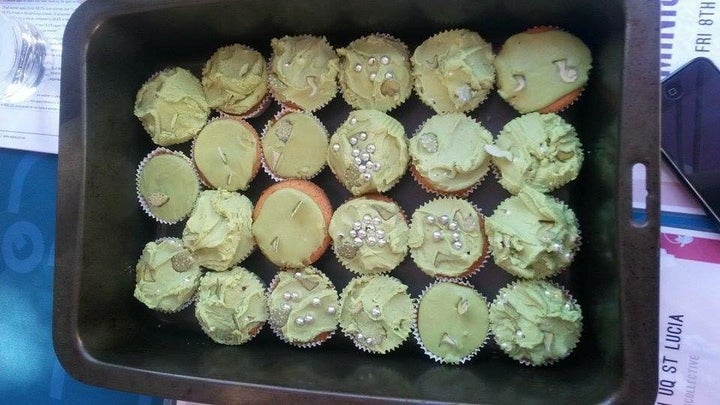 One commenter said, "I wonder if the ladies will get into trouble for sexual discrimination?" while another rambled on about the sheer injustice of it all. "Setting aside the fact that the pay gap is already outlawed in Australia, demonstrably nonexistent, and statistically documented as such, the fact of the matter is that discrimination isn't solved by more discrimination in the opposite direction," one disgruntled student wrote (incorrectly) on the StalkerSpace page. 
It is ludicrous that this needs to spelled out again, but here we go: the gender pay gap has proven time and again not to be a myth made up by feminists to get cheaper cupcakes. In Australia specifically, a March 2016 (you know, last month) report conducted by the government's Workplace Gender Equality Agency showed that there is a 17 percent wage gap between men and women, with men earning $277 more per week than their female counterparts. 
So asking men to pay slightly more for cupcakes at a university bake sale as a cheeky reminder of this imbalance should have been a harmless idea. 
"As with all keyboard warriors...they never materialize in real life," Price said in The Guardian. The sale came and went without event, but a global discussion -- the bake sale has been covered in the media in Australia, Canada, Europe, and the US -- took place not just about the wage gap, but of misogyny, sexism, violence against women and online abuse as well. And according to Price, "the bake sale may be over, but this discussion is just beginning."
Calling all HuffPost superfans!
Sign up for membership to become a founding member and help shape HuffPost's next chapter
BEFORE YOU GO
PHOTO GALLERY
24 Times Sexism Was Very Very Real In 2015