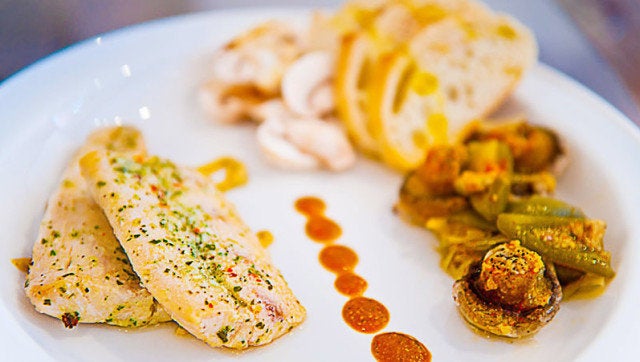 Getting dinner on the table fast doesn't mean you have to forget about health. Sure, most quick meals mean frozen dinners or fast food, but there are a handful of dishes that are healthy, fast and easy options for dinner. And yes, we're going to share all of our secrets with you.
We've already told you how to make homemade pizza and our favorite Italian pasta, caccio e pepe, in just 10 minutes. But today we're bringing you something a little lighter and healthier: baked fish. Don't let the name of this dish deceive you. We know the sound of baked fish doesn't have a very nice ring to it. But this dish is every bit as delicious and satisfying as pan-seared snapper or panko-breaded catfish can ever be. Promise.
This is how it's done.
Confession: This dish doesn't exactly take 10 minutes, it might be closer to 12 or 13. But those extra three minutes are well worth it!
Preheat oven to 350 degrees.
While the oven is preheating, prepare your ingredients. Place your thin, white fish fillets (such as tilapia) on a piece of foil. Lightly drizzle with olive oil, salt and pepper.
Top the fillets with thin slices of lemon as well as your choice of veggie. We're fans of adding medium to thin slices of onion and tomato. The juice of the tomato provides the fish with a nice liquid to bake in and the onion gives a boost of flavor. Asparagus is also a nice option, as are green beans. Just be sure to choose veggies that are quick cooking -- potatoes will not work here.
Lastly, top with fresh herbs of your choice. Parsley and cilantro add a nice fresh flavor. Wrap the fish and veggies with the foil. Place in the oven and bake for 7-10 minutes or until the fish is opaque and flaky.
Serve with minute rice, and you've just made yourself a healthy and well-balanced meal in less time than it takes to do your hair.