Our slimmed down version of Italian meatballs are a tasty crowd pleaser any night of the week. Even though these turkey meatballs are lower in fat, they still bring flavor to the table. Fresh basil, onion, and garlic are essential ingredients for an old world favorite.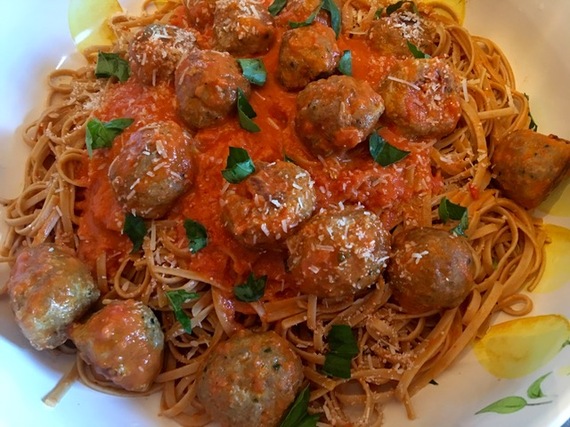 Ingredients
(Yields approx. 28 medium-sized meatballs)
2 pounds of ground organic turkey
1/3 cup Italian seasoned breadcrumbs
1 tablespoon of freshly chopped basil
1/3 cup onion, finely chopped
1 whole organic egg
1/3 of a cup of Parmesan cheese
2 teaspoons garlic, minced
¼ teaspoon sea salt
¼ teaspoon pepper
1. In a medium bowl, evenly combine all ingredients.
2. Line a baking sheet with parchment paper and lightly coat with coconut non-stick cooking spray. Shape mixture into medium-sized meatballs and place on the parchment paper 2 inches apart.
3. Bake at 400 degrees Fahrenheit for 20-25 minutes or until internal temperature of turkey meatballs has reached 165 degrees.
4. Serve with your favorite whole grain pasta and sauce.
Helen has educated the public on healthy eating for 15 years. Her passion is to convey the importance of eating real food and exercising regularly. Her current initiative is encouraging families to bring healthy dinners back to the table while dispelling the myth that it is difficult and time consuming.
For more healthy recipes and nutrition advice follow Helen on Instagram.
Related