This last one has really tripped us up. The team at HuffPost Taste has become a little obsessed with Parm's ziti. So much so that despite all the new places to eat, we've gone back to Parm again and again. And again. Not for the meatball parm sub, which is awesome. Not even for the mozzarella sticks. Just for the baked ziti. Take a look at this thing.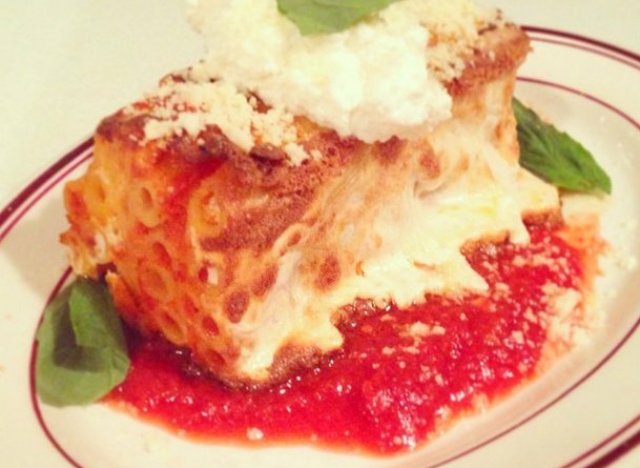 There's nothing particularly fancy about the baked ziti at Parm. It's made with the same basic staple ingredients you'd find in your pantry at home -- it isn't embossed in gold leaf. BUT, it tastes like the sum of every dish every Italian grandmother has ever made. Taking one bite out of their ziti is like returning home to find all your friends and favorite family members waiting in your living room just to ask you how your day was. It feels good. Real good. So good that we had to figure out how to recreate the dish in our own kitchen because moving into the one at Parm isn't an option.
We knew the good folks at Parm wouldn't hand over their treasured ziti recipe -- no one in their right mind would -- so we set to work on figuring out the recipe at home so we could share it with you (and so we could eat a lot more ziti).
We worried that this was going to be a near impossible task -- and that we would OD on ziti in our failed attempts. We were right and wrong. We were not successful in creating a ziti that was as revelatory as the one they make at Parm, but we came pretty darn close. And we learned an important lesson along the way: anyone can improve their baked ziti recipe by 1,000 if they serve it right.
The secret is in the reheating.
Here's what you do: Make your baked ziti -- one that's purely marinara and cheese, no meat (i.e. no grease). (If you don't have a go-to ziti recipe, we have one for you below.) Let it cool in the refrigerator, preferably overnight. Then, to reheat it, use a big kitchen knife and slice the ziti into brick-sized slabs. Heat oil in a pan on medium high and carefully place the brick of ziti into the hot pan. Sear it on the four sides with the most surface area. Watch as the cheese starts to melt and form a beautiful crunchy crust.
To maximize on the cheesy crust, we suggest dusting the ziti slices with finely grated Parmesan before searing it. Once the ziti is a nice golden color and feels warm to the touch, serve on a plate with extra marinara sauce. Top with a big spoonful of ricotta and fresh basil. Dig in and enjoy the best reheated baked ziti you've ever had.
Baked Ziti Recipe For Reheating
Ingredients:
1 lb ziti, cooked
2-1/2-3 cups of marinara sauce, plus more for serving
1 lb fresh mozzarella, sliced
1 egg, well beaten
1 cup of Parmesan, finely grated and divided into 2 half cups
1 cup ricotta
fresh basil leaves
Preheat oven to 350 degrees.
Toss the ziti with marinara, egg and 1/2 cup of Parmesan. Place half the ziti in a 9 x 9 prepared pan. Add a layer of mozzarella -- should be roughly half. Top with the rest of the ziti and then the rest of the mozzarella. Bake for 35 minutes, until the cheese is golden brown. Let it cool to nearly room temperature (or refrigerate). Then, reheat with instructions above. Top with a big spoonful of ricotta and fresh basil. Enjoy!