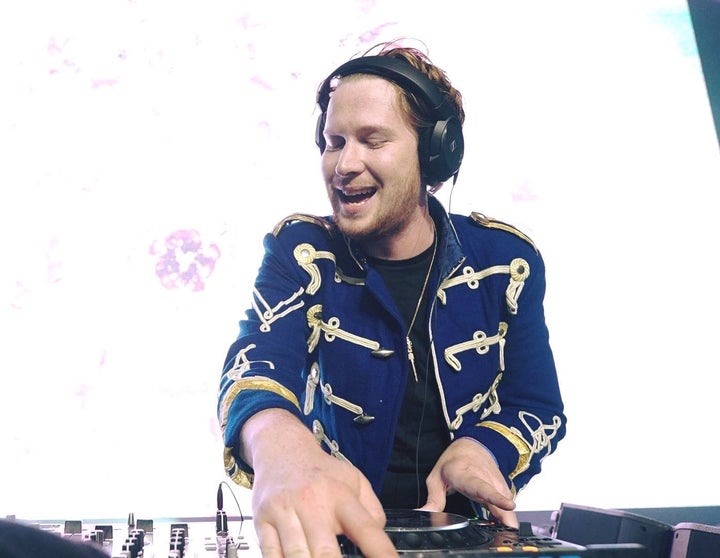 Bakermat, the Dutch musical artist and producer, is exclusively premiering his brand new track "Living" featuring Alex Clare with The Huffington Post. Known for his ability to mix so many differing electronic genres like deep house, tropical house, and techno with jazz and soul influences, Bakermat has put together a track with Alex Clare that just screams "summer anthem." Clare, known best for his smash hit "Too Close," handles the vocals on the upbeat melody that melds together a swingy funk sure to keep listeners uncontrollably tapping along. Bakermat detailed the process for creating this track and teaming up with Alex Clare:
I approach every production differently and always experiment with melodies, etc. I was very impressed with Alex's "Too Close." It was so original and fresh, so when the opportunity arose to make a track with him, I was super excited! This guy is an extremely talented song writer and an incredible singer. The lyrics in "Living" are very motivating and inspiring, so I wanted to strengthen that message with my production.
Looking past the awesome exclusive worldwide premiere of "Living" Bakermat fan's have a lot to be excited for over the rest of 2016. Bakermat elaborated:
I have a ton of new music ready to be released, which I can't wait to share with the world and all of my fans. Sometimes it's really frustrating when I have to wait for contracts, clearing etc. before I can release a track. But at the moment I have about 4 tracks that are ready for release, which I'm super excited about! The focus for me musically in 2016 is to really go for a 'feel good' vibe. You'll notice that in my upcoming releases ;).
The rest of the year is not close to slowing down for the breakout producer. From another curated Bakermat stage at Tomorrowland to an impressive 13 city North America tour ― From Amsterdam With Love ― with fellow Netherlander Sam Feldt coming up in September, there are plenty of chances to catch a hold of the feel good sounds set to come from his stage.
We asked how the FAWL tour and collaboration with Sam Feldt came about:
Well we see each other a lot at festivals and parties, so we got to know one another really well this year. It's always great fun with Sam and his team. We laugh a lot and get along very well! We were both planning on touring the U.S. this fall, and thought, why not combine our tours and make it the most fun three weeks of our lives? The tour will be all about combining Sam's strengths and mine to give the people a diverse, intense and surprising night! Fans can expect a lot of happy vibes and energy and most importantly good music!
Reflecting on the first half of this year, Bakermat reflected on his wildly successful "Circus Tour" that dominated the first half of his year:
All of the Circus shows were my favorites. I played these special nights in London, Paris, Sao Paolo, Rio de Janeiro, New York and Amsterdam. I organize these nights myself with a local promoter and invite artists to play that are friends, or that I think are very talented. "Bakermat presents The Circus" has also been a huge success so far with sold out nights only!
Additionally, The Huffington Post had a chance to connect with Bakermat before the New York stop of his "Circus Tour" back in April and discussed in greater detail the origins of the tour, his live sets and how he got into the music industry.
HP: Let's start with Circus tour. Tell us about the Circus tour. What inspired you to create the Circus Tour and why a circus?
Bakermat: The Circus, it started in Paris. I did a Circus night because I'm in a grey area between underground and mainstream. I'm in the middle. My crowd is always very diverse. I thought of a way to unify the people that are in my crowd. You have the weirdest types. It's just such a diverse crowd that I thought like, "I want to unify. I want to really celebrate uniqueness, celebrate weirdos and celebrate weirdness in people." Where do you do that? That's the Circus. That's actually cheered on like the trapeze artists and that's how I concept. I did a couple in Paris and then I thought like, "I'm gonna expand this." I've done it in London now two nights, San Paulo [and] New York. It's a fun concept. It's about having fun.
A huge part of your set [and] your production is live music and your influences sound like soul, funk, jazz [and] blues. Start at what drove you or influenced you to bring in those forms of music to what you do in electronic [music].
It started with my dad actually. My mom was an opera singer. She did all the classical music and I heard it. I know every opera. I know every classical piece of music.
What languages did [your mom] sing in?
Everything. Italian. German. Everything. My dad was actually into soul [music]. He played me James Brown that kind of stuff. The funky, soul. I loved the funk and soul a lot more than classical even though I loved classical. I tried to figure out what was the root of it and it's American folk music. The old guy just sitting at his porch with a guitar playing some tunes. Actually that is the root of soul, blues, gospel, jazz [and] everything that I love. Basically everything that came forth came from America folk [music]. American folk music is like the fundamental of all those genres and I love all those genres. That's why I started and I figured all the genres out. I was like, "I like that. I like that. I like that, that and that…"
Since you started obviously a main part of your set is the saxophone. And it's your friend Ben is the saxophone player?
What's that collaboration like? You guys obviously tour everywhere together.
Ben is a guy that ― all the saxophone in my music ― the production is just samples chopped up. I'd play it on a keyboard. It's a weird way of working, but that's how I manage to make melodies and stuff. But he's the one that actually brings it out live on stage in such a manner that the first time I heard it I showed him my music and I was like, "Can you play that live if I make instrumentals?" He played it and I was like, "Yes. That's exactly what I mean." He makes it sax-ier. He makes it more human. He makes it just better.
Is that what influenced your collaboration with Goldfish on 'Games Continued?'
Not that particularly. I'm a big fan of Goldfish. I love their act. Actually I was a fan of theirs. That's what inspired it. It was Amsterdam. They came to Amsterdam. I already played with them on several festivals and got to know them. But I was a fan boy at first because I was very impressed by their performances, their skills and that kind of stuff. I asked them like, "Do you want to go in the studio and make a track together?" I already had a little setup I made with a French girl and we worked in there. Yeah. On point.
Have you scanned the Internet? I'm a Hypem guy. I just scroll through Hypem. That's how I find my music. Your name is everywhere. In terms of originals, remixes, productions, features and mixes you've become ubiquitous in this scene in the last year. What's the transformation from the "Teach Me" release to now? What's that transformation been like?
It's not really a transformation from that. It's a transformation because I was just a student in my third year of college and I made a record for fun. I took the last semester off and I did stand up comedy. I made a movie. I took photos. The movie and photos were shit by the way. It didn't work out.
Stand up comedy did really well, but I got out in the semi-finals and I also made one track. That was "Zomer" and that made it roll. Since then I made a record "Vandaag" and that became a hit. Since then I had several options. The label said to me, "You have to go out right now and go fully commercial. Just go for it. Go for radio." But I didn't do that because I really wanted to be original and make my own shit. That's when I made "Teach Me" and I made different records.
2016, what should we be looking forward to?
A lot of releases in different genres. Originals only. I'm going to refrain from remixes for a while. I have a couple of remixes coming though, but a lot of originals.
That you've already finished?
Yup. I already finished them. I'm already agreed and also checked. But it's going to be a big weird mix of all kinds of genres. I'm going to release slow stuff. I'm going to release house-y stuff, happy stuff [and] sad stuff. It's just one weird package of music.
When people describe you as a deep house DJ with other influences does that resonate with you?
No, that's not accurate. I don't think it's accurate, but people love to do that, which is cool.
It's the easy way to paint a box around somebody.
Yeah, but I'm a cool guy. I'm not going to be mad about that. I'm cool with that, but I don't see myself like that. I think I'm fusion. I cook shit up. I combine.
Anything else coming up that you're really looking forward to?
13' and 15'. I did 14', 15' and 16' right now. That's a regular thing and I have a lot of very exciting festivals coming.
Calling all HuffPost superfans!
Sign up for membership to become a founding member and help shape HuffPost's next chapter
BEFORE YOU GO