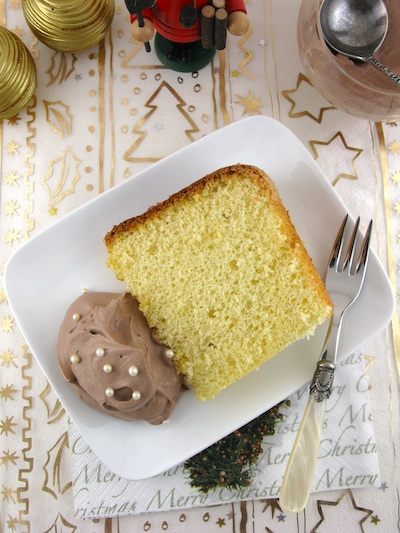 As the holidays approach, I, as is the custom, have begun making my list for Santa -- or whomsoever is behind the windfall of gifts (well, windfall is rather an exaggeration) that come my way each Hanukkah and Christmas season. Although jewelry has its attraction and shoes are always welcome, as a passionate baker, these less-than-culinary accessories get scratched off the list one by one and replaced with cake molds and stand mixers, the latest model of digital scale and, of course, cookbooks.
As an avid reader as well as baker, cookbooks are a constant envie and the truly obvious gift for the person who spends so many hours of each day in the kitchen. I may be a food blogger, offering up recipes and anecdotes via the internet, thrown out and shared generously and effortlessly into cyberspace, but the heft and smoothness of a traditional print book smelling of ink and paper and studded with glossy, mouthwatering images is an absolute must for whenever the baking urge takes over.
And when offering gifts to foodie friends, well I know what they desire. Another cookbook. As the end of the year rolls around, food blogs and food magazines, both on-line and in print, have been offering their annual round up of the best cookbooks of 2011; each holiday gift guide is abundant with lists of the latest must-have cookbooks. Yet, as a home cook and baker, I feel that many of these elegant books are more worthy of the living room coffee table, the kind of book that encourages and inspires hours of ogling, dreaming and contemplating.
But when it comes to actual real-life cooking and baking, one wonders if these books are just a tad too daunting -- or too pretty -- for the average home cook or baker, showcasing recipes that are at a level too professional for the average home baker. As much as I admire these beautiful books, when choosing gifts for my friends I tend to select cookbooks that I find more accessible. And I almost always offer cookbooks that I myself own and love; I know that the recipes, many tried and trusted, work, I know that the ingredients are easily obtainable and I know that I am offering a cookbook whose recipes are adapted to this or that friend's level of cooking or baking proficiency and knowledge.
The Weekend Baker is one of my favorites, a cookbook for bakers of every level, a wonderful collection of homey, comfy recipes both old fashioned cozy and contemporarily cool by Abigail Johnson Dodge (Abby to her fans and friends). This is a book for a passionate home baker such as I to read, coddle, indulge in and dream over, yet very much a book to bake from as often as one pleases.
A former pastry chef and graduate of the prestigious La Varenne cooking school in Paris, Abby has authored seven cookbooks of her own, co-authored as many and her recipes have been featured in half a dozen others as well as many major cooking magazines such as Bon Appétit and Fine Cooking, for which she is a contributing editor. So needless to say, Abby knows her recipes! And as a passionate baker herself, she knew how to put together the perfect baking cookbook.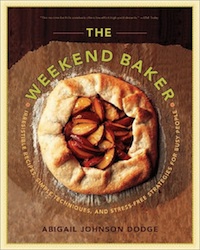 The Weekend Baker is a compilation of baking both sweet and savory, cookies and bars, breads, muffins and scones, puddings and custards as well as cakes some simple and homey, others elegant and decadent. Such mouth-watering goodies as Southern Molasses Cake, Comfy Classic Vanilla Rice Pudding, Dark Chocolate Pecan Pie and Layered Chocolate Mousse Cake, warming coffee cakes and fruity tarts, pies and Charlottes fill the pages, each begging to be made.
Abby also approached The Weekend Baker as the instructor that she is, including an informative checklist and explanation of pantry essentials, tips on kitchen tools and appliances, a breakdown of everything from reading a recipe to baking techniques. Each recipe comes with do-aheads, variations and go-withs and there are recipes for the stove top as well as the oven. The baker is eased into each project with guidance and encouragement, so baking is easy, comforting, stress-free and pleasurable. (And all quantities are also given in metric!)
The Weekend Baker is no gorgeous coffee table picture book filled with fancy recipes too complicated, too unapproachable for the home baker, rather it is a wonderful book filled with luscious, tempting treats for bakers of all levels, recipes for when you need something fast or when you want to spend a long, lazy day baking; a book for when you need a treat simple and comforting or an elegant wow dessert for company.
And need I mention that every single treat I have made from The Weekend Baker has turned out a perfect, delicious cake, cookie or tart, that this is one cookbook whose every recipe has been guaranteed to please each of my very finicky men eaters? From the Plum Galette to the Nutty Caramel Chocolate Upside Down Cake, the Berry Coffee Cake to the Cinnamon Streusel Crumb Cake, each has been amazingly good!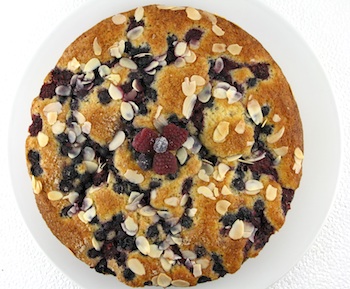 Raspberry Blueberry Coffee Cake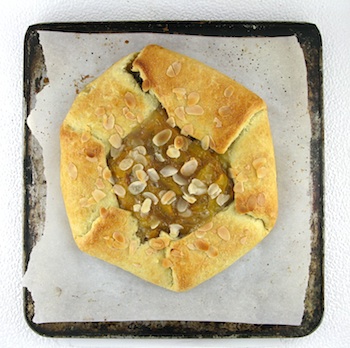 Plum Galette
So take it from this real home baker, if you are looking for the perfect gift for someone who loves to bake, no matter how novice or how experienced, or for that aspiring home baker on your list, then look no further, The Weekend Baker is the book you are looking for, the perfect holiday gift.
And now I have created one more, Abby's Mom's Mile-High Vanilla Sponge with Creamy Whipped Chocolate Topping. At Abby's suggestion, I created the sponge with an orange twist and even eaten plain without the topping it was fabulous, light and delicate yet full of flavor. The Chocolate Whipped Topping is so good that I found myself enjoying it straight out of the mixing bowl.
N.B. I purchased this book myself, it was not a gift.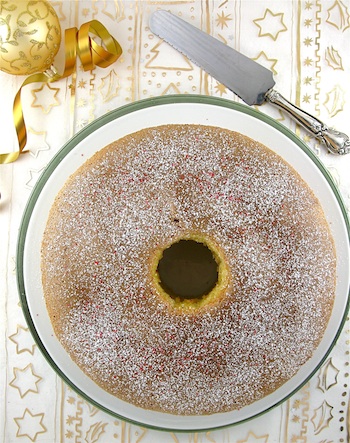 ABBY'S MOM'S MILE-HIGH VANILLA SPONGE CAKE
Makes one 10-inch (25 cm) cake

(All comments in parentheses and italics are my own)

Do aheads * The cake can be prepared through step 5, covered and stored at room temperature for up to 2 days.

7 large eggs
1 ½ cups (12 ounces/340 grams) granulated sugar
3 tablespoons warm water
2 teaspoons pure vanilla extract
¼ teaspoon salt
1 ½ cups (6 ¾ ounces/191 grams) all-purpose flour

for the orange version: Substitute 3 tablespoons freshly squeezed orange juice for the water and add 2 teaspoons finely grated orange zest with the egg yolks (I added the finely grated zest of one large orange).

1. Preheat the oven to 350°F (180°C). Have ready a 10-inch (25 cm) tube pan with straight sides and, preferably, a removable bottom. (This is an angel food cake pan.) If yours doesn't have a removable bottom, line the bottom with parchment paper. Do not grease the pan.

Some tube pans have small "legs" that protrude from the top rim of the pan; these allow the pan to be inverted for the cooling process without crushing the cake. If your pan doesn't have these legs, choose a slender, long-necked bottle (a vinegar or beer bottle, for example) that will slide easily into the center hole of the tube pan, allowing you to invert the pan onto the bottle and let it cool upside down.

2. Separate the egg yolks from the whites, placing each in a large (the yolks in a very large) mixing bowl. (Personally, I prefer using a plastic bowl for the whites.) To the yolks, add 1 cup (8 ounces/227 grams) of the sugar, the warm water or orange juice and the vanilla. Beat with an electric mixer (stand mixer fitted with the whisk attachment or a handheld mixer) on medium-high speed until the mixture is pale yellow and tripled in volume, about 3 minutes. When the whisk or beaters are lifted, the mixture will fall back into the bowl and form a ribbon; it should linger a bit on the surface.

3. Using a very clean whisk attachment or beaters, beat the whites with the salt on medium-high speed until soft peaks form. Gradually add the remaining ½ cup (4 ounces/113 grams) sugar as you beat, and beat until the whites are glossy and thick and form medium-firm peaks (the peaks will hold their shape but the tips will flop over).

4. Using a rubber or silicone spatula, scoop about one fourth of the beaten whites into the yolk mixture. Gently fold and stir just until combined. Sprinkle the flour over the top (I did this in three additions, partially folding in the flour after the first two additions) and fold until blended. Gently fold in the remaining beaten whites just until blended (I did this in 3 additions, only partially folding in the whites after the first two additions). Scrape the batter into the prepared pan, spread it evenly and smooth the top.

5. Bake until the top is golden brown and a toothpick or cake tester inserted in the center comes out clean, about 55 minutes. (My oven is very hot on top so I covered the top of the cake very loosely with a piece of aluminum foil for the last 10 minutes of baking so the cake wouldn't overbrown). Remove from the oven and immediately turn the pan upside down and rest it on its legs (or slide it onto the bottle) directly on the counter or table. Leave the pan upside down until the cake has cooled completely, about three hours.

When the cake has cooled, run a long, thin knife around the sides of the pan and the tube sides to loosen the cake. If using a pan with a removable bottom, remove the outer ring and set the cake on the work surface. Run the knife between the cake and the bottom of the pan and carefully lift and remove the cake off the tube and set on a flat serving plate. If using a pan without a removable bottom, invert the cake onto a rack, lift off the pan and place the cake upright on a flat serving plate.

6. To serve, cut into slices with a serrated knife. Accompany with the Creamy Chocolate Whipped Topping or a Berry Sauce (recipe in The Weekend Baker).

CREAMY CHOCOLATE TOPPING

1 ¼ cups (10 fl ounces/290 ml) heavy whipping cream
2/3 cups (2 ½ ounces/71 grams) confectioner's sugar, sifted if lumpy
¼ cup (3/4 ounce/21 grams) unsweetened, Dutch-process cocoa powder, sifted if lumpy
1 teaspoon pure vanilla extract

In a large bowl, combine the cream, confectioner's sugar, cocoa powder and vanilla. Stir or whisk until well combined the cocoa is moistened. Cover with plastic wrap and refrigerate for at least two hours or for up to three days. Beat with an electric mixer (stand mixer fitted with the whisk attachment or a handheld mixer) on medium-high speed until firm peaks form when the beaters are lifted. Serve each slice of the cake with a dollop (or two) of the topping.
Jamie Schler lives, eats and writes in France. To read more of her work visit Life's a Feast.