As a single parent in Bakersfield, I'm always looking for activities and events that keep my kids entertained. The problem I've had with these kid-style festivals is that they're usually littered with businesses handing out a bunch of logoed knickknacks that are destined for the trash, especially if they ever find the bottom of an agonizing bare foot. The 5th Annual Bakersfield Kids Get Messy event on Saturday, April 1st, was not one of those types of shenanigans; we actually had fun. And in her own words, my daughter Olive said, "I've never seen so many bounce houses and slides in one place." Dad-tested, kid-approved.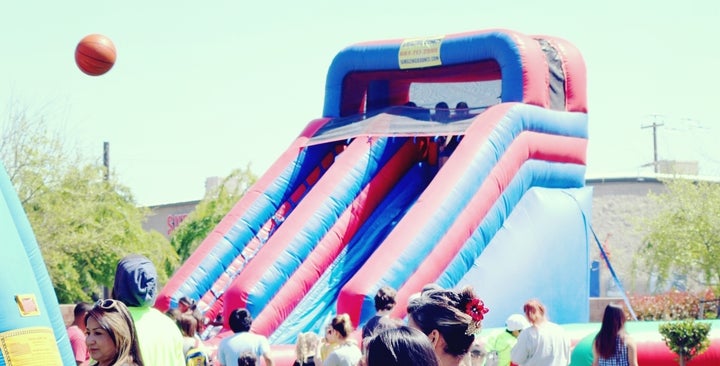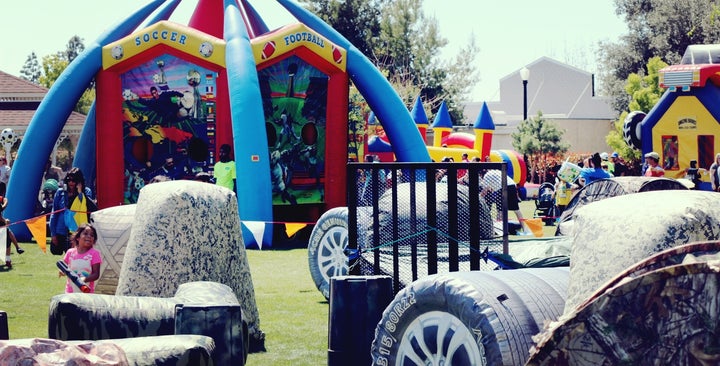 The Bakersfield Kids' Directory, you know that magazine you always see at our local sandwich shops and medical offices, hosted the event that had thousands of attendees and a number of local business sponsors at the Kern County Museum. Five bucks got you in, and if you wanted an unlimited bounce house (Amazing Bounce) and laser tag wristband (Battlefield Live) it was an extra $10. We couldn't get there when they opened at 10am, Olive had dance class in the morning, but when we arrived a little after 12p there was still a line about 40 people deep to get in.
Jana Borba, Naturalist of the Wind Wolves Preserve, was our very first stop. The snake caught our attention. Though only a gopher snake, a snake is a snake to Olive. I'm kind of the same way. It's like I can picture the snake wrapping its slimy body around my neck and biting my face like a woodpecker. If you've never visited Wind Wolves Preserve it's definitely worth the 30 minute drive from Bakersfield. The costs to parents is the gas to get you there and whatever you decide to pack for lunch, and there are multiple trails for you to hike. The last time we visited was for Olive's school field trip, learning how the Native Americans lived off the land. The entry fee is zero, nada, zilch.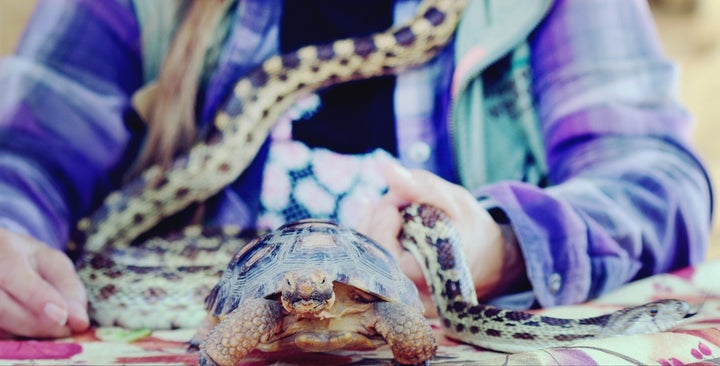 As a Bakersfield real estate agent, I like to learn about the different activities going on around town, and especially new things nobody knows about yet. One thing that caught my attention was this giant waterslide. Beginning Memorial Day Weekend on May 26th, at the Kern County Soccer Park (9400 Alfred Harrell Hwy), SlideFest™ - Festival of Water Slides will be featuring two of the world's largest inflatable waterslides. The waterslide you see here is only half the size of the featured ones. $20 gets your kid (or yourself) an all day pass, open from 10am to 4pm. An inflatable waterslide park, yes, it's happening. I have no doubt we will be there at some point this summer. I only need to decide which Speedo I'm going to wear.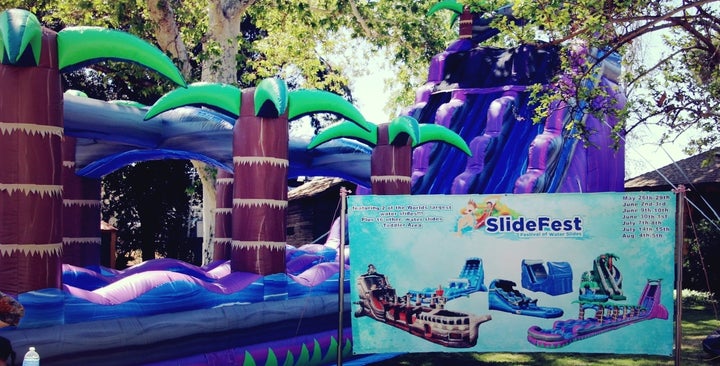 For new students only, Order of the Dragon is running a three-month special. For a total of $99, children 4 years old and up can attend up to four beginner classes per week (Tue/Thur/Fri/Sat). Let's do the math. Four weeks per month, four classes per week, for three months. That's $99 for up to 48 classes. I don't know about you but my favorite childhood movie was The Karate Kid so have your kids watch the movie first, then ask them afterward if they want to try out martial arts.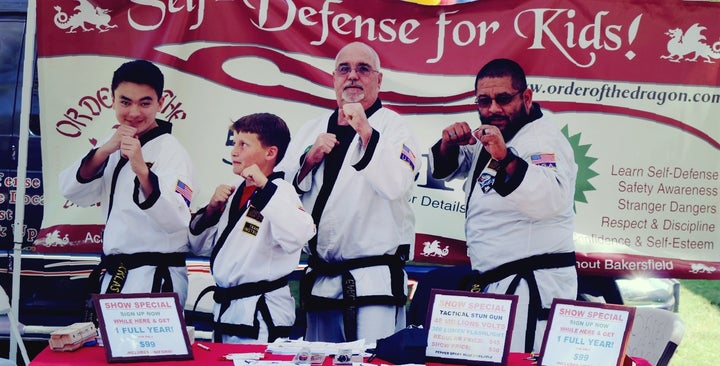 I've been very fortunate with my teeth situation, and so have my daughters. There's always the possibility for braces but so far, so good. A white tooth was walking around passing out flyers for $250 off the cost of braces from Thurman Orthodontics. These ladies told us the ideal age for a child's first orthodontic exam is age 7. If you join their Kids' Club, you get free yearly checkups, x-rays, and free movie passes at each appointment. Their discount on braces is good until May 31st, 2017, and you don't need a dentist referral.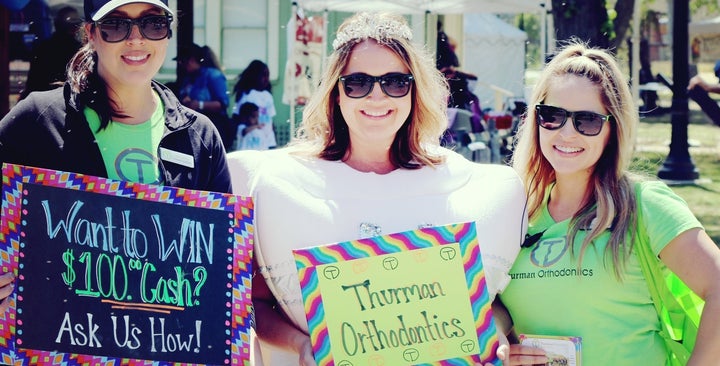 One of the main sponsors, i9Sports, is running a promo to save $20 off registration for their 2017 Spring Season, and they have three venue locations making it extremely convenient. i9Sports is for boys and girls between 3 and 14 years old and it begins April 22. If you register online, use promo code "MESSY" to get the deal. Flag football, Basketball, Soccer & T-Ball leagues starting soon.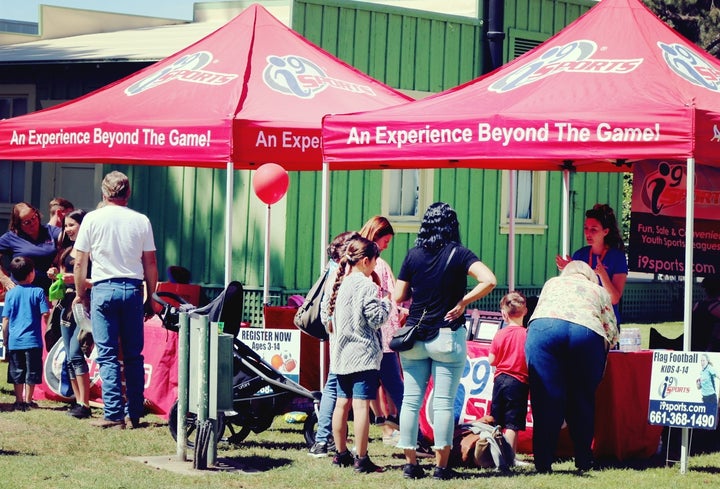 I think the best part about the Kids Get Messy event was the fact that a portion of the proceeds go to benefit the Ronald McDonald House of Bakersfield, a charity that provides comfort, care and support to children and families in Bakersfield. This is what I love about Bakersfield because we might very well be the most charitable city in the US. The Bakersfield Relay for Life is huge, and that's coming up May 6th - 7th.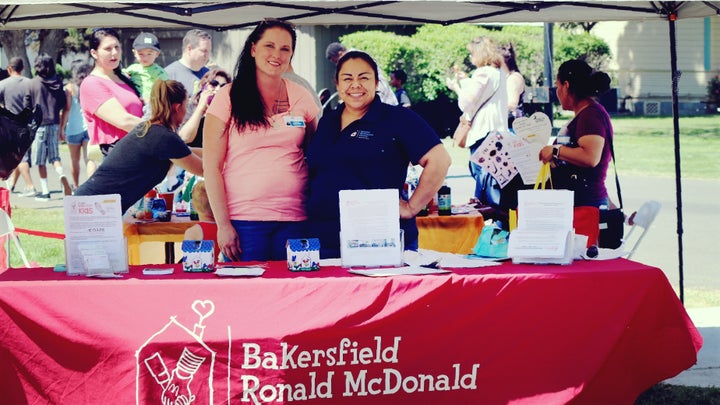 Araly Ornelas, Guest Services & Associate of Operations, (pictured on the right, above) spent the day talking with families about what exactly RMH does, like provide housing, meals, and the kind of support they give when children are hospitalized. The community leaders behind RMH in Bakersfield, their Board of Trustees, is made up of Neil Sawyer, Ana Johns, Carole Bahmani, Scott Black, Victor Comaianni, Kelli Davis, Janie Dyer, Tyler Hedden, Scott Knoeb, Brad Maberry, Jeffrey Mestmaker, Danny Murdock, Omar Ortiz, Ken Ouellette, Dave Packer, John Carter Piper, Maureen Recalde, Craig Rickett, and Jeff Tensley. If you know any of these people, be sure to thank them for their continued, unconditional service to Bakersfield families.
Lastly, Olive spent most of her time in the bounce house area and didn't visit the booths to get messy. I felt like we missed out so we went to Target to purchase shaving foam, glue, and eye contact solution to make our own slime. The slime didn't turn out exactly as we planned but her face sure did, and she had to take a shower before bed, which was nice.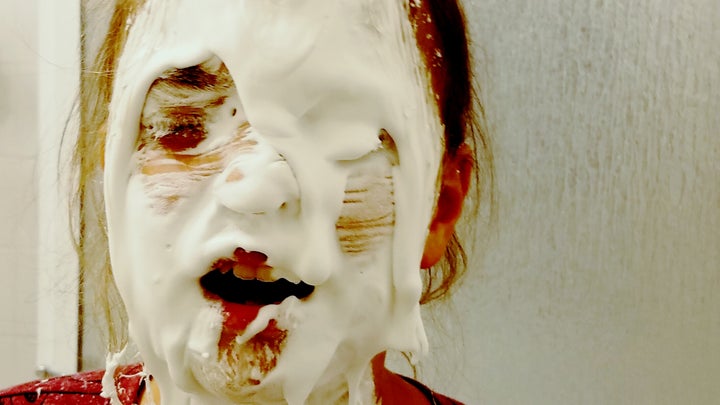 If your charitable cause or non-profit in Bakersfield needs help with promotion, feel free to send me a message via my Facebook page. And if you're ever needing to buy or sell real estate in Bakersfield, remember, Every Home Needs a Jon.
Popular in the Community