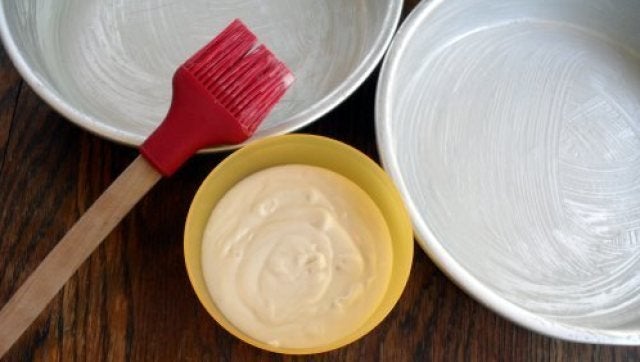 Baking a cake is hard enough. And having to worry about whether your cake will come out of the pan or not (before breaking into a million pieces) just adds to the stress. If you're making a cake in a mug then you don't really have to worry about a thing. But if you're trying to make a real deal cake, baking tips are here to help courtesy of lifestyle blogger Veronica's Cornucopia.
Veronica's Cornucopia has got just the baking tip to make your cake making a breeze -- and it's all about how you grease the baking pan. There are a few different schools of thought when it comes to greasing a baking pan. You can paint the pan with vegetable shortening and flour it. But this can make a mess in your kitchen. You can go with a store-bought spray that greases and flours your pan in one shot, like Baker's Joy or Wilton's Cake Release. But, they're not that cheap.
The best solution is to try Veronica's way and make your own. It's cheaper and slighter better than what you find at the store. With just three ingredients -- vegetable shortening, vegetable oil and flour -- you can make this miracle release pan recipe and never have to worry about sticky cakes again. It has a long shelf life, and the best part is, the flour is incorporated into the mixture -- so no more messing with flour.
Make yourself a big batch and you'll be well on your way to making cakes galore. Get the exact recipe to make Veronica's Miracle Pan Release.
Test out the miracle release pan on these cake recipes.