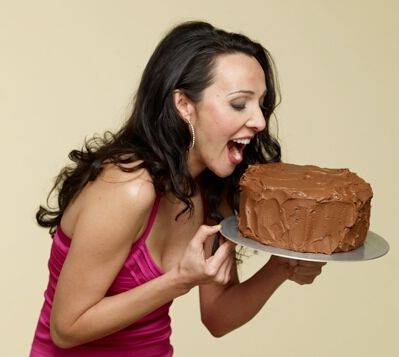 Whoever said never trust a skinny cook, clearly was not trying to fit comfortably into their summertime bikini. Otherwise they might have thought twice about who should be trusted in their kitchen! I am often faced with skepticism and disbelief when I tell people that I am a pastry chef. The fact that I was not always so trim seems to bizarrely comfort them....as if my long ago lost "freshman 15" somehow has made me a better chef. I find it ironic that in most life situations we try to follow those who we wish to emulate, yet none of us aspire to be an overweight chef. So why would they be more trusted in the kitchen when teaching us how to cook?
The love of cooking that I discovered early in life eventually drew me into the professional kitchen. Through my years of baking, and trying to watch my own diet, I have discovered some great ways to trim away the fat and calories when baking, without sacrificing flavor! The key is to cut down on fat, not remove it all together. As soon as I feel deprived, my cravings come at me with a vengeance! Sound familiar? So whether you are trying to get back to a slimmer you, or simply are learning to eat more healthfully, these simple tips from my cookbook, Sweet & Skinny, will help to cut fat and calories out of your diet, without leaving you feeling deprived.
1). Cut the butter - Butter is not a four letter word, but it does get over used in the kitchen. In my recipes,I replace about half of the butter in cookie, biscuits and pie crust with reduced fat cream cheese. Light cream cheese has a similar texture to butter, reacts similarly in baking, but has a fraction of the fat and calories.
2). Utilize egg whites - When baking cakes, custards and cookies, replace some of the whole eggs with egg whites or Egg Beaters. Every egg yolk contains about 5 grams of fat and 213 mg. of cholesterol. By replacing some of the yolks with additional egg whites, you can cut down on the fat and cholesterol in many desserts. Both your hips and your heart will thank you.
3) Add orange juice - American's drink about 5 million gallons of orange juice per year, and now we are baking with it too! Relying on fruit juice to provide some of the sweetness in a recipe, rather than just using sugar, is a great way to cut back on the empty calories you often find in desserts. For example, when I make my Sweet & Skinny lemon bars, I use 3 parts lemon juice and 1 part orange juice. This is a great way to create some natural sweetness, and use less refined sugar. This trick can also be used for lemon curd, lemon meringue pie, and many other desserts.
4). Substitute a natural sweetener - Whether you can't have sugar for health reasons, or are simply trying to cut back on calories, using a natural sweetener, such as Stevia, can be a great alternative. For my Sweet & Sugar-free desserts I use Truvia natural sweetener, made from the Stevia plant. To bake without sugar I do suggest you follow a recipe, or at least read my Huffington Post article "Enjoying The Sweeter Side of Life," as it's not a straight swap when replacing sugar with Stevia.
5). Replace the oil - After so many uses, bake sales, birthday parties, and pot lucks, it's time to give your favorite cake recipe a 25,000 mile make over! Many popular cakes call for oil. The oil gives the cake a nice texture, moist crumb, and about 900 extra calories per ½ cup! Thankfully fat free, or reduced fat, plain Greek style yogurt does the same trick with only about 85 calories per ½ cup. I replace 2/3 of the oil in my cake recipes with reduced fat Greek style yogurt, making it easy to indulge in a slice of birthday cake while still feeling as carefree as I did in my youth.
So what are you waiting for? Put on your apron this summer and start baking Sweet & Skinny!