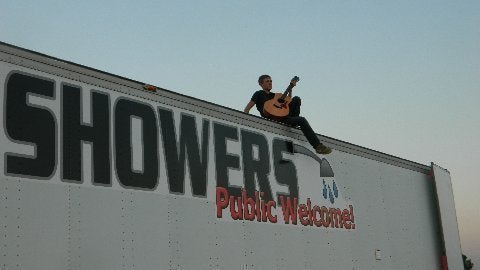 At the age of 18, Evan Jensen took the risk and started a small business, to earn money for college and take advantage of the anything-goes atmosphere of the northern plains.
Growing up in Lake Preston, S.D. -- population 600 -- Jensen worked on the family farm growing corn and soy beans and helping raise around 4,400 baby hogs. When his father and his older brother -- who had been a local truck driver -- decided to head north to the Bakken field with a gravel trailer to explore trucking opportunities, Evan wasn't going to be left behind.
"I really wanted to tag along to see what it was like," Jensen said. "After doing some research, I really wanted to be a part of it."
So the three Jensen men made the 10-hour trip across the border to see what they could find.
After two days of sleeping in a pickup truck, Jensen began brainstorming ways he could improve the situation. "Because I saw that people were living in their campers and stuff, I thought about how we could turn a cheap trailer into a little apartment complex or bunkhouse," Jensen explained.
Since many companies were already creating temporary housing solutions, Jensen wanted to provide something that the other facilities didn't have.
"We were getting smelly," Jensen said. "It was difficult to find a shower. So my Dad and I, we discussed building a shower house. I said, 'Is that something we could build?' My dad was like, 'Sure.'"
The two continued the conversation on the 10-hour ride back to Lake Preston. "There was nothing else to talk about so I kept asking my dad questions," Jensen recalled. "The potential set-up, how things would be laid out … By the time we got home, I said, 'Do you think we can do it?' He said, 'You can -- I don't have the money.'"
In addition to a "friends and family" loan, Jensen used money he had saved from muskrat trapping to make the initial down payment on the shower equipment. Over the course of several summers, Jensen had shipped the muskrat hides to a fur auction in Canada, making about 15,000 dollars in the process.
Jensen spent his study hall breaks and lunch periods drawing up the plan and pretty soon he had a software-rendered version to show his dad. "My dad gave me a lot of feedback and we juggled around with it until we had a set plan," Jensen explained. "Then we just went full bore and hit the ground running."
Three weeks later the shower house was finished, built inside a trucking trailer, complete with an accompanying water tank. A month after that, Jensen had a North Dakota-registered limited liability company, and soon after he was in North Dakota charging five to ten dollars a shower.
In the beginning of September, Jensen started classes at McNally Smith College of Music in St. Paul, Minn., so he hired someone to watch the shower house in his stead. Jensen is hoping to become a composer one day and is thrilled with the college life so far. "I absolutely love it," Jensen said. "I'm here to learn and discover what I'm good at. Now I really enjoy indie folk, but maybe I'll be a symphony composer one day."
Jensen has listed the shower unit for sale on Craigslist but is open to the idea of running it next summer as well. "It doesn't break my heart if I sell it or if I keep working with it," Jensen said. "Those are the two options. I'll try them both."
Though many people have commented on his ingenious idea, Jensen downplays the creative aspect. "I don't think it was that brilliant -- it took more execution than it took brains. People have tons of good ideas and no one will ever hear about them because people are afraid to open their mouths or spend a few bucks."
When asked what he has learned from the experience, Jensen says, "If I see an opportunity, there's not much to lose the way I look at it. In America, we have it well -- we're never starving. My worst day is someone's best day on the other side of the world."
PHOTO GALLERY
Photos Of Evan Jensen's Shower Trailer
REAL LIFE. REAL NEWS. REAL VOICES.
Help us tell more of the stories that matter from voices that too often remain unheard.
BEFORE YOU GO