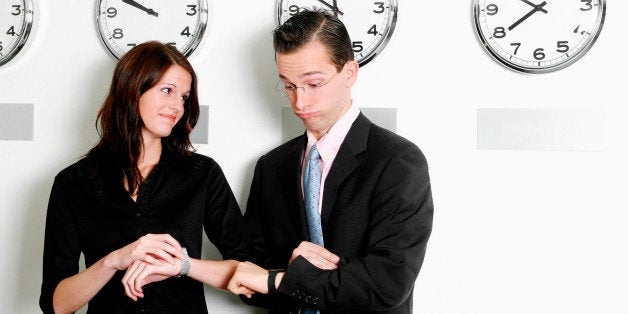 As a teacher and speaker on the topic of imbalance it's very common to hear people express their desire to have more time. Time to do more things -- work things, personal things, and relaxing things. People are often disappointed when I share with them that balance has very little to quantity of time and more to do with quality of time.
It's simple math. Each person has 186 hours in a week. If you are sleeping eight hours a night you are left with 130 hours a week, of which at least 40 are spent at work leaving the average adult with about 90 hours of non-work time a week. So the question then becomes how do you spend the time you have?
Each of us can find more time in our day if we are willing to look for it. Looking for it requires the skill of awareness, which is our ability to see the world and who we show up in it. As it relates to time, this means watching without judgement how we actually use our time. Just like eating empty calories, most of us have empty time, time spent on actions that do not support our values or move us toward desired outcomes.
Empty time is not be confused with down time which is intentional to unwind and just be, or being in flow when time seems to stop because we are connected to our passion. Rather empty time is when we have no intention or awareness around why we are doing what we are doing when we are doing it.
For example if you ask me if I watch television I will tell you I do not. However, I spend a couple hours a night watching shows, about 14 hours a week. Even though I don't identity with spending my time this way - I do. The same might be true for you, maybe it's not television but Facebook, YouTube, Twitter, Candy Crush, gossip magazines, and so on. We all have areas in our life where we experience empty time.
This isn't to say don't watch television or disengage from social media, rather ask yourself why you are doing what you are doing. Consider if what you are doing is supporting your values or if it is empty time. I value music and most of the shows I watch are about music, so I understand why I do what I do, however my desire is to spend more time watching live music and less time watching it on television. So now I have more information to make a different choice.
By asking yourself why you spend time the way you do, you can begin to create awareness and seek opportunities to shift your relationship with time. When people are acting without awareness they tend to feel they are lacking time to do the things they wish to do. It is through living with awareness that people begin to gain more time to spend on things that invite more joy.
If you are looking for more time, considering examining how you are spending the time you have and where you might be able to find more time to dedicate to doing activities that support living your values and brining you more joy.
The choice is yours for how you spend your time and you get to make that choice for all 186 hours of the week.