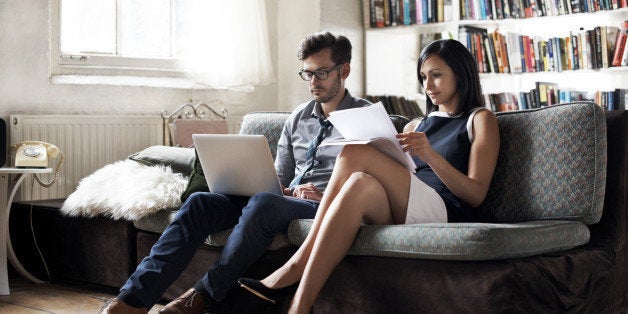 "Girl power" may have been a popular phrase on T-shirts and necklaces in the 1990s. But the truth is that the latter half of the decade actually saw a marked drop in public support for gender equality.
Now, research finds that the trend is reversing course. When it comes to earning power, the number of Americans who advocate non-traditional marriages is steadily increasing.
The Evolution of the Gender Revolution
Let's pause for a quick history lesson. Between the 1970s and the 1990s, surveys showed that attitudes about the roles of men and women in the workplace and at home became more egalitarian. People grew increasingly comfortable with marriages in which women worked and earned money, instead of or in addition to their husbands.
Then, during the mid-'90s, that progress hit a wall. Despite the increasing percentage of women in the workforce and women with bachelor's or advanced degrees, more people believed that men should be the primary breadwinners.
But a new report through the Council on Contemporary Families suggests that, around 2006, the "gender revolution" started to pick up speed again. Consider the numbers: In 2000, 58% of people disagreed that families in which men are breadwinners and women are homemakers is the most favorable situation. In 2012, that number reached an all-time high of 68%.
Attitudes about working mothers have changed just as much. Whereas only 60% of those surveyed in 2000 believed that working mothers could form warm relationships with children (compared to homemakers), 72% of 2012 survey respondents said the same.
Support for Gender Equality: What the Future Holds
So what's behind the recent shift? The likeliest factor, according to researchers, is that Millennials' perspectives on gender roles are generally more egalitarian than previous generations'. So, as the Millennial population increases, the average perspective skews more liberal.
It's also worth noting that highly educated people tend to exhibit more egalitarian perspectives. So, as more Americans pursue higher education, their attitudes toward gender roles could shift accordingly.
Sure, the new research suggests that more people than ever believe in a non-traditional marriage, in which the breadwinner isn't necessarily male, and household responsibilities can be shared. But let's not forget the many challenges that face women trying to balance work and family responsibilities.
LearnVest Planning Services is a registered investment adviser and subsidiary of LearnVest, Inc. that provides financial plans for its clients. Information shown is for illustrative purposes only and is not intended as investment, legal or tax planning advice. Please consult a financial adviser, attorney or tax specialist for advice specific to your financial situation. LearnVest Planning Services and any third parties listed in this message are separate and unaffiliated and are not responsible for each other's products, services or policies.

Popular in the Community