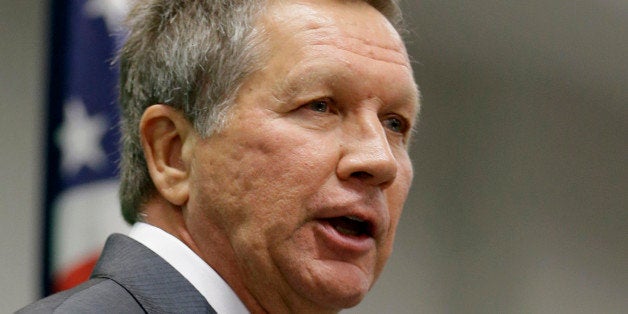 WASHINGTON -- Supporters of a balanced budget amendment to the U.S. Constitution believe they are in the position to win over enough state legislatures to force a national convention on the subject, putting it on the verge of being on a path to ratification and possibly making history at the same time.
For more than two centuries, every amendment added to the U.S. Constitution has originated in Congress, passing each chamber by a two-thirds vote. An amendment, however, may also be proposed through a convention that's called for by two-thirds of state legislatures, or 34 states. Regardless of how the amendment begins, it must then be ratified by state legislatures or state ratifying conventions in three-quarters of states, or 38 states.
Twenty-four states currently have active resolutions for an amendment that would make it unconstitutional for the federal government to run budget deficits, and activists hope to reach the threshold of 34 in 2015 by focusing on states with Republican-controlled legislatures. Following the party's nationwide sweep in the November midterm elections, a dozen states who haven't yet actively supported an amendment fit that criteria: Arizona, Idaho, Montana, North Dakota, Oklahoma, South Carolina, South Dakota, Utah, Virginia, West Virginia, Wisconsin and Wyoming. Some states with split-party control are also being targeted: Kentucky and Maine.
The Balanced Budget Amendment Task Force, one of the groups involved in the latest push, is organizing a national lobbying campaign and working directly with legislators in targeted states to propose an amendment through the states.
"Looking at the long history of American government, Congress doesn't like to place limits on itself," David Biddulph, co-founder of the task force, said in an interview with The Huffington Post. "It needs to come from the states. When the federal government is off track, states have an option, but it has never been used."
The South Dakota House passed a bill 39-30 last week that asks Congress to call a convention for a balanced budget amendment, the first concrete step taken by any chamber of a state legislature so far this year. Just two out of 12 Democrats supported the measure. It now goes to the Republican-controlled state Senate.
Ohio Gov. John Kasich (R), who is considered a possible 2016 presidential contender, embarked on a six-state tour last week to promote such an amendment. Governors are not officially involved in the process, though they can certainly influence the debate.
Kasich stopped in Utah, where he drummed up support for the amendment. "Kasich said that states need a win against federal encroachment," said state Rep. Kraig Powell (R), the lead sponsor of the state's measure. "We need to draw a line in the sand."
But Powell still has some hesitation regarding the approach. "The biggest concern is how would delegates to the constitutional convention be apportioned?" admits Powell. "Because if it's based on population, New York could have a hundred times Utah's representation," which could be a problem since the Empire State would likely oppose a balanced budget amendment. (New York's population is actually about 6.7 times greater than that of Utah, according to the Census Bureau's estimated 2013 population figures.)
The lead sponsor in Arizona says the bill faces some hurdles there as well. "Our House will probably pass it no problem as we did last year, but the Senate might be more difficult," conceded state Rep. Bob Thorpe (R).
"Senate President Andy Biggs [R] is concerned there could be a runaway convention, in which any amendment could be voted on," he added, though constitutional scholars don't agree on whether this could legally occur. "After all, Prohibition was originally ratified by the states too."
The Montana Legislature's top Democrat vehemently opposes the balanced budget amendment attempt.
"This is an agenda pushed by out-of-state groups who are not looking out for the best interests of Montana. Montana will have no control over how the process would look or who would represent us," state Senate Minority Leader Jon Sesso told The Huffington Post. "A balanced budget amendment could have disastrous consequences for jobs and our economy. This is a terrible idea for our state and our country."
Proponents hope the current political landscape portends greater odds for ratification of a balanced budget amendment. Republicans now control more statehouses than at any point since 1928. Except for Vermont, every state already requires a balanced budget on the state level.
Although many proponents aren't optimistic about an amendment coming through Congress, the environment looks more conducive there, too, as the GOP holds its largest U.S. House majority since 1929 and has maintained control of the U.S. Senate. And unlike most federal legislation, a constitutional amendment doesn't go to the president for a signature or approval, so President Barack Obama would have no formal role in it.
The effort to pass a balanced budget amendment through a congressional vote made progress in 2011. However, at 61 percent the House vote fell just short of the two-thirds support required for passage. Twenty-five Democrats voted for the amendment then. A similar measure in the Senate that year was voted down, 47-53. Neither chamber has voted on a balanced budget amendment proposal since.
U.S. Rep. Peter DeFazio (D-Ore.) co-sponsored the 2011 House bill and is currently the only Democrat co-sponsor of the House's primary federal balanced budget legislation this year.
"Liberals usually oppose it, but I believe it would help progressive causes," he said in an interview, discussing the bill introduced by Rep. Bob Goodlatte (R-Va.). "For example, if there had been a balanced budget requirement, after President Bush cut taxes he couldn't have taken us to war in Iraq."
DeFazio has misgivings about the states-proposed approach, though. "If a constitutional convention was held, would it just be about a balanced budget or would everything be open? After all, the resolutions passed by the states have not been identical wording," DeFazio noted. "It's a perilous path."
Supporters argue that an amendment is the only guaranteed way to reign in federal outlays within revenues and tame the spiraling national debt, which currently sits at $18 trillion. Opponents contend that such an amendment would prove dangerous when unforeseen emergencies, such as war or recession, arise and the government needs spending flexibility. They also argue that the budget can be balanced through the existing process without requiring constitutional change.
Republican strategist Ford O'Connell says the timing may prove an added impetus.
"Republicans now control 69 of 99 legislative chambers. If it's ever going to happen, this is the time it's going to happen," O'Connell said. "Especially because 2016, as with all presidential election years, has higher Democratic turnout, if it doesn't net 10 more states in 2015 alone it might reach the threshold in early or mid-2016 if the polling looks favorable to Democrats."
"That being said, it's still going to be a tough lift," he added. "There doesn't seem to be a nationally coordinated effort. Kasich is visiting a bunch of states and there are some groups but the national party itself is not making this a priority. At least not yet."
The national deficit will run an estimated $468 billion or 2.6 percent of gross domestic product in fiscal year 2015, according to the Congressional Budget Office. Deficits have been consistently declining for the past several years, both in real numbers and as percentage of GDP, though current CBO projections still predict deficits every year for the next decade.
"I don't want to leave all that debt to my two granddaughters," said Biddulph. "We want to get to 10 states this year. We're doing everything in our power."
CORRECTION: An earlier version of this story listed Oregon as a state with split-party control. It is not.