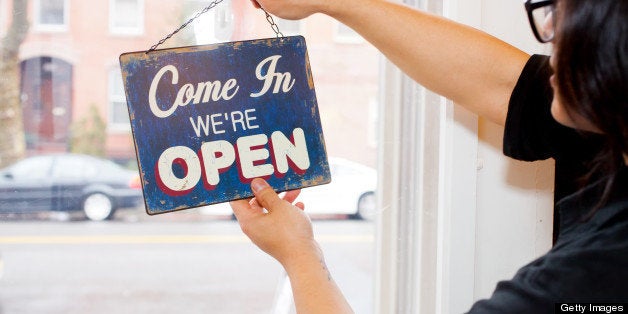 Do you have an entrepreneurial dream inside of you, but you've shelved it for the time being, because you're a mom? If so, you're not alone.

There are tons of women out there who dream of starting their own businesses, but the guilt and pressure to be Super Mom keeps their dreams hidden.
Like so many others, I was once a mom who felt stuck, overwhelmed and lost in my role as a widowed mom of two young boys. I loved my children and everything that motherhood represents, but on a regular basis, my life was calling.
It started out as a faint whisper, heard in between the multitude of "mommy" or "mom" requests in my day. However, the message was clear: "What about me?"
In order for me to be the best mom that I could be, I needed to regain a healthy sense of harmony in my life and move forward on my mission, to be more than a mom. I needed to pursue my passion of starting my own business and I needed to be able to do this guilt free.
I eventually got out of my own way and I haven't looked back since. I am living my best life right now, as an entrepreneur, because I gave myself permission to stop putting myself last on my own list.
In the past year, I have accomplished more personally and professionally than I could have ever imagined. I not only started my own business, but I started one that allows me to inspire other moms to live their best lives and to pursue entrepreneurship.
I am on a mission to get women to uplift their "mom life," and to bridge the gap between the women they are and the moms they have become.
Here are the 10 critical steps that I took that have enabled me to be an entrepreneur and a great mom:
Step 1: Stop Allowing Yourself to Be Your Greatest Obstacles. It's easy to self-sabotage and get in your own way. Once you stop doing that and dispense with the guilt, everything will change.
Step 2: Gain Clarity About Yourself and Your Motivators. What do you want and why do you want it? Answer those two questions before you make your next move.
Step 3: Find Your Purpose. We all have one. What's yours? Find it and live it every single day.
Step 4: Don't Neglect Self-Care. This is so important. Self-care is easy to overlook, especially when you are a mom and an entrepreneur, but when you're not being taken care of, everyone suffers. Make self-care a non-negotiable.
Step 5: Implement Processes that Enable You to Manage Yourself, Your Family and Your Career. putting systems and processes in place in your life will help you stay organized and connected to what's most important.
Step 6: Set Realistic Goals. And by realistic, I mean anything that feels real for you and works for your family. Don't worry about what everyone else thinks about your desire to be your own boss.
Step 7: Roll Up Your Sleeves and Do the Necessary Work. Having an awesome life and business doesn't happen without putting in the work. Don't avoid the work, because if you do, you'll also avoid the joy.
Step 8: Invest in Yourself and Your Business. If you need something for your business and you don't have the expertise, make the investment to find and get the help that you need. Be unafraid to ask for and get help. It will pay off more than you realize.
Step 9: Identify A Need and Provide Solutions. This is the core of any business, whether you're starting a brick-and-mortar store or running a virtual empire online. Identify a need in the marketplace that you can provide solutions for, and then get out there and start helping people.
Step 10: Give Yourself Permission to Live Your Dreams and Be A Great Mom, Guilt-Free. Enough said.
Jacqueline Miller is a Mom Life Coach and Strategist who helps women reconnect with their dreams, guilt-free, while still being great moms. She's the author of the bestselling eBook, It's Not Me, It's My Inner Me: 10 Steps to Getting Unstuck and Empowered, and co-author of #1 bestselling book, Chocolate & Diamonds for the Woman's Soul: Timeless Treasures to Warm the Heart. If you're a mom who is guilty of placing yourself last on your list, check out my freebie: Welcome to Your Journey Back To You: 25 Days of Self-Love. Each day for 25 Days, one self-care tip, quote and affirmation will each be delivered to your inbox, to help give your day an amazing jump start!
REAL LIFE. REAL NEWS. REAL VOICES.
Help us tell more of the stories that matter from voices that too often remain unheard.