Every year when Hispanic Heritage Month (HHM) rolls around, do you feel the struggle I feel? As we attend events, hear our ancestors' home countries listed and are reminded that we're celebrating this and that independence day, do you feel conflicted? Do you wonder why we're compelled to celebrate our different origins, while cognizant of the nationalist wedges that persist throughout our community? Is there a way we could instead truly celebrate our togetherness, as Latinos in the USA, with a forward-looking intent instead of only looking backward?
What if instead of continuing to celebrate only heritage, we celebrated our collective Latino leadership? What if we punctuated this year's Hispanic Heritage Month by putting that leadership into action? What if that action inspired thousands of Latino professionals into mentoring one or two Latino students needing positive role models to keep them interested in living and studying? What if many thousands of us made this leadership choice this week?
I know, I know. It's a time commitment, one more thing to juggle. Trust me, I get it. So I'm providing specific get-started resources below. If you digest the absolute numbers surrounding the great need for mentors (see below), I trust you'll find those few minutes a week; you'll find a way to be present for someone whose life you will change.
From smallest time commitment to the largest, here are some ideas:

Time commitment: 2 minutes.
Read The Two by 2020 Mentoring Challenge - 750 words to ponder if you're not yet convinced of the urgency to mentor beginning right now. This article contains the shocking, absolute, big-picture-for-America numbers that you likely haven't seen. You'll see why mentoring Latinos is desperately needed right now, everywhere.
With five more minutes, learn more about it. The Hispanic Scholarship Fund and the Ad Council created a bilingual public service multi-media campaign called "Your Words Today." The campaign engages Latino parents to encourage their children to go to college. It provides practical information and steps to make it happen, including resources about how to pay for college. To learn more, visit www.yourwordstoday.org or www.tuspalabrasdehoy.org. If you can only devote these ten minutes to read about the DVD and order a copy, great! With another ten minutes, you can pop into your local library and give the DVD to the children's librarian. Explain it's a valuable bilingual resource; ask her to order more to give to library patrons. These actions can touch many Latino lives.
Time commitment: 30 minutes.
Give the HSF DVD to a family you know with a middle school or high school student who should be preparing for college, but whose parents have no idea what that means or how to help. Stick around for 30 minutes to chat with the family about the content and maybe watch the first telenovela together. Might you change the trajectory of a young life? Try it.
Then, order another batch of free DVDs and give them away at church. They're free, unique and powerful. Order a box and take it to a cumpleaños -regalos for everyone! This is the type of campaign DVD that could start a conversation amongst many.

Time commitment: 2 minutes to read, variable after that.
If you're looking for other ideas, read my new favorite article titled "How to Mentor When You Don't Have Time." This gem from entrepreneur and author Mariela Dabbah, CEO of Latinos in College is a practical guide for overscheduled professionals who still want to make positive impact on a young person's life.

Time commitment: minutes or hours a day, you choose.
StudentMentor.org -This is a web-based non-profit group, matching college students with mentors. It was started by Stephanie Bravo, a San Francisco Bay Area Latina (and Hispanic Scholarship Fund alumna) while she was in medical school. I've signed up as a mentor and have been matched with several students. It takes only minutes a day to answer their questions, connect them with someone for an informational interview or to take a phone call.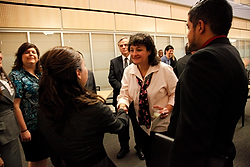 Time commitment: years
And now, for the truly committed, those who want to take mentoring to a whole new level, I offer this shining example of what works. Read about Mentoring Latinas - a highly successful program at Fordham University in New York that matches up young Latinas from the Bronx with Latina college students. If you have any connections with a university, this program is one to be emulated. Read this article to see how founder Dr. Ellen Silber created it and has grown it year after year. The program "builds on social science research that suggests young women who have consistent mentors fare better than their unassisted peers." If you want to build something of lasting importance, why not create a program modeled after this one?
So there you go. Your inner mentor should be jumping with anticipation to get started, to do something to celebrate the end of Hispanic Heritage Month with meaningful leadership action.
Once you're leading and mentoring, please join the "I Mentor Latinos" Facebook group. Share your mentoring stories, struggles and successes. There, you can tell us what's working to keep middle school students focused on math while holding the long-term view of higher education. You can share the wisdom you shared somewhere that seemed to make the most difference in a student's attitude.

Popular in the Community