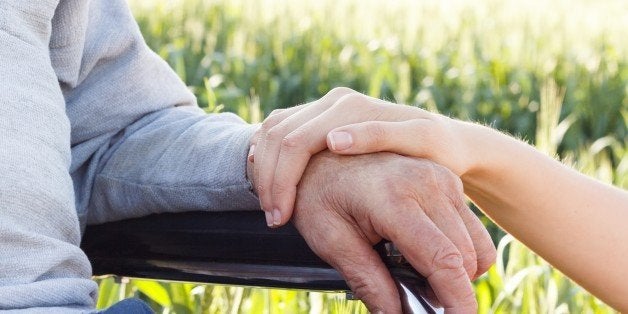 Reviewing financial affairs, paying bills and submitting tax returns for a parent or loved one who can no longer handle those chores themselves can be quite stressful. However, at the same time, with my father having died last year and being appointed his executor, I simultaneously have been required to deal with the legal and moral obligations that come with settling and closing out the family estate. Along with searching through old records and receipts I am regularly reminded of other pressing items when mailings in my father's name arrive forwarded to my new Delaware address alongside a stream of emails that continue to appear in my inbox from our family accountant and attorney. (Ironically, these all come along with a hospice notice reminding our family to take time to grieve).
Settling the affairs of a parent who recently has died presents a family with emotional and practical challenges. Primary among those is attending to the family finances. While this epilogue is a trying exercise, nothing quite compares to the past several years when my sisters and I had to come to terms with the fact that our father was becoming less independent. As he declined both physically and cognitively, we realized he might soon be incapable of managing his financial affairs. Intensifying the situation, as we witnessed his mobility deteriorate, we had to come to grips with the reality that our father, the Patriarch of our family, might not be able to live alone for much longer. A proud WWII veteran approaching 90 years of age, he was steadfast in his determination not to move from the home that he had lived in with my mother for decades. So our goal became to allow him his wish to "age in place."

Balancing Personal Health, Safety and Finance
With my mother having died three years earlier, we believed that my father's assets, which constituted all of my parent's savings, should be earmarked to make his life as comfortable as possible. We understood that this would require care-giving services, as well as other health care expenses, well beyond what we could provide as a nuclear family. But here was the dilemma: how could we do this without my father realizing that we were spending his savings on his health care. Despite the need for such care, we were quite sure he would have protested. Unfortunately, he had lost the ability to understand and make informed decisions for his personal health and safety and his finances. This is a predicament we -- as are millions of families in America and around the world each year -- were faced with. He no longer possessed the cognitive skills to understand and calculate costs involved for services or products or how to read monthly billing statements or engage in the mechanics of a purchase -- save for the simplest of transactions like paying with his credit card at the hardware store -- and even that often proved a harrowing experience.
Fortunately, my father lived in a community in Connecticut where there was a large senior population that seemed only matched in numbers by a large group of local store owners, shop keepers and cashiers who exhibited an unheralded humanity and kindness by keeping watchful eye over the elderly patrons -- monitoring and guiding them through their transactions.

Protecting the Elderly's Assets
But for our family, we needed to come to terms with the bigger financial picture: how to plan to effectively spend his savings to pay for caregiving and if possible, as a family agree on such a plan. It's a conundrum many families encounter and it can be a delicate and sensitive affair. Advanced planning for this possibility can help alleviate some of the burden.

In March I attended a program at Philadelphia Federal Reserve entitled "Meeting the Financial Needs of Older Adults," where that that very point was emphasized. I attended this program as a representative of George Washington University, where I've been developing an online course on Baby Boomers and retirement, which in part considers how the Boomers are struggling to cope as the "sandwich" generation -- placed in the middle of caring for older parents while also still supporting their own grown children.

Age-Friendly Banking
The Fed meeting was an a complement to a roundtable group of leaders of non-profits, government agencies, and the financial community that have convened under the auspices of the National Community Reinvestment Coalition (NCRC) during the past year to work on a concept known as "Age-Friendly Banking." Philadelphia participants included senior representatives from several of the nation's largest banks including Bank of America and PNC Financial Group. Significantly, a number of government officials from northeastern states also attended including Delaware's Secretary for HHS Rita Landgraf, Pennsylvania's Secretary for Department of Aging Teresa Osbourne, and Laura Otterbourg of New Jersey's, Division of Aging Services. All spoke about their individual states' efforts to address the needs of an aging population. The discussion focused on older adult economic security issues, including financial fraud and senior financial abuse and advocacy for this vulnerable population of aging Americans. Many, if not all of the participants underscored the point that it will take such a large coalition of non-profit advocacy groups, government agencies, along with the financial services industry working together, to tackle what now appears to be an impending societal and economic disruption of immense proportions that faces an aging America if action is not taken.
Placing this all in perspective: the two largest cohort groups in the US are 60 + and 85 +; and every day until 2029, 10,000 Baby Boomers will turn 65. Research published by Brandeis University Institute on Assets and Social Policy calculates that 75% " of all senior households are one major financial shock - such as a medical or personal crisis -- away from losing everything. Two particular points were made that stayed with me: First, as we age, one of the first abilities to be impaired is that of managing money. Cognitively, understanding finances and coping with transactions becomes difficult.
Second, the elderly population is often targeted and taken advantage of -- financial exploitation and outright theft is rampant among this demographic group. The numbers are shocking. Met Life reported in 2011 that financial exploitation of the senior population amounted to $2.9 billion a year. In 2015 True Link Financial, a San Francisco-based company that works to protect assets of the elderly, estimates that all types of financial loss incurred by older adults -- loss attributed to both cognitive decline and decision-making, along with exploitation from family, caregivers, telemarketers, or housing and lottery scams, is estimated to be an astronomical and sinful $36.5 billion.
Protecting the Elderly from Financial Exploitation
Many policy makers, state and federal agency officials and private sector businesses have already begun to intensely focus on this serious national social issue. As a FDIC and Consumer Financial Protection Board (CFPB) publication Money Smart for Older Adults notes: "Elder financial abuse can result in the loss of the ability to live independently; decline in health; broken trust and fractured families."
Bankers, especially community and local branches, can often serve as a first line of defense. They have a unique vantage point to observe family financial transactions and interactions. (Last month the CFPB issued an advisory and report for financial institutions on preventing elder financial abuse). Trusted attorneys and accountants can also play an important role.

Family Planning and Securing Power of Attorney
In my own family's case, I've come to learn how fortunate we were to agree on a course of action for managing my father's financial and medical affairs. Perhaps inspired to a degree by self-preservation, it was a way to help ensure that no one sibling was held responsible or suspected of mismanagement of funds. Taking a proactive stance after our mother died, we hoped for the best but prepared for the worst - expecting that my father might soon follow since he was 87 years old at the time and more serious health issues were developing.
We were able to develop a plan because we had addressed several legal aspects years earlier. After my father's last living sibling died, I had insisted that we review and update my parents' living wills, and other important decisions and papers including Power of Attorney and health care decision proxies. We convened a family meeting. My parents seemed suspicious -- as is the case with many elderly, who are beginning to face their mortality and worry about having resources to provide for themselves or worry that someone will start to take control of their "independence," which often takes the form of gaining access to financial resources.
As my father's decline became more apparent and we knew we would soon need to employ a live-in caregiver, we arranged to meet with an elder law attorney and review the family finances and strategize on how we could manage my father's assets to use for his care. We also started researching what, if any, governmental benefits my father might qualify for to help pay for care. We soon discovered that my father's assets, although modest, would not allow him to qualify for government assistance under Medicaid. However as a veteran, he could eventually qualify for government assistance under a program called the Aid and Attendance Benefit. It's often an overlooked source of money available to veterans who served during a period of war and can provide up to $2,085 a month in additional income to pay family members to provide care at home. But as a general rule there is an asset level that the recipient cannot exceed: $80,000. (The VA allows veterans to deduct their value of their home and vehicles). In our case, it would be almost 3 years until we approached that threshold and the VA, in living up to its reputation as a slow moving and not very able bureaucracy, was painful to deal with.

Available Online Resources
But how did we sort through and make sense of all of this information? We did much of our own research, but by seeing an elder law attorney early we were able to draw up contracts, which allowed us to pay for his care by hiring family members to provide his care. This ensured that our father's needs were properly attended to by loving individuals, while it also preserved money for our family as we properly spent down for potential future Medicaid benefits. Working with a qualified elder law attorney can provide options and ways of not only preserving assets for the family, but also providing dignity for the elder. (The National Academy of Elder Law Attorneys can be a resource to find an attorney in your area). The US Administration on Aging, through its 27 resource centers also provides helpful advice and information.

Ultimately, we were fortunate in that our father did not outlive his life savings and we did not have to sell his home or pool our own money to care for him. Confronting the inevitable aging of a parent and financial security issues can be difficult; it can be painful and even leave scars. But addressing these issues sooner than later is surely a safer course and sound advice for the growing legions of families, friends and advisors who are being increasingly thrust into a guardian role for the elderly.

Michael A. Whitehouse writes on economics and business and lives in Lewes, Delaware. He currently is the executive producer of a course being developed by the George Washington University titled: "The Baby Boomers and Millennials: Rewriting the Rules of Retirement"
Related
Popular in the Community