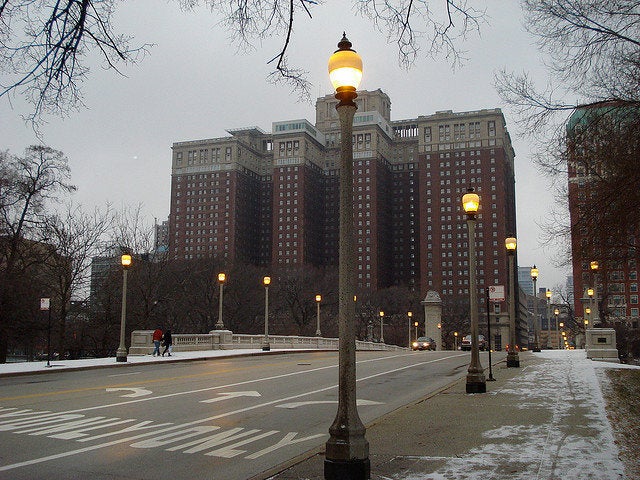 It's a beautiful, three-block long stretch of downtown Chicago. It runs past the city's famous Buckingham Fountain, and through Grant Park, where President Obama held his historic election-night rally. It's home to upscale Catalan dining at Mercat a la Planxa and fine arts at the Merle Reskin Theater, DePaul University's stage.
None of that's the problem. It's the name of this street, Balbo Drive, that's got many academics and Chicagoans alike up in arms.
According to Chicago's very logical grid system, the street should be South 7th Street. And for a long time, it was. But then, in 1933, an Italian airman named Italo Balbo commanded a then-unprecedented fleet of 25 aircraft in formation on a transcontinental flight from Italy to Chicago to mark the city's Century of Progress.
The feat was so impressive that for years following, a large fleet of aircraft was known colloquially as a "Balbo." It was also impressive enough to earn Balbo a street named in his honor in his destination city.
What troubles some historians is that Balbo arrived in Chicago as a representative of his country's fascist government under Benito Mussolini. Balbo himself, in fact, was instrumental in Mussolini's rise to power; shortly after his return from the flight, he would be appointed governor of Italian-controlled Libya, a post he would hold until his death in 1940.
Not far from Balbo Drive, a column still sits commemorating the flight. It's from a Roman temple, two thousand years old, but the inscription at its base is somewhat more recent:
FASCIST ITALY BY COMMAND OF BENITO MUSSOLINI
PRESENTS TO CHICAGO
EXALTATION SYMBOL MEMORIAL
OF THE ATLANTIC SQUADRON LED BY BALBO
THAT WITH ROMAN DARING FLEW ACROSS THE OCEAN
IN THE ELEVENTH YEAR
OF THE FASCIST ERA
In recent weeks, a petition has been circulating to rename the drive after another Italian-American figure. The petition suggests a figure like Enrico Fermi, the physicist who fled fascist Italy for Chicago, where he performed groundbreaking research in nuclear physics. An article in the Chicago Tribune several years ago on the subject polled readers and found that Cubs broadcaster Ron Santo was an overwhelming favorite; WBEZ suggested that his recent passing might make a Santo Avenue even more appropriate.
But some Italian-Americans oppose a name change. In fact, they're circulating their own counter-petition, arguing that the street name honors Balbo's aviation, not his politics, and that the fascist government in Italy actually wasn't all that bad.
What's wrong is that Balbo was serving under the Fascist dictator Benito Mussolini, whose government later sided with Adolf Hitler in World War II. Not only that, but Balbo was an important -- and brutal -- leader in the movement that brought the Fascists to power.

The name soon became an embarrassment to the city. It's not as bad as having a street named after Hermann Goering, Hitler's air marshal, but it's bad enough. If you have any doubt, try explaining and justifying it to an out-of-town visitor.

[A] genuine intellectual or journalistic triumph would be to objectively look at the facts about Balbo, not to use him a billboard to score politically correct points; and the historical evidence is overwhelming that the Fascist regime actively resisted the insanity of Hitler's Final Solution.

Both Mayor Daleys knew their Chicago history: Balbo's feat wasn't just locally appreciated; he was celebrated across the nation. Even the newly elected president, Franklin Delano Roosevelt, praised Balbo's feat.

As for Balbo the man, this allegedly "brutal Fascist" openly opposed Benito Mussolini's military pact with Adolf Hitler; publicly rebelled against Italy's aberrant 1938 anti-Semitic laws, and was killed in friendly fire in Libya in 1940, long before the U.S. and Italy became so-called "enemies."

The change-the-name petitions have been handed off to Alderman Bob Fioretti, whose Second Ward includes Balbo Drive. It remains to be seen if the alderman will push for a name change, or if Balbo will live to see another day.
Calling all HuffPost superfans!
Sign up for membership to become a founding member and help shape HuffPost's next chapter