BALDANZA
17 Elm Street
New Canaan, CT
203-966-4000
The much-hyped phrase "farm to table" has become so empty of meaning that when you come upon the real thing, you can still be amazed at the idea. For while all food has to come from some farm or body of water, most restaurants only pay lip service to the commitment to obtain the finest provender from the most local purveyors.
Sandy and Angela Baldanza (below) have not wavered in that search, a path that began, ironically, in the fashion industry, where the couple met (he had his own label, she worked at Bloomingdale's). They left all that behind to open Baldanza for breakfast, lunch and dinner to a very faithful and appreciative clientele who are assured that everything on the changing menu is as fresh, organic and well-sourced as possible, always at a very fair price. Indeed, their Americana Menu, served Wednesday and Thursday is fixed price at $28 for three courses. Of course, they do take-out, too, and New Canaanites in their Range Rovers pull up to the curb to collect their evening meal. Baldanza's has even launched a range of soups they call Soup Kitchen for sale at Walter Stewart's Market, with two percent of sales going to the Connecticut Food Bank.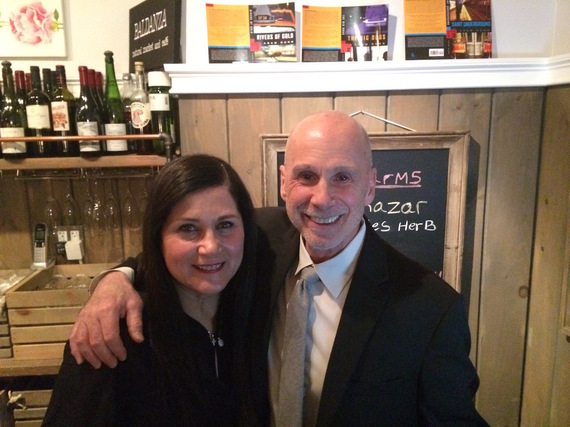 The restaurant is small, L-shaped, with a bar behind which the Baldanza's son Alex works as bartender. It's a comfortable, if slightly cramped, spot but it can get very loud when it fills up at night, and midday seems to be a prime time for ladies to lunch.
It is highly likely Sandy will be coming to your table throughout the night to check on every detail, and be aware that asking him a question about his culinary philosophy may elicit a very, very long answer. His passion for what he does is more than palpable.
The à la carte menu is ambitious for such a small kitchen, but almost everything I tasted along with three friends showed remarkable consistency of taste and preparation. Hand-cut tuna with Himalayan salt, skinny French fries, lamb's lettuce and cilantro ($18) is similar to other versions around the area, but Baldanza's tuna has deep flavor, and cutting it to order makes a huge difference, while the lamb's lettuce and cilantro add additional savory notes.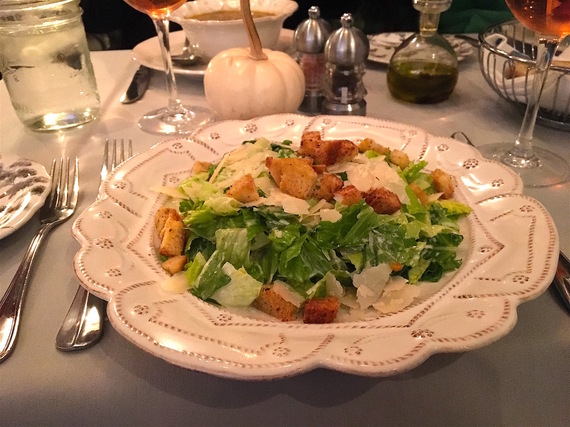 Buffalo mozzarella--so often a hit or miss item--is here impeccably creamy with the right pliant texture, served with organic tomatoes, a strawberry balsamic, and--surprise!--New Canaan olive oil ($15). A light lentil soup was absolutely delicious, full of vegetable flavors ($8). Crispy fried calamari with lemon garlic aïoli and roasted tomato sauce ($16) was not so special.
There are several pastas--the Baldanzas are Italian-Americans--including very good butternut squash-stuffed ravioli glossed with sage and brown butter ($24) and ricotta gnocchi, slightly too firm, with a rich sauce of tomato fillets ($24). Freshly made pappardelle comes in a fine meat sauce with freshly made ricotta ($24), while fragrant saffron risotto is melded with Gulf shrimp and asparagus, both a tad overcooked that evening, rendering the shrimp without flavor ($28).
Everything the Baldanzas make evokes the idea of comfort food, and what could be more comforting than crispy Parmesan-crusted organic chicken with kale, wild mushrooms and mashed sweet potato ($27), one of the best dishes on the menu? The same goes for a juicy double-cut pork chop, grilled and served with pan-roasted asparagus and wonderful mashed potatoes ($36).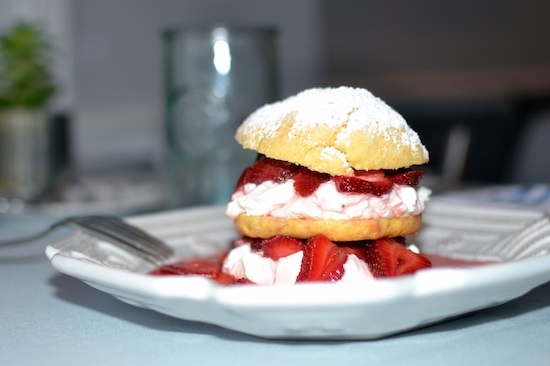 Whatever local fish is the best in that day's market gets a treatment of parmesan crust similar to the chicken, with sautéed spinach and lovely, silky beurre blanc ($28), while a snowy white Maine halibut with risotto, wild arugula and a citrus wine sauce ($32) takes a delicate hand to render so flawlessly.
Sandy Baldanza raved about his wife's carrot cake for good reason. This old classic, lost in culinary hippie history after overkill in 1970s, shows what a wonderful American idea it is to combine carrots, spices and cream cheese to such wonderful effect. The crème brȗlée was all it should be--crackling golden caramel crust and creamy, vanilla-rich center. A bowl of autumn berries and cream was as charming an idea for a simple dessert as you'll find. Key lime pie was all right, but not a winner in its category.
This being a small place, there's no room for a huge wine list, but the selection of whites, most under $40, is a good one, though the red wine list could use amplification. Nine wines are offered by the glass, all at a very reasonable $10. There are also a dozen craft beers.