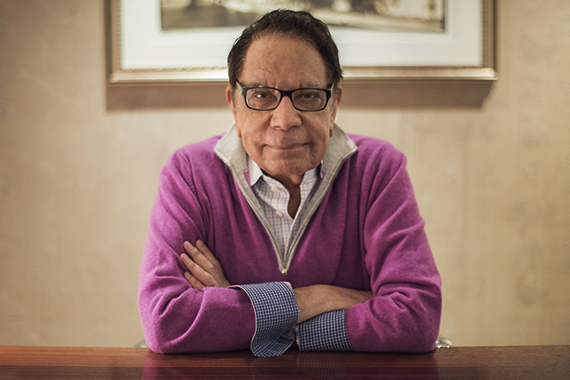 Having a dream propels us through the different stages of our lives. Exacting that dream into a reality is a journey and a masterful accomplishment. Last week, I was fortunate enough to interview one of those masters. His name is Baldev Duggal.
Mr. Duggal was born in Jalandhar, the oldest city in the north-western India state of Punjab. During long walks to and from the Cricket field in his teenage years, he'd dream of immigrating to the United States of America. His measure of success would be making more money than the president, at that time, the legendary World War II Supreme Allied Commander Dwight D. Eisenhower who was making over $100,000 per year.
For most this would be just another child's idle day dream, but for a young and ambitious Baldev Duggal, who had his first invention at age 15 and had won a national photo contest the same year that put his image on to the cover of Illustrated Weekly, this was a matter of conviction.
As a firm believer that one must set and reach concrete goals in order to turn a dream into reality, Baldev registered with the U.S. embassy and asked to receive every piece of mail about the country of his dreams. He was the most mailed person in his village; within months, his parents' mailbox was routinely stuffed to the gills with brochures about the land of opportunity.
After graduating from high school, Baldev Duggal was one step closer to fulfilling his vision. With the help of relatives, who pledged to support his journey, Mr. Duggal arrived in the U.S. in 1957 with nothing more than a one-way ticket, student visa, $200, and his dream.
He stayed at a YMCA and had to cut corners and make deals with neighborhood restaurant owners just to get 1-2 solid meals a day. Sitting across from me more than a half-century later, Mr. Duggal looks at my iPhone and chuckles. "When I first arrived in New York," he says, "I noticed that sometimes, when people used pay-phones, their coins would get stuck in the coin slot. So I went around shaking them. Sometimes I made enough that way to buy myself a 29 cent "early bird" breakfast the next day." He reminisces fondly on those days - he wasn't stooping, he was striving. These memories remind him where he came from.
Due to his financial constraints, Baldev was only able to take one course at Columbia University. Instead of something practical like finance or business, he followed his passions and chose a course in color theory. He explained, "I have always been captivated by the power and artistry of photography."
Baldev desperately needed to find a job, but his student visa restricted his ability to work. He lobbied his local immigration office relentlessly for a work visa. It eventually paid off and Baldev plunged in to the U.S. job market.
In his first year, Mr. Duggal worked no fewer than 11 jobs. He did so, he says, because he believed that "exploring is learning." He then added, "I wanted to discover myself, my interests, and my passions. I knew that if I wanted to do that, I could not limit myself. So I found what work I could, and I eventually realized that if I wanted to reach my dream, I'd need to have my own business."
Captivated by the power of photography since childhood when his grandfather gave him his first brownie camera, it was a stroke of luck when Mr Duggal came across a New York print production company looking to exchange space for free assistance. "When you have a dream," he explained with a smile that never seemed to leave his face, "you see opportunities everywhere."
This was without a doubt the pivotal business decision that set his career in motion.

Using the office space to start his business "Duggal Color", and his bathtub at home to develop film, Baldev was on his way up at a time the publishing and advertising industry was just taking off. In short order he built a reputation for quality, which earned him renowned clients such as Marcel DuChamp and Bert Stern. The business grew quickly as word spread amongst the burgeoning photographer community and by the time of the Lyndon Johnson administration, he was indeed making more money than the president of the United States.
But Baldev never rested on his laurels. Ever the inventor, he developed a machine to automate film processing, which up to the early 70's was still primarily done by hand in darkrooms like print-making. Then, in the 1980s he saw the potential of technology to revolutionize the graphics industry and invested early in the new markets of digital imaging and electronic re-touching.
As photography switched from film to digital, thousands of traditional photo labs went under and even the industry giant Kodak stumbled. Due to Mr. Duggal's foresight, DVS successfully navigated the transition to digital and came out even stronger.

Achieving global recognition, DVS continues to lead the market in graphics creation, retouching and production, with an international client list of fortune 500 brands, prestigious museums and famous photographers. The operation employees over 300 people and occupies more than 100,000 square feet of production space in the now ultra-hip Flatiron district and his own pier on the Brooklyn Navy Yard. It's worth noting that quite a few of his first employees are still working for him 40 years later, something almost unheard of these days. Beyond technology, Mr. Duggal is fundamentally a people-person who sees the staff as extended family. Through thick and thin times, including 9/11 and Hurricane Katrina, DVS has never missed a payroll and that dedication is reciprocated by his staff. "We find good people, we want to hold on to them and develop them."
Given his success, I wondered if Mr. Duggal felt he had accomplished everything he wanted. "Do you still dream?" I asked. Without missing a beat, and with a noticeable firmness in tone, he answered: "If you don't have a dream, you have nothing. Today, I dream of leaving a better world than the one I came to."
OK, that would admittedly sound clichéd coming from anyone else, but if past is prolog, Baldev Duggal means it.
Unsurprisingly, Mr. Duggal's dream of leaving a better world than the one he inherited is slowly looking more like a reality -- Mr. Duggal is now focusing on sustainable energy. In 2008, He founded Lumi•Solair to foster innovation in the clean tech industry. The company started with street lighting products powered by solar and wind, and has evolved into a leading off-grid power solutions supplier for the telecom and infrastructure space. Today, the company has an even more ambitious target, make every building in New York City green. Lumi•Solair and its sister company Lumi Ventures is installing the most efficient technologies that will save building owners money and make them green, while providing them a way to pay for it from the savings alone.
He's doing this, he says, because he's come to understand the enormous importance of preserving the planet for future generations. "I want to give back," he said, "I want to inspire young people to dream, to take calculated risks in life, and to never give up.
After our interview was complete, I watched Mr. Duggal walk down one of his building's stairwells. He greeted everyone he encountered, from the cleaning lady to his CFO; here he is affectionately referred to as "Mr. D." He asked them about their work and their lives. Here and there, he shared with them a joke.
It is this self-made man's unique blend of pride, optimism and humanism that make him an infectious personality.
In a time when immigration is a controversial topic across America, stories like Mr. Duggal's must be heard. As Mr. Duggal has shown by his example throughout the terms of eleven US presidents, immigrants have been a source of great strength and growth for the country.
Many immigrants don't just bring their luggage with them when they come to America's shores. They also bring their determination -- and, yes, their dreams. It is the power of these dreams that will help America grow and prosper in the face of the endless challenges and opportunities our future holds.

Related
Popular in the Community