Alec Baldwin was back as Donald Trump in the "Saturday Night Live" Oval Office — this time for a showdown styled on "America's Next Top Model" between Grim Reaper Steve Bannon (Mikey Day) and "little Kush ball" Jared Kushner (Jimmy Fallon in a flak jacket). They vied to be Baldwin's No. 1.
The loser? Bannon, sent away with another, bigger Grim Reaper down to the "basement" to "join Kellyanne Conway." But Baldwin adds, "You get to come back at the end of all this and help send me to prison."
Fallon's mute Kushner is the big winner.
"Jared, you're such an inspiration. You've shown everyone that if you're born rich and marry my daughter, you can do anything you want," says Baldwin, who dutifully moves over to his tiny desk with the toy. Fallon stays at the big desk to "fix everything."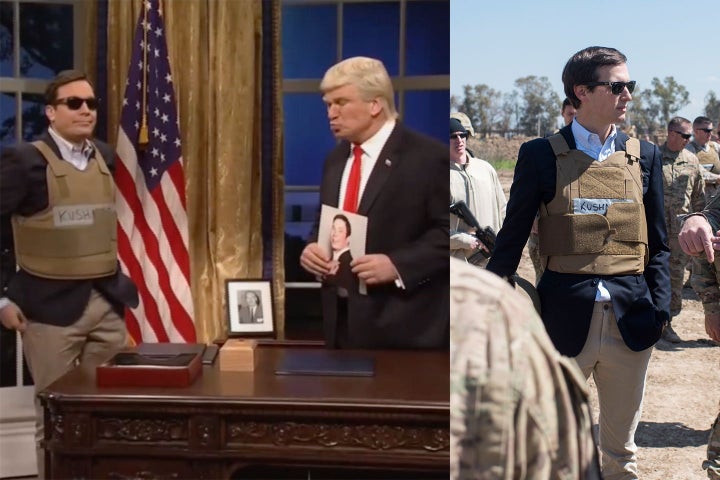 Before the big showdown, Baldwin boasts to Vice President Mike Pence (Beck Bennett) about dropping the "mother of all bombs" on ISIS. It's "so big and fat it almost looks like me in my golf clothes," he says.
He also muses about the end of his presidency. When Bennett reminds him that he still has over 1,300 days left, Baldwin responds, "Have you seen my tweets about North Korea? This could all be over by Monday."
Calling all HuffPost superfans!
Sign up for membership to become a founding member and help shape HuffPost's next chapter