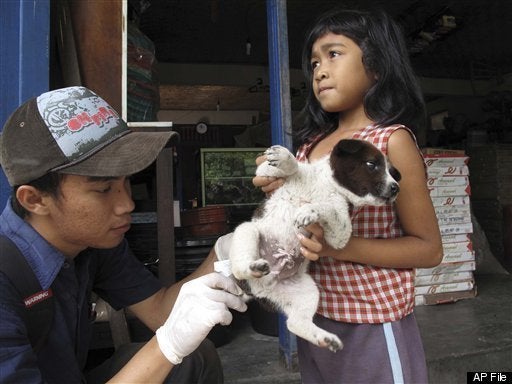 A recent rabies epidemic has taken hold of Bali, a popular tourist destination and the home of 3 million people. There have been 78 deaths reported over the past two years, though many go unreported, according to the Associated Press.
In just the first half of this year alone, 30,000 dog bites have been reported (and 20,000 dogs have been euthanized).
"We have a serious problem with the anti-rabies vaccine for humans ... we are very short of treatment across the island," Nyoman Sutedja, chief of Bali's provincial health ministry, told the AP. "We need help."
The U.S. and Australia, among others, have issued travel warnings for citizens recommending pre-exposure rabies vaccinations before going. Several tourists have been bitten by dogs while there, though none fatally.
Dogs run rampant in Bali; they're a common sight at beaches, markets, and even garbage heaps and are generally tolerated by locals. "Culturally, it is difficult to convince people that dogs can carry disease," Sutedja told the AP. "In the traditional Balinese faith people believe that dogs will take them to heaven."
The government has responded forcefully, Sutedja said, out of fear that dog attacks could due damage to the tourism industry.

Support HuffPost
A No-B.S. Guide To Life
Related
Popular in the Community