Bali isn't exactly an unknown destination and for some, that's a turn off. True the island is packed with tourists, but exploring the unique Balinese culture and temples, as well as the hidden beaches, is still worth your time, especially when you consider the quality and affordability of the amenities.
Your visit to Bali is best divided into two categories: beaches and culture.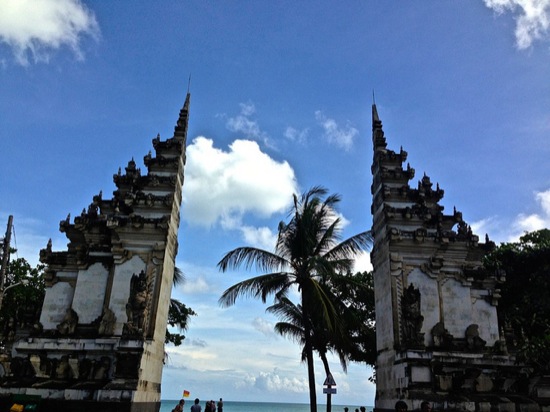 There are endless options for the former, but because we were short on time, we first settled on Kuta, a mere 4km from the airport.
Kuta gets a bad rep for being a tourist trap full of drunk Australians, trash, and trashy t-shirts and bumper stickers. All this is pretty accurate, but you can find some peace if you make the effort.
The beach is far from stunning, but it's decent, especially considering its proximity to a transport hub. It's also a good place to learn to surf, which is exactly what we did. Having surfed in Oahu, Hawaii, I can say with 100% certainty that Kuta isn't a great place to learn, no matter what the brochures tell you. The waves break too close to shore, which means you either get a very short ride (by hopping off quickly) or you crash into the sand and get all the respective tumble that comes with it. Sand burn hurts, so jumping off is better, but it results in little time on the board and lots of time spent dodging other surfers who don't know what they're doing.
Besides surfing, we spent our time in Kuta checking out the temples, browsing the shops, and releasing baby turtles into the sea.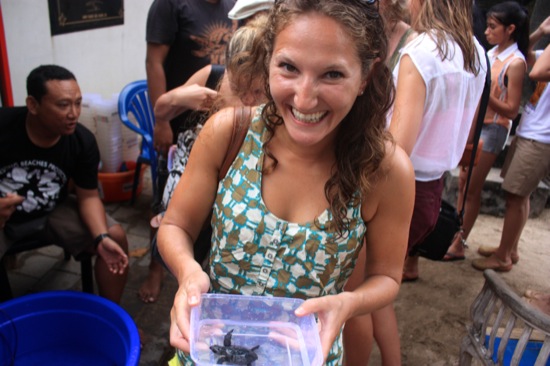 On our second stop in Bali, we opted for a quieter beach to the south of Kuta. Tubon Beach, or Airport Beach as we called it for its perfect view of landing planes at the nearby airport, was a lot quieter and more peaceful than Kuta. There were hardly any touts, but if you wanted to catch waves you needed to charter a boat as they break farther offshore.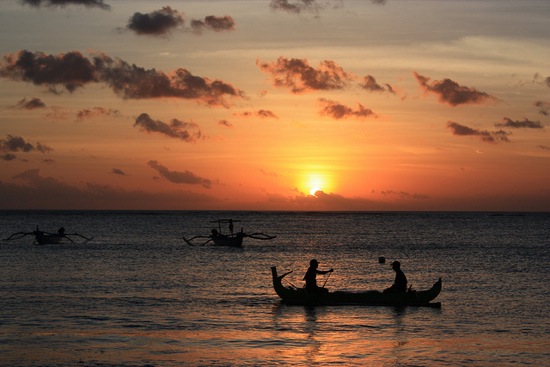 Despite its positives, Tuban, like Kuta, was far from spectacular. For those types of beaches and that type of surfing, you need to rent a motorbike or taxi and head south to the Bukit Peninsula. The most famous beach here, and rightfully so, is Uluwatu. Make sure you make the right before paying for parking at the temple and follow the paved road all the way to the end. Head down the steps, through the rocky outcroppings, and discover this: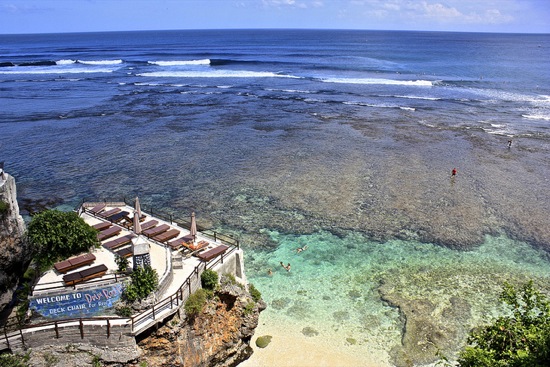 You can spend all day here, at least while it's lowish tide, relaxing in the natural pools and watching the amazing surfers offshore. There's plenty of food to buy, so no need to bring anything along. And, if you're not convinced yet, it's just absolutely beautiful: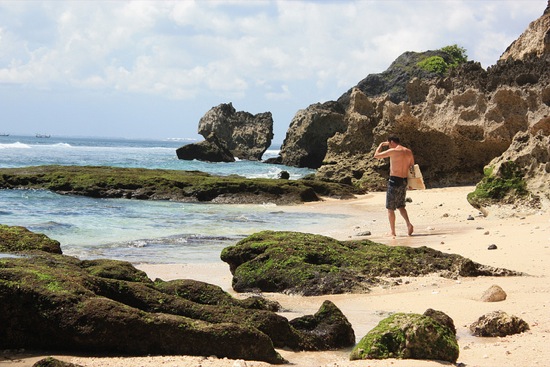 More hidden beaches line the Bukit, but you'll have to follow the surfers or ask locals how to find them. We spent the rest of our day at Padang Padang, which was also accessed by a stunning staircase. If the main beach is crowded, head right. There are hardly any people to be found and the sand is even better.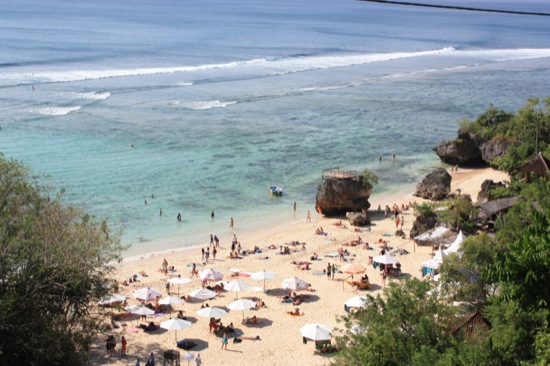 Other beaches you may want to check out are Bingin, Impossibles, and Balangan. Each offers an interesting access point and great surfing offshore. If you're looking for some beach dining, stop at Jimbaran on your way back to Kuta and grab some seafood in the sand. It's a tad pricey, so we had to skip the eating part, but the sunset was free -- and stunning.
Unlike most of Indonesia, Bali is primarily a Hindu island, with all the ceremonies and offerings to match. Once you get off the main tourist drag in Kuta, you find yourself amidst beautiful mini temples and locals who put out offerings and light incense sticks throughout the day. Going inside the temples is difficult as the doors are often locked, but make sure to take a look around and keep an eye out for ceremonies and celebrations. We saw two large affairs -- one from our hotel balcony and the other right on the beach.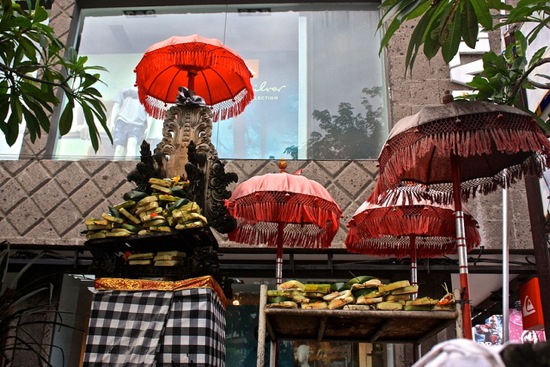 If you like what you've seen in Kuta, then a few days at the inland town of Ubud will blow you away. Yes, it's full of tourists, but it's also full of Balinese locals performing the rituals that make up their days. Ceremonies and dance performances (both for tourists and locals) are aplenty, and you only need to get lost in the back alleys to stumble onto tiny temples and shrines that will blow your mind.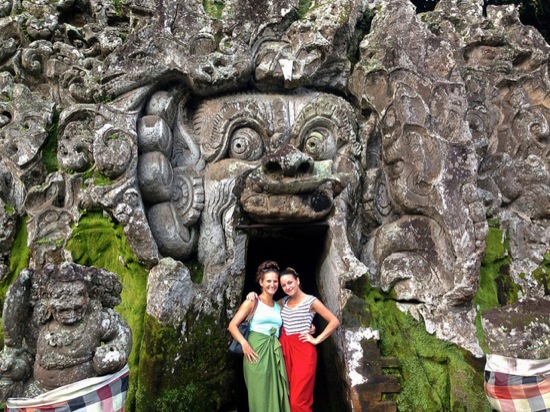 Make sure to visit the Lotus Pond and the Royal Palace in town before taking trips further afield.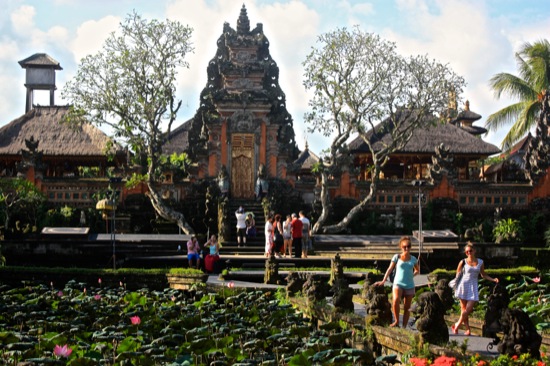 We took an unguided walk along the Campuan Ridge one day and on another, chartered a car to Gunung Kawi and the Tegallalang rice terraces. You can ask for Goa Gajah, or Elephant Cave as it's commonly known, to be included in this route as well.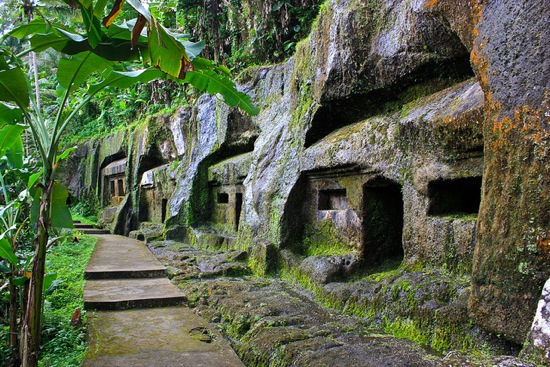 Impressed? We know we were. Despite the crowds, there's still plenty to be discovered in Bali and its beautiful hotels and delicious food make it a great destination for any budget.
Related