Mid-wife and clinic founder Robin Lim is a legend in the world of women's maternity health. I have heard of her from Port-au-Prince in Haiti to New-York to Denpasar. Recently I received a note that her natural birthing clinic in Bali known as Bumi Sehat ("healthy mother earth") is in desperate need of operating funds. I decided this would be the opportune time to interview her, so I tracked her down by phone in Ubud.
Bumi-Sehat is currently facing a financial crisis due to the world-wide economic situation. The clinic operational funds come from a network of individual donors, tourists visiting the clinic, and various international organizations also suffering from a lack of funds due to diminished donations and matching grants.
Ibu ("Mrs.") Robin told me by phone from Bali:
I am facing a funding crisis at the Bumi Sehat Bali Natural Birthing Center. Direct Relief International supported the Bumi Sehat Aceh Clinic, long after other NGOs abandoned Aceh, but has no Tsunami relief funds to help now. There is no possible way that the Bumi Sehat team in Bali would consider closing the Bumi Aceh clinic which was built by the Rotary S.E. Asia and Ubud.

The Tsunami may no longer be in the news, but Bumi Sehat provides the only dependable and free medical services to the disaster survivors in our area. I am scrambling to raise funds, but I have never stopped doing patient care long enough, to try to find real financial security for the Bumi Sehat Birthing Center.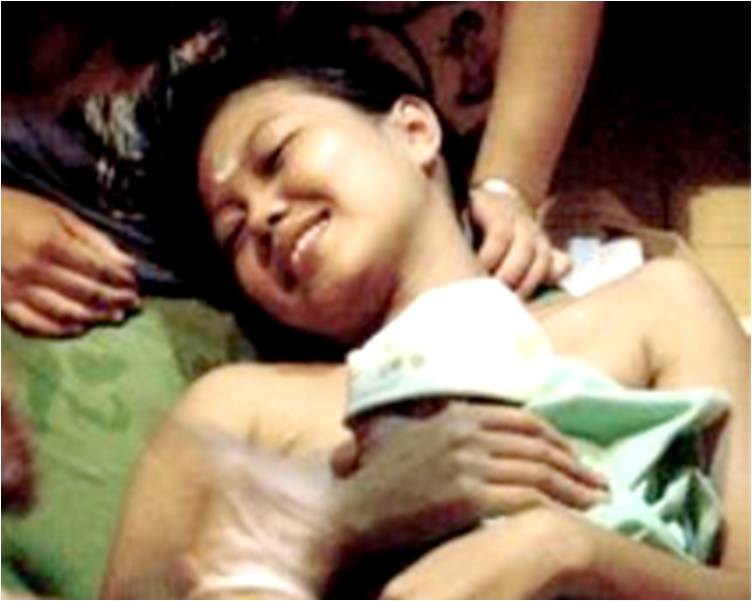 Moments after birth in Bali, Indonesia, a new mother at the Bumi Sehat Clinic.
Robin Lim is a midwife who has worked in the U.S., the Philippines, and recently in Haiti. She is an ex-pat of American and Filipino descent, who moved with her husband and large family to Ubud, Bali in 1993. She founded Bumi Sehat in 1995.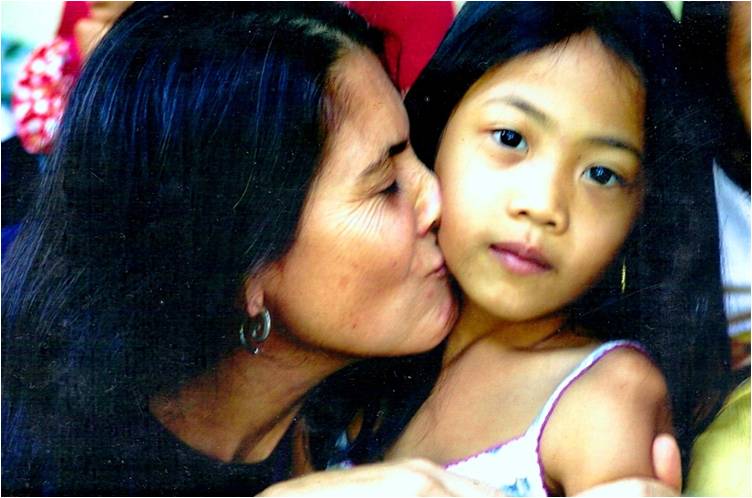 The not-for-profit organization serves primarily Balinese women who cannot afford hospital birthing. Medical insurance is not affordable by 95% of Balinese people. Bumi Sehat runs on a donation basis. All in-house services are provided regardless of ability to pay. The clinic provides pre-natal examinations, pre-natal vitamins needed due to the poor nutrition of most their mothers, physician clinics every evening, alternative medical clinics biweekly, natural birthing by professional midwives, water-birthing, and all needed post-natal care operate 24/7.
Overnight stays are also provided as needed. Bumi Sehat believes that functional breast-feeding must be established before mother and child return home to their village. According to the World Alliance for Breastfeeding Action (WABA), a baby in Indonesia who is bottle fed is 300 time more likely to die in the first year of life. Transportation by ambulance or clinic car is provided as needed, the Bumi Sehat ambulance was purchased by the Rotary Club of Ubud Bali, ambulance operational funds are still a challenge. In Bali, just between January and July, 2010, Bumi Sehat assisted in 256 births, 2,323 pregnancy check-ups, 1,505 general medical visits, and other walk-in services, for a total count of 4,991 patients helped in Bali, just in the first half of 2010.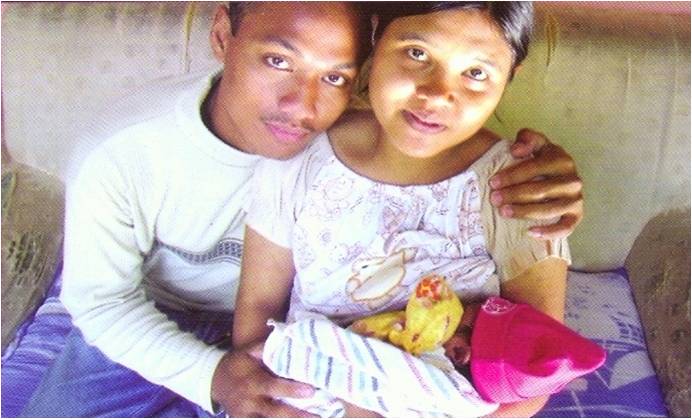 Bumi Sehat works with fathers as well as mothers to ensure a child's bright future.
Robin shared with me her August 2010 field report, which was unusually detailed and frank. She writes:
Before 8:00am today in Bali, we had already received three new babies into this world! All the mothers are resting and breastfeeding their healthy newborns.

Sadly, joy is not there for the beautiful mother, Sari, who came into Bumi Sehat two weeks ago. Unfortunately, Sari did not come to see us before she began her labor. She had had no prenatal care, no vitamins, and was very malnourished. Her baby, still in the womb and just hours away from birth, had died in the night. She had felt kicking quite strongly, and then nothing in the morning.

The staff midwives called to tell me this mom arrived with no fetal heartbeat. I ran to the clinic. As Sari's husband saw me arriving at Bumi Sehat he said to his wife, "Oh it's going to be okay now, Ibu Robin is here."

Of course, my heart sank as I could not bring their baby back to life. All we could do is to give them caring, loving and free services, and some hope to soothe their pain. After all these years of delivering babies, I still do not know how parents survive the loss of a baby.

Sari's baby's umbilical cord was only 20 centimeters long. It simply was too short and pulled away from the baby, causing him to die before his birth. Plenty of nutritious food helps the umbilical cord to grow long. This cord was too short for the baby to survive, due to poverty and maternal mal nutrition. I have spent the past two weeks pondering fate, and the fact that perhaps had this mother-to-be found Bumi Sehat sooner -- and had she taken the New Chapter Prenatal Vitamins that we give away -- perhaps her baby would have made it.

As I wonder, I pray that more mothers on this planet do get proper nutrients, clean water and the loving support that they need to bring healthy, and happy babies into this world.
Since its founding in 1995, Bumi Sehat has focused on patient care. In the first half of 2010 alone, the organization assisted 17,096 patients and students. Bumi Sehat was even able to assist in Haiti after last January's earthquake, where they were able to assist 87 women give births and another 1,400 women with prenatal visits before leaving the clinic in good hands and returning home to Bali.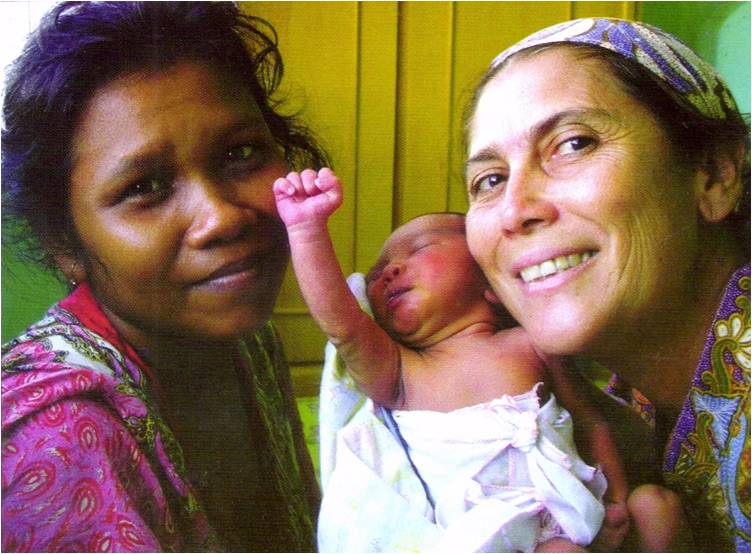 With the new Balinese mother, Robin celebrates a new member of humanity.
Robin is an avid proponent of gentle natural birthing including water-birthing, she has introduced this natural delivery technique in Bumi Sehat. She also firmly believes that the delay in cutting the umbilical cord makes a tremendous difference in the baby's ability to gain basic needed nutrients and contributes to the development of a stronger immune system. Robin sees this delay in cutting the umbilical cord as promoting health in child birth, and health in keeping with the United Nations' Millennium Development Goals (MDGs). This is a no-cost protocol that increases the child's iron stores improving survival in infancy as well as enhancing the child's quality of life.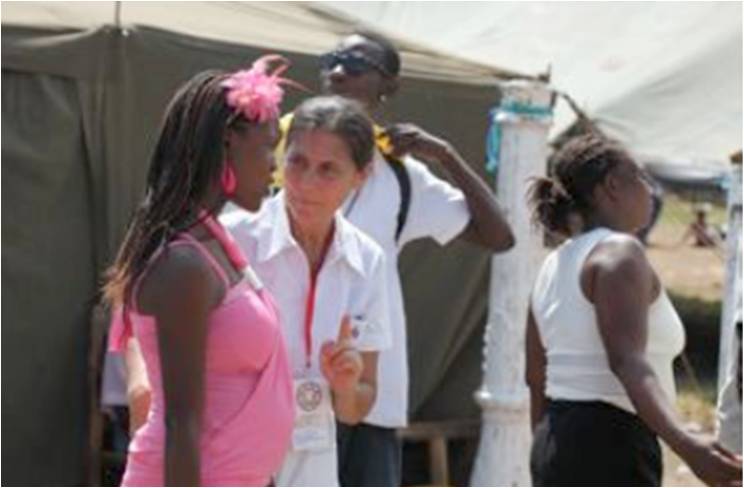 Robin Lim was on the ground after the earthquake in Haiti, although we missed each other.
The budget for Bumi Sehat in Bali is about $500 per day - or under $200,000 per year. AIDS - and its social stigma -- is beginning to enter the equation with Bumi Sehat's work, making their task more daunting. In a culture where women are afraid to disclose their HIV/AIDS status due to the real threat they will be ostracized from village and religious life, Bumi Sehat is an oasis of confidential understanding.
Robin believes that economic opportunities will allow more women the ability to break the cycle of poverty and obtain better nutrition, including higher level of prenatal and maternity care: creating healthier childbirth in the process. She shared with me the following story:
When our patients must be transported to a hospital, we don't just drop them off. If they have no money to pay the bills, Bumi helps. If we can't afford to do this, I have been known to send my grown children out to tourist bars to pass the hat. Until a family in Indonesia -- and many other countries in our world -- has paid the hospital bill they may not take home the baby! Just a few days ago, we had a transport for a very much needed emergency cesarean birth. The surgeon was brilliant, and his work saved the mother and baby's lives.
But the bill was the equivalent of six months' salary for both the parents, and they had no savings at all. Bumi Sehat had no extra funds to pay the 8 million Indonesian Rupiah (US$ 900). Fortunately, this young mother had worked for friends of Bumi Sehat, so I called them and made my appeal and they generously agreed to foot the bill. The mother and her baby are going to be transferred to Bumi Sehat today, to have some extra post surgery R & R plus breastfeeding support. I believe there is a basic human right to health care, no matter where in the world, be it Bali, Haiti, Aceh -- or the United States.
Robin concludes her interview with me as follows:
The world economy has made it increasingly difficult for me to find the funding that Bumi Sehat needs to keep our clinics and projects alive and functioning.

I appeal to the entire world: Please help the Bumi Sehat Natural Birthing Free Family Health Clinic continue its services to poor mothers in Bali!

We must continue with our mission of helping poor mother's to deliver healthy babies into this word. We look at our operations almost daily, and conclude again and again that all our programs are essential and function on a minimal budget.

The people here need these free or by small donation services. All of them -- prenatal care, births, postpartum and breastfeeding support, pediatric, general, or alternative medicine -- are necessary.
Ibu (literally means mother in Indonesian) Robin stressed in our interview that she is only member of the dedicated Bumi Sehat team:
The Bumi Sehat team in Bali is very aware of their responsibility to the donors, who are hard working caring people. We feel we are their helping hands in the field, Bumi Sehat's midwives, doctors, nurses, teachers -- plus the people who keep the clinic running and clean -- consider themselves the bridge between the generous sponsors and the patients. It's a kind of partnership in building peace.

Alisa Chazani is a perfect example of a Bumi team member, who has stuck by us in thick and thin. Not only financially, but she manages to uplift me with her friendship when I most need it.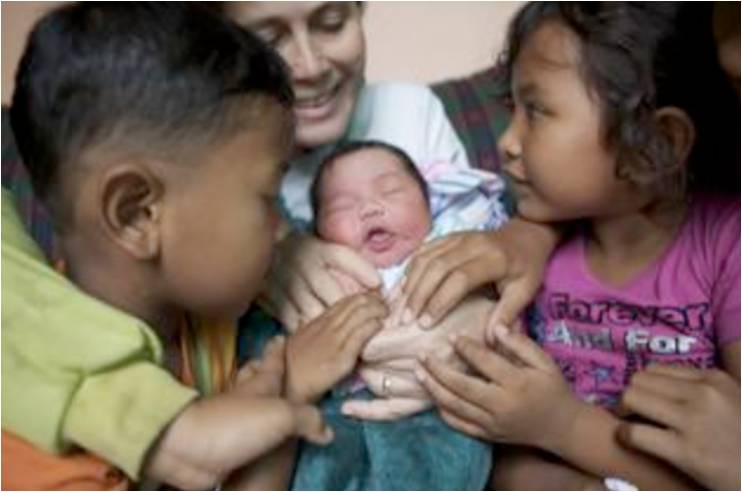 "Helping hands at Bumi Sehat Bali -- where each day a miracle of Peace is born!"
Singularly or jointly, Robin Lim is truly a thought leader, global citizen, and innovator whose relentless work needs all the financial global support possible. Increased contributions will allow more and more women around the world to hopefully experience what we in the developed world, often take for granted -- safe and healthy child birth.