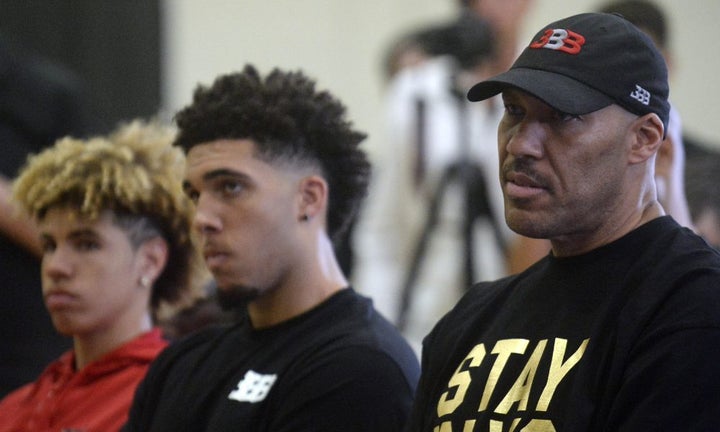 If you haven't already heard the most recent news pertaining to the Ball family, here it goes....

This may come as a shock to most people, but for some this has been a long time coming. Both brothers signed one-year contracts to play for Prienai-Birstonas Vytautas of the Lithuanian Basketball League.
By the way, this all comes on the back-end of LiAngelo being indefinitely suspended by UCLA for his arrest by Chinese authorities for stealing while the team on was an exhibition trip in Shanghai. Furthermore, LaMelo despite only being 16 years old, was pulled out of high school to be homeschooled by their father largely because of disagreements with the high school basketball coach.
Signing this contract to play in Lithuania officially voids out the option of either one of them ever being able to play college basketball, a move that a lot of people are skeptical about. On the other hand, Lavar Ball, their brash and candid father seems to feel differently. Jeff Goodman of ESPN.com quoted Lavar saying::
"I don't care about the money. I want them to go somewhere where they will play them together on the court at the same time. The priority is for the boys to play on the same team."
I mean that's really what this has been about the entire time. Getting all three kids (Lonzo, LiAngelo, & Lamelo) all on the same professional team, and this is just one step closer to that goal.
So if this has been their goal the entire time and everyone knows it, why question how they get it done?
A lot of people disagree with Lavar Ball's parenting style, but I personally have no doubt in my mind that everything that he does is what he honestly thinks is best for his kids, not for himself.
For the past year or so, the Ball family has been the poster family for breaking news and ludicrous stories, maybe even more so than the Kardashians. Which leads me to think that although just one year ago all of his sons were in high school, how did we get to this point this quickly and why is it that these kids, as young as they are, could all turn pro just like that?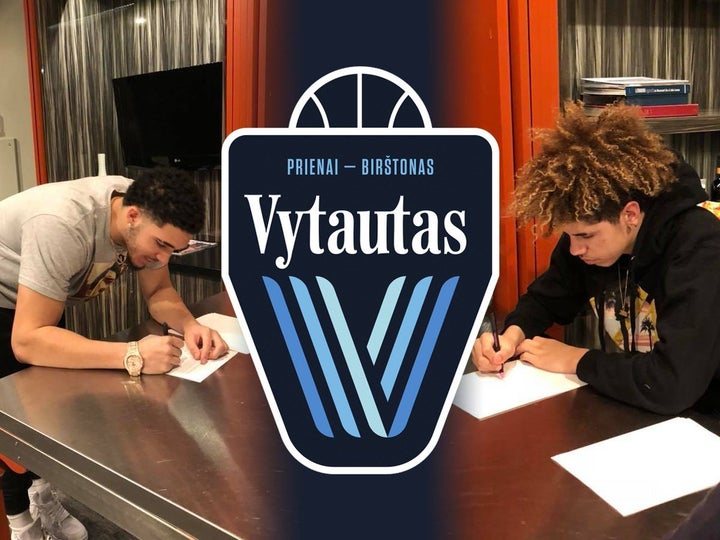 How They Could Make Something Like This Happen
To me, it really comes down to one word. Branding.
I mean honestly, neither one of them have played a game past the high school level and I hardly think that any overseas club in the world would sign them based solely off of the talent of their older brother Lonzo.
This is a simple game of branding and marketing, in which their father, Lavar Ball, has been at the forefront.
Like I mentioned before, for the past year or so the Ball family has been the most recognizable and popular family not only in the sports world but maybe in the country.
Because of the Big Baller Brand that they created, and the outlandish statements that Lavar has made, they have made headlines for every move that they have made and have even been able to have their own reality show.
What Lavar Ball has been able to do was take his three young talented kids, exploit their lives and abilities to build an empire. He might not seem like the world's best dad, but he damn sure is a genius when it comes to marketing and garnering attention.
He has taken the Ball name and amplified it in the spotlight so that everyone knows or at least has heard about them. I think that LiAngelo and Lamelo are far from being the most talented players in the world. I mean there are probably thousands of other ballplayers that this team in Lithuania could have signed, but everyone knows that where there is attention, there is money.
Because of their name and the awareness that they have surrounding them, they were able to forego college completely to pursue their dreams of becoming professional basketball players.
This within itself shows the power of branding and how it has changed everything for this family.
The Big Baller Brand evokes emotions out people, whether negative or positive. Many love them, and many hate them. Some respect what Lavar is doing and some despise everything he says. Nonetheless, you can't deny the fact that they are making money doing what they love and reaping the benefits of publicity.
All publicity is good publicity for the Ball family and they have made every move work in their best interest.
How Will This Turn Out For The Brothers?
No one knows how the two Ball brothers will react and what the outcome of this situation will be.
Former players who have played in this league in Lithuania don't speak highly of it nor do they have anything good to say about this particular team and head coach.
"You can count on one hand the number of street lights in that city. There is nothing to do in that place. It's the ultimate life of going to practice and back to the hotel."
Maybe this is the life that they want. Maybe this is exactly what they need to prepare for the next step in their basketball career. Who knows. What we do know is that it will, in fact, be a culture shock for them. It will be different from what they've been used to for their entire lives and it will either expose them or make them stronger.
Personally, I know how hard it is to make it overseas whether you're 16 years old or 64 years old. It's a grind and you have to be very open-minded and mature in order to make it for several months.
I would never wish them to fail, but I truly don't think they know what's waiting for them on the other side. If they do even make it over there, I have a hard time seeing it last 6 months until June, which is when the season is over.
Regardless, of this, I've been a huge supporter of the Big Baller Brand and how Lavar Ball is challenging the status quo. He's doing something that is revolutionizing the way we look at athletes and giving the control back to them. I might not agree with everything that he does as a parent, but as a businessman, he is doing his thing.
No matter what happens with these two young kids while they're overseas, having that Big Baller Brand beside their name will without a doubt be more than enough to create more opportunities for themselves in years to come.
And for that, you have to give credit to Lavar Ball.
Malcolm Lemmons is an athlete turned entrepreneur, author and speaker. He focuses on helping athletes brand themselves to prepare for life after sports. To check out more from Malcolm, visit his website at www.malcolmlemmons.com or connect with him on Twitter & Instagram
Related
Popular in the Community