How little did I know those innocuous balls of knitting yarn tucked away in my under-the-stairs closet could also literally knock terror into my soul?
It started off innocuously enough.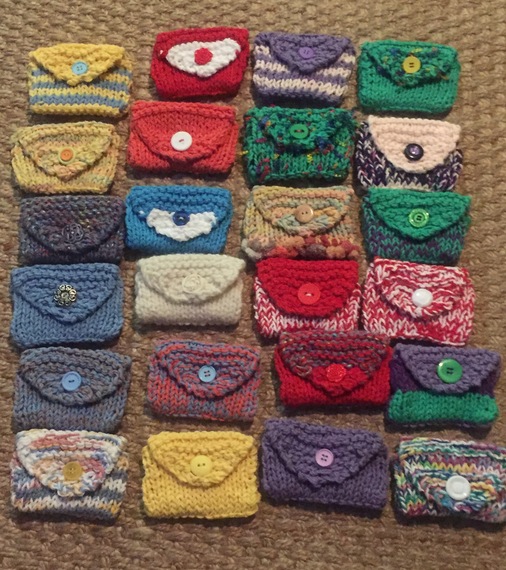 I noticed on Etsy some cute little hand-knit pouches. I decided to adapt and improvise, coming up with a workable pouch pattern of my own. Unbeknownst as to what I would actually do with the pouches once completed, I merrily began to knit one. And then another. And then another. Soon I was religiously knitting three pouches an evening. Well, not really religiously. I'd say compulsively. Obsessively. With no thought as to what I'd do with the growing pile of colorful mini-bags.
Trust in the serendipitous. After furiously knitting about 50 of these cute little pouches in a variety of colors and designs, inspiration came calling. Aha! I'd ask my son and daughter-in-law if we could use them as their wedding favors, with a Starbucks gift card tucked inside each one.
They loved the idea. At the brunch concluding their wedding weekend, I witnessed an avalanche of people grabbing up the pouches. Truth be told, I couldn't figure out if it was because of the appeal of the pouch or the appeal of the gift card inside. I fear it was the latter.
Either way, post-wedding, like a driving gale force, I returned to furiously knitting pouches -- again with no purpose in mind.
"Okay," I said to myself, after amassing another 100 or so, "I've got to figure out where I am going with this aimless, but highly satisfying, project. I consulted my friend -- my retail guru Jackie Walker -- for advice. Jackie speaks with such enthusiasm and authority that anything she tells me I promptly label as gospel and follow blindly.
"Sell them at a holiday bazaar," she breezily quipped. "Display creatively. List the uses. Utilize great signage and charge a competitive price."
I gulped. I swallowed. And I followed her sage advice. I listed the uses for my pouches on paper:
a holder for lipstick and compact, dollar bills, credit cards, business cards
a container for tea bags, gift certificates, coupons, or personal affirmations
a stocking stuffer
a replacement for a greeting card, adding money or a gift card at will
But my favorite use was provided by a heavily tattooed young lady I met at a vintage store while searching for unique buttons. "Condoms!" she boldly shouted out. "And call them 'pouchie pouches!'"
So, I guess, so far, I have knitted 302 pouches. I have a reserved a booth at a Christmas bazaar to sell my wares. And I dream nightly of people lining up in impatient droves to snatch up my wares.
Okay, all that is helpful and inspiring. And l realize that trying new things, stretching the envelope, and boldly stepping out of my silo is what makes me a complete person. I do own my story. And I do love what I do. The problem: I'm terrified of presenting items I knit in the cocooning privacy of my little abode to the critical gaze of a consumer. I yearn to curl up in a fetal position on my king size bed, snuggle under the covers, and forget that I ever embarked on this madness.

Why? What if my dreams of a sell-out success fall flat? What if my pouches don't sell? Not one?
So, to calm my beating heart and contain my mounting anxiety, I started listening to Elizabeth Gilbert's podcasts on living through creative ventures, of overcoming paralyzing angst and simply enjoying the process without a guarantee of the outcome. I'm surging forward -- laced with the confidence of knowing that I am exhibiting the courage to try, to flex my creative muscle and to provide something I love to people who may just surprise me and value it too.
And if they don't, I'll survive.

Iris is available to speak on a variety of topics, focusing on self-help, self-improvement and self-empowerment. For more information, contact her at irisruthpastor@gmail.com
If you want more information about Iris's forthcoming book Tales of a Bulimic Baby Boomer, or to sign up for her weekly newsletter, visit www.irisruthpastor.com or follow her on Twitter @IrisRuthPastor.
PHOTO GALLERY
Milestones Through the Years
REAL LIFE. REAL NEWS. REAL VOICES.
Help us tell more of the stories that matter from voices that too often remain unheard.