In a scene from the ballet documentary "First Position," the camera focuses for a moment on the mother of Sierra-Leone-born dancer Michaela DePrince. Tutu in hand, Elaine DePrince performs a seemingly innocuous task ― the painting of her black daughter's tutus and straps. She carefully applies brown dye to every inch of the formerly pale costumery, making sure to touch up the remaining white bits with a dark Sharpie.
In a world where ballerinas are expected to know how to pull their hair back in pristine buns, sew their pointe shoes into perfection, and otherwise manipulate their bodies and accessories to adapt to predetermined ideals, painting tutus might read to outsiders as but another dance ritual. If everyone had to do it. But in a world simultaneously dominated by white bodies, a world that has only recently witnessed the rise of American Ballet Theater's first female African-American principal dancer (Misty Copeland) and harbors a history of subtle racism within its institutions, the act of painting a "neutral" tutu becomes a reminder to those inside and outside studio halls of the specific obstacles ballerinas of color face today.
Last week, Chyrstyn Fentroy, a member of the Dance Theatre of Harlem, posted a photo to Instagram (featured above) ― an in-process shot of her painting a pair of "nude" pointe shoes to match her skin tone. It was reminiscent of a video Eric Underwood, a soloist at The Royal Ballet, posted to his Instagram last year, showing him applying powder pigment to his own shoes.
In a caption accompanying his video, Underwood pleaded for dancewear companies to introduce more than one flesh tone into their ballet shoe inventories. When he posted the photo, he was not able to buy anything but that traditional "ballet slipper" pink. "Not being able to buy shoes is a reminder that you are an anomaly and that you aren't given the same consideration as other dancers," fellow dancer Brooklyn Mack explained to the BBC after Underwood's post.
Fentroy, who is currently nursing an injury, wrote in her photo's caption: "Today is paint day," including the hashtag #keepingbusyformysanity. When asked why she posted the image, she explained to The Huffington Post over email that she wanted to give fans a glimpse of her process as a professional dancer. A part of that process, she noted, involves applying a flesh-colored acrylic paint ― created specifically for her by the Dance Theatre of Harlem's wardrobe team ― to her pointe shoes.
"Currently, to my knowledge, there are not any pointe shoe companies that create shoes in flesh tones," she added. "I have seen pointe shoes made in red and black before, but those are the only pre-made colors that I have come across. Sometimes certain companies will have different shades of pink, but none that I have seen are far off from the normal color."
Those pale or pink tones pose an obvious problem for dancers of color. While white dancers can wear the default "nude" tights, leotards and shoes to maintain consistent lines as they bend their torsos and limbs into standard ballet configurations, dancers of color are forced to turn to paints that dull the shine of their shoes, or other imperfect solutions like shoe polish and makeup, to achieve the same results.
"If I wear pink shoes, because my skin is not anywhere near the same color, the image I see seems choppy and isn't as appealing to look at," Fentroy explained. "I love having flesh tone shoes and I really do think that no matter what your skin color is, having shoes that create one continuous line from the top of your leg to the tip of your toe allows the audience to focus on all of the beautiful things your body has as a ballet dancer and not focus on what you are wearing."
Still, for some dancers of color, abandoning the historic pink outfit in favor of other "unconventional" flesh tones can be difficult. In a blog post for Brown Girls Do Ballet, ballerina Selena Robinson weighed her options between the brown tights that match her skin tone or the pink ones most other ballerinas don. Wearing the pink, many dancers point out, is a part of maintaining uniformity among the corps de ballet dancers meant to perform in sync.
"Whether I stick to tradition and wear pink or channel Dance Theatre of Harlem and wear brown," she wrote, "I just want to be comfortable in my beautiful brown skin and dance for myself."
The Dance Theatre of Harlem, a company historically comprised of African-American and other racially diverse artists, is known for encouraging various flesh-colored tights, leotards and shoes, and as Fentroy's photo shows, the company provides unique paints that match each dancer's skin. Fentroy ― who grew up with the understanding that pointe shoes are pink and "that's how it was" ― says she's never been criticized for wearing pink shoes today, though.
"Every school and company has a different practice for what their dancers do with their pointe shoes," she said. "I think that many schools that are predominantly [comprised of] dancers of color are beginning to practice the idea of having flesh-colored shoes, but not all. At Dance Theatre of Harlem, it is standard for the company members to always have flesh-colored shoes and tights, and it is a part of the dress code for students."
While Fentroy has noticed an increased interest in flesh-colored shoes among dancers of color, she's yet to find a company that's officially capitalized on the demand. Earlier this year, ballet shoe manufacturer Bloch announced that it was working on a series of slippers for non-white dancers, but they have yet to hit the market. (For the record, Misty Copeland wears Bloch Axiom shoes and uses pancake makeup to match them to her skin, her publicist explained in a statement to HuffPost.)
Leotards and tights are available through speciality manufacturers, but Fentroy and other dancers of color continue to paint their shoes ― on top of sewing their ribbons and elastics into place, cutting their shanks to size, gluing their pointe tips and dousing their pairs in water until they reflect the unique arcs of their feet. Ultimately, every ballerina is beholden to the rituals of keeping pointe shoes. But only dancers of color are required to go an extra step.
"I am greatly looking forward to the day when pointe shoes are created in multiple skin tones," Fentroy concluded, "and I do think that day will come soon."
This piece has been updated to include a statement from Misty Copeland's publicist. We have reached out to Bloch for a comment on whether or not they are still planning on producing a line of flesh-toned shoes but have yet to hear back.
CLARIFICATION: Language in this story has been amended to make clear that Misty Copeland was the first female African-American principal dancer at the American Ballet Theater. In case you were wondering, Debra Austin became the first ever African-American principal dancer for a major dance company ― the Pennsylvania Ballet ― in 1982.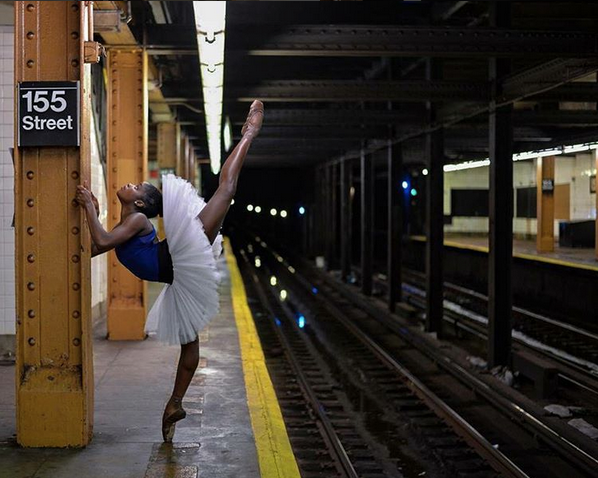 Brown Girls Do Ballet