In a dimly lit corner of his apartment, New York City Ballet dancer Justin Peck sits alone at a desk, reviewing rehearsal films with a pen in hand. The (then) 25-year-old corps de ballet member is choreographing the famed company's 422nd original ballet for the 2013 winter season ahead. He has eight weeks.
"Ballet 422," a documentary directed by Jody Lee Lipes, follows Peck from conception to the world premiere of "Paz de La Jolla," a 20-minute ballet set to Bohuslav Martinů's "Sinfonietta La Jolla," featuring three principal dancers and a 15-member corp. It is the third ballet Peck will have choreographed for City Ballet. His previous work for the company, "Year of the Rabbit," debuted to glowing reviews. The New York Times referred to the piece as "a triumph not just for Mr. Peck but also for the institution that has nurtured him."
Shot in a cinéma vérité style, "Ballet 422" lacks many of the storytelling elements audiences have come to expect from documentaries. There are no talking heads contextualizing the challenges of choreographing a ballet in mere weeks, no lower-thirds identifying people as they move through the frame. New York City Ballet chief Peter Martins does not appear on screen describing Peck's choreographic talent with effusiveness. Instead, Lipes allows his audience to simply observe the process of a 21st-century artist creating a piece of work.
"I think the story told itself without needing lower thirds, and I think the story told itself without talking heads," Lipes said in an interview with The Huffington Post. "My preference is to feel like something is happening before you, [as you] are watching it. That to me is just more engaging."
With Peck, audiences witness a process that's intensely focused and surprisingly quiet. The dancer-turned-choreographer seems to spend much of his time alone, whether that's dissecting the music in solitude at home, or recording himself dancing movement phrases in a rehearsal studio.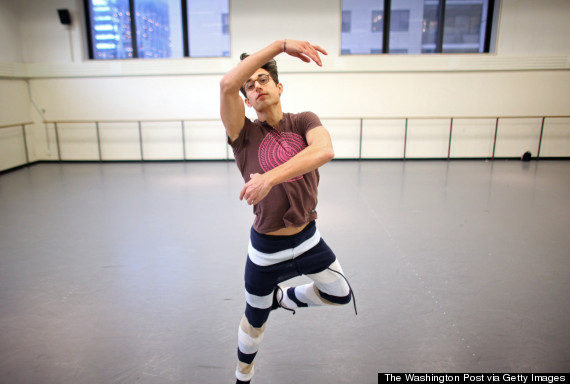 New York City Ballet's choreographer Justin Peck poses for a portrait after directing rehearsal at the Lincoln Center's Samuel B. & David Rose Building in Manhattan, NY, on March 20, 2014. (Photo by Yana Paskova/For The Washington Post via Getty Images)
"[I set out to] document the whole process of [creating] a single ballet and really nothing more than that," Lipes said. "Just to be present for all of the moments that I think told that story."
There are eventual meetings about lighting and costumes, however Peck seems to move throughout each of these discussions with a sense of terseness. He is more expressive during dance rehearsals with his cast, though still less so than one might expect. It seems that choreographing a ballet, while collaborative in nature, is a personal and private experience.
"It's a long, extensive process. It starts well in advance of getting into the studio with the dancers," Peck said. "It starts with finding a piece of music and deciding what I want to do conceptually... I kind of decipher the score so that dancers are able to count it in a way that works for them to hear what they're listening to."
When members of the cast enter the studio, Peck said the dancers will play a part in shaping the material. "What's nice about that," he said, "is you can feel open to take on influence from other minds and that can create something beyond what I could imagine just by myself."
Peck's next ballet, set to Aaron Copland's "Rodeo," will premiere February 4 in New York City. His collaboration with Shepard Fairey for Miami City Ballet, called "Heatscape," will debut in March. The now 27-year-old choreographer, who has continued to wow audiences and critics with his work, is currently a soloist dancer and the Resident Choreographer with New York City Ballet.
"Ballet 422" received its world premiere at the 2014 Tribeca Film Festival. The film will be released in New York on Friday, February 6 with a national roll-out to follow.
Related
Before You Go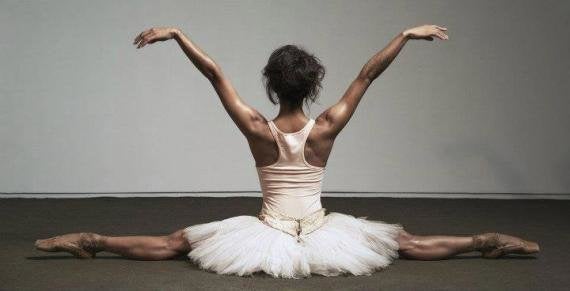 Ballet Dancers Changing the Landscape
Popular in the Community