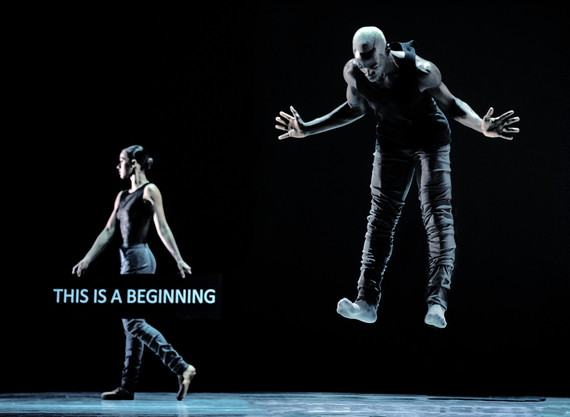 Ballet BC company members Gilbert Small and Nicole Ward in 16 + a room by Emily Molnar. Photo by Chris Randle.

"We are all being shot backwards and forwards on this plain to make a pattern."
Virginia Woolf's quote sits on the Playbill page, used as a descriptor for Ballet BC's first offering on its Joyce program. Like Woolf, the bill -- comprised of three female choreographers -- serves as some sort of vanguard in an art dominated by men, though populated primarily by women. And, like Woolf, it is yet another testament to what the world could look like if both genders' voices were heard with equal force.
Hailing from British Columbia, Ballet BC journeyed to the Joyce Theater last week for the first time since 1998. A lot has changed for the company in the new millennium; most notably, Emily Molnar took it over in 2009 and has subsequently commissioned 35 new works to transform a classical troupe into a modern staple in the dance sphere. Ballet BC's liveliness is indisputable: the dancers appear engaged, mobilized and charged with the energy of fresh movement styles. They can make you spout tears that have been hiding for a while, just because what they're creating is so beautiful. They can make you laugh because of whimsicality physicalized. And they can make you uncomfortable, squirming and gawking at the unpleasant elegance of broken bodies and lines executed with perfect intensity. Whatever they emote minute to minute, they are artists fighting to make their message clear: ballet can be novel and evolve with the generations.
Of course, with all the innovation comes a rawness that is at times enlivening and at others unrefined. Molnar's opening piece, 16 + a room, is plagued by the latter result. The concept -- to explore time and space through motion -- tends toward a vagueness that isolates the viewer, who gets lost amongst the choreographic clutter. Dancers hold signs that read "THIS IS A BEGINNING" or "THIS IS NOT THE END," hinting at a non-linear relationship within our universe, but the movement becomes repetitive and tired amidst all the philosophy, with the always overused slide across the floor as a common theme. When the curtain closes on the action, there's anxiety in the air: does Ballet BC have more to offer?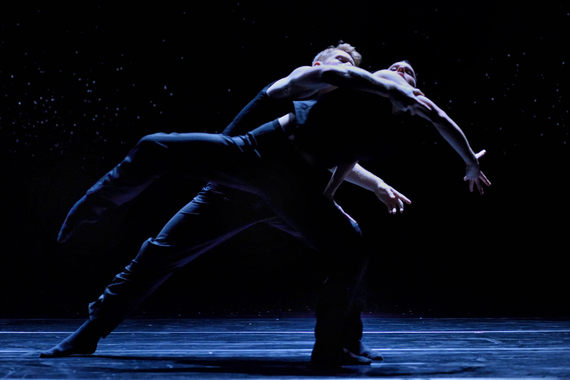 Ballet BC company members Alexis Fletcher and Christoph Von Riedemann in Solo Echo by Crystal Pite. Photo by Michael Slobodian.
The answer comes quickly with Crystal Pite's Solo Echo, which premiered on Nederlands Dans Theater but nevertheless looks like it was crafted specifically for the Canadian troupe. As grey droplets cascade from the top of the stage, like snow on a summer's day, moody lighting outlines muscles in the dark as they seem to externalize what Johannes Brahms' emotional score evokes. The couplings are intimate and cohesive, and the scene is one of desperation and defeat mixed with an uncertain and unstable hope. Indeed, the piece was inspired by Mark Strand's poem, "Lines for Winter," and Pite's choreography pulls out each verse so you can see "the dome of dark" and "the cracking white of the moon's gaze," and hear "the tune your bones play as you keep going." The effect is dramatic but subdued, poignant but dynamic, especially during the first section, which avoids clichés better than the second.
Finally, the program closes with Sharon Eyal and Gai Behar's Bill, a stunning, shocking provocation more than a piece that descends into organized chaos that disrupts and disturbs. The curtain opens to a series of solos where men twist themselves into knots, showing off the extremism of what they can force their bodies to do. Women follow, and then the stage gets more and more populated by people in bodysuits, possessed by some kind of demonic disquiet propagated by the swelling and pumping of Ori Lichtik's original music. As they rush in and out of formation, emitting high-pitched screams, or move subtly and mechanically in patterns, Scott Fowler becomes their leader, monopolizing audience attention. He is the standout of the night, the most promising star in a company that's all about ensemble. And quite the ensemble they are in Bill -- they look like a robot army invading a dance floor, and they seem just as suited to a New York City nightclub as a proscenium stage. This modernity, in itself, is worth watching: it gets close to the millennial focus of Richard Siegal's My Generation, and feels more reflective of today's youth culture than most ballet.
And so Ballet BC should be seen, should be noticed. They're still gelling, still finding their identity and purpose in a confusing and confused artistic landscape, but what they provide is a promise for progress and vigor. They want to change dance to suit a 21st-century audience, and they're quickly finding ways to do that. Sometimes, they'll fall. Other times, they'll soar.
And when they soar, you'll want to be there.
Calling all HuffPost superfans!
Sign up for membership to become a founding member and help shape HuffPost's next chapter